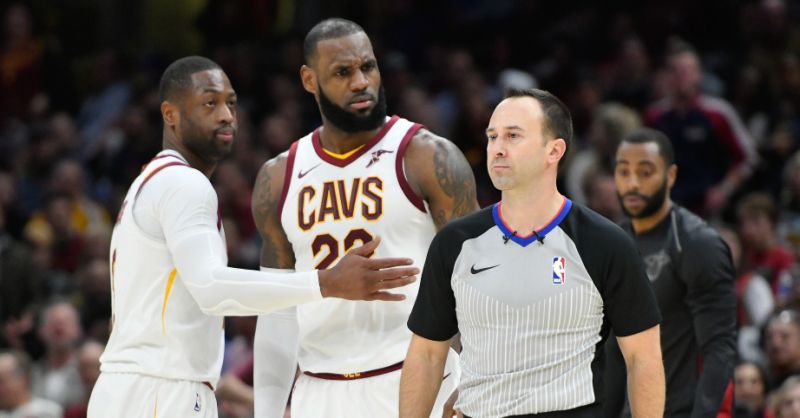 CLEVELAND, OH – Late in the third quarter, with the Cleveland Cavaliers leading the Miami Heat 93-70, LeBron James attacked the rim with a head of steam before being met by James Johnson and Dion Waiters, his former teammate with the Cleveland Cavaliers.
After the referee didn't blow the whistle on what James felt was contact, he emoted a fiery response towards referee Kane Fitzgerald.
"I got fouled and showed my frustrations towards the ref", James says. "On that particular play I got fouled all the way up the court… All the way 'til I got to the rim. So, that's what it was about. I said what I had to say and moved on but he decided I should get two of 'em."
What was said, nobody will know besides James, Fitzgerald and those close enough to have heard. However, as teammates Kevin Love and Dwyane Wade pointed out, it was likely enough to warrant two separate technicals.
The issue is just that, as Wade said "it was quick".
In case you were wondering how well James usually keeps his cool, or how referees usually swallow their whistle while James angrily retorts, it took 1,082 regular season games (you can tack on 217 postseason games) and 15 NBA seasons to earn his first NBA ejection. For a player who has played 38.9 minutes per game in his career, that's extraordinary.
After the game, Fitzgerald (who says he only assessed one technical to James) provided a response about why he called for James' ejection:
"It was a culmination of a couple of different acts. Immediately after the no call he turned and threw an air punch directly at me and then he aggressively charged at me and then he used vulgarity in my ear a few times".
Color me skeptical of James throwing "an air punch directly at [him]".
In addition, James has actually charged at referees and used vulgarity before but he's rarely been assessed a technical. James has 60 career technical fouls, which averaged out to four per year. Over the course of an 82-game season, James has only been given a technical in 1 out of every 20 games.
That doesn't make those actions right of course, just Fitzgerald's response unusual.
Especially considering that, by his own admission, there was nothing prior to that event that influenced him calling for James' ejection.
"A player like him, you give him the benefit of the doubt. He says what he says, you give him a tech and walk away" – Dwyane Wade

NEO Sports Insiders Newsletter
Sign up to receive our NEOSI newsletter, and keep up to date with all the latest Cleveland sports news.