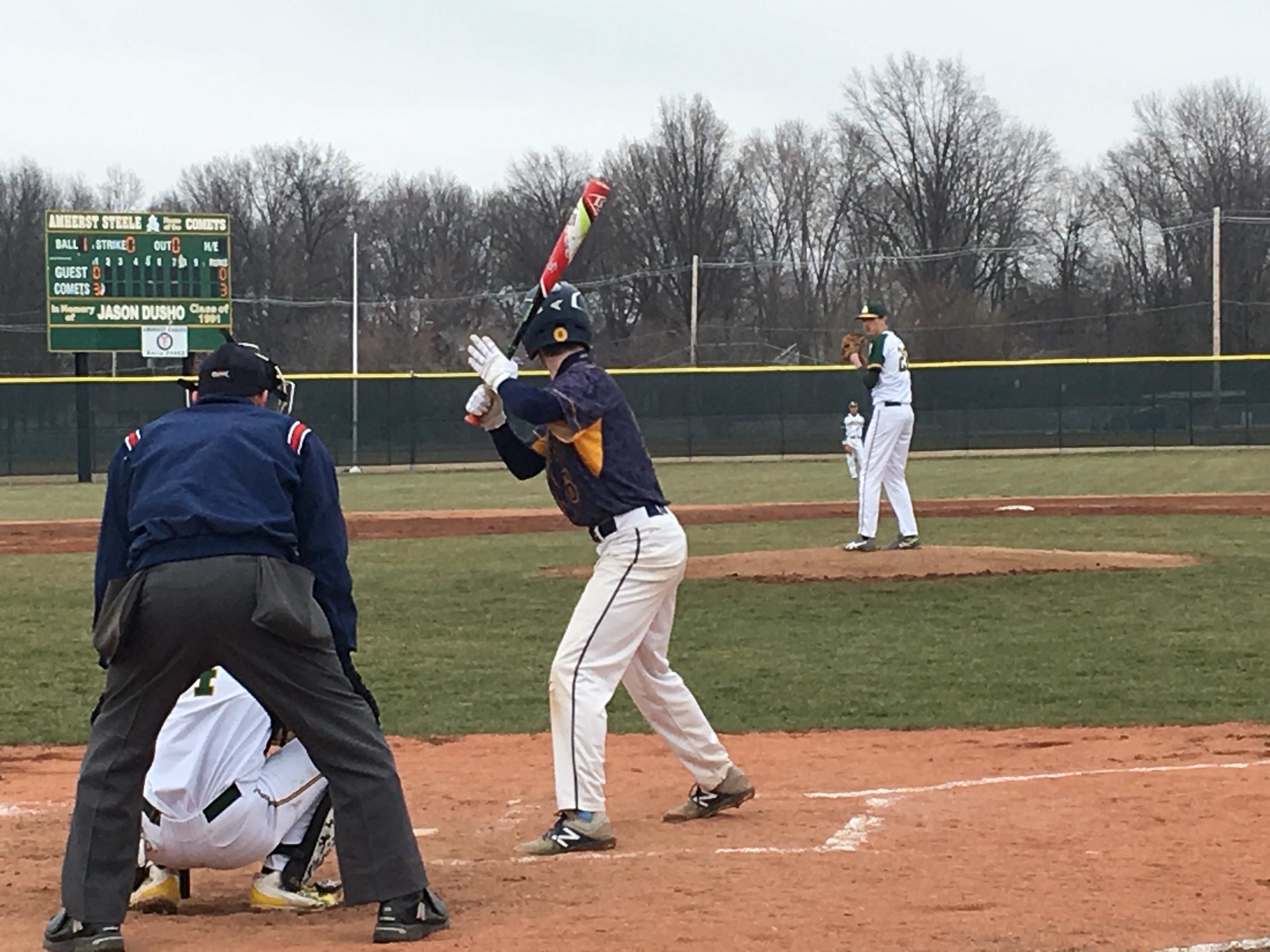 AMHERST, OHIO– Prior to the start of the 2018 season, Amherst head coach Matt Rositano said the goal for the Comets each game was to get four runs in order to give their pitchers plenty of support.
On Wednesday evening, the Comets hit that mark and then some, toppling the North Ridgeville Rangers, 12-0.
Amherst is a team known for their excellent pitching, but on Wednesday they were incredibly efficient at the plate, going 8-of-18 as a team, recording 10 RBIs and drawing 10 walks.
Right-handed pitcher Jack Faight got the win for the Comets on the mound, giving up just one hit and one walk while striking out four in four innings of work. He improves to 2-0 on the season. For the Rangers, Evan Truelson picked up the loss after giving up seven runs in one and two-thirds innings. His record falls to 1-1.
The Comets got going early, recording three runs in the first inning as Ryan Glowacki plated Kyle Mantin on a sacrifice fly to center and Eric Ritter drove in Evan Shawver with an RBI single. Jacob Lezon scored on a wild pitch to round out the inning.
In the second frame, the Comets continued that offensive momentum, sending 11 batters to the plate on their way to scoring six runs.  A two-run RBI double from Ritter plated two runners, while Shawver made it home after North Ridgeville attempted to pick off Glowacki as he stole second. Cameron Karnick also recorded a two-run RBI single, while Jake Hart scored on an RBI single from Mantin in his second at-bat of the inning to give the Comets a 9-0 lead.
Amherst tacked on three more runs in the fourth inning as Connor Emch plated Hart and Karnick with a two-run RBI single. A sacrifice fly from Justin Hritsko to plate Emch rounded out the scoring as the Comets run-ruled the Rangers after the top of the fifth inning.
Ritter was the Comets' offensive leader, going two-of-three at the plate, with three RBIs and one run.
The Rangers recorded just two hits in the game, as Cody Reiffert and Cameron Parham each recorded singles in the fourth and fifth innings, respectively.
Amherst improves to 3-0 (1-0) on the season, and will take on Lakewood tomorrow on the road at 4:30 p.m. North Ridgeville falls to 1-2 (0-1).