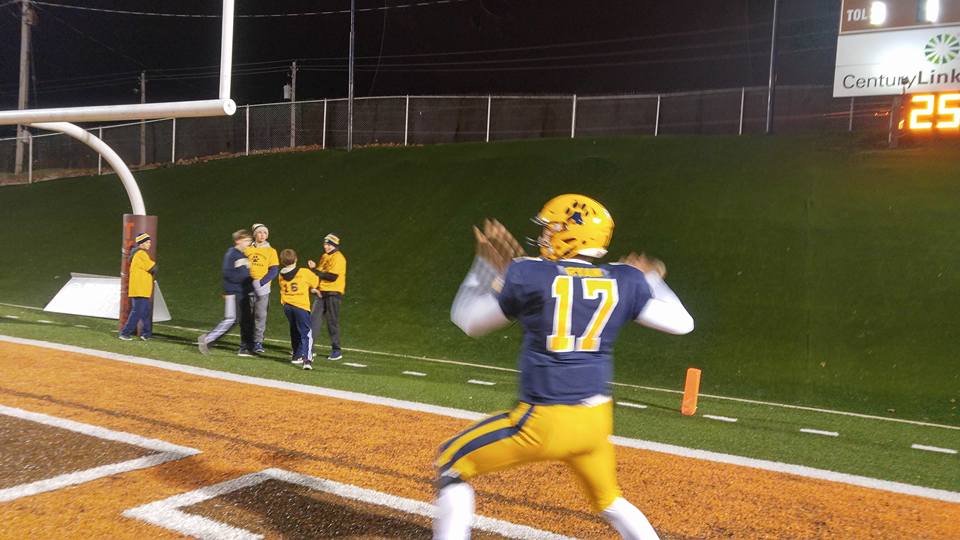 MANSFIELD, Ohio – The St. Ignatius Wildcats traveled to Arlin Field in Mansfield tonight to take on the Liberty Patriots in the Final Four State Semi's of the OHSAA Division One Playoffs. The trip was worth it for the Wildcats as they defeated the Liberty Patriots 24-14 to advance to the OHSAA Division One State Championship.
The victory came on the arm and legs of Quarterback Patrick Ryan who had a big night. He hit Travis Pot for a 44 yard connection early into the second quarter and then iced the game late with a 69 yard touchdown rumble to put the Wildcats up 21-7 with less than five minutes to go.
Patrick Ryan finished with 89 yards on 8 of 13 passing and the touchdown to Pot. Ryan ran the ball for 74 yards on 15 carries, including the game icing touchdown from 69 yards. Mark Bobinski chipped in with 41 yards and backup tailback Dean Stowers had 32.
The St. Ignatius opening drive came up empty when the very reliable Matthew Trickett, missed a 47 yard attempt. The kick had plenty of leg but sailed wide left. It was a rare miss for Trickett who has been excellent all year.
However, moments later, Ignatius got the ball back and failed again to score. This time missing from 49 yards. It was a rough start to the game for Trickett, and the first quarter ended scoreless.
St. Ignatius would draw first blood in the second quarter on the very first play from scrimmage when Patrick Ryan would hit Travis Pot on a 44 yard strike down the sidelines. Moments later after forcing a 3 and out, the Wildcats would score again when Mark Bobinski rumbled in from a yard out to make it 14-0 early into the second quarter.
Things would get worse for the Patriots, as on their next drive, starting quarterback Mitch Okuley would be knocked from the game. This was only a few plays after a they got into the redzone on a 42 yard toss and catch to Brendon White.
Backup quarterback AJ Smith would connect with Ben Roderick for a 16 yard touchdown, however, it would get called back because of a questionable offensive interference call. After a sack, Liberty was forced to punt. The game would remain 14-0 at the half.
Liberty would start the second half with their one man wrecking crew Brendon White behind center. He was the Patriots original starting quarterback in the beginning of the season. He played quarterback, running back and wide receiver tonight and was effective at all three positions.
White did it all and finished with 46 rushing yards, 64 receiving yards and tossed for 90 yards with two touchdowns.
The move to White would payoff as he connected with Johnny Wisemen on a 26 yard touchdown toss to open the second half and cut the lead in half at 14-7. The Patriots would never getting any closer than the 7 points and eventually fall 24-14.
Box Score
Ignatius 0-14-0-10-24
Liberty – 0-0-7-7-14
Scoring Summary
2nd 11:34 SIHS – Travis Pot 44 yd pass from Patrick Ryan (M. Trickett kick), 1-44 0:09
08:17 SIHS – Mark Bobinski 1 yd run (M. Trickett kick), 4-44 1:12
3rd 09:02 OLENLIB – Johnny Wiseman 27 yd pass from Brendon White (AJ Smith kick), 3-36 0:43
4th 04:34 SIHS – Patrick Ryan 69 yd run (M. Trickett kick), 3-80 1:08
03:29 OLENLIB – Casey Kauf 7 yd pass from Brendon White (AJ Smith kick), 8-72 0:59
00:13 SIHS – M. Trickett 39 yd field goal, 4–3 1:16
OLENLIB SIHS
FIRST DOWNS 10 12
RUSHES-YARDS (NET) 28-40 47-142
PASSING YDS (NET) 154 89
Passes Att-Comp-Int 27-9-0 13-8-0
TOTAL OFFENSE PLAYS-YARDS 55-194 60-231
Fumble Returns-Yards 0-0 0-0
Punt Returns-Yards 5-42 6-72
Kickoff Returns-Yards 4-77 3-16
Interception Returns-Yards 0-0 0-0
Punts (Number-Avg) 10-38.3 7-43.4
Fumbles-Lost 1-0 1-0
Penalties-Yards 5-39 2-23
Possession Time 19:34 28:26
Third-Down Conversions 4 of 15 5 of 15
Fourth-Down Conversions 0 of 1 0 of 0
Red-Zone Scores-Chances 1-2 2-2
Sacks By: Number-Yards 3-21 6-28
RUSHING: Olentangy Liberty-Brendon White 18-46; Derek Ritter 3-9; Matthew Webb 1-3; Johnny Wiseman
1-minus 2; Mitchell Okuley 4-minus 5; AJ Smith 1-minus 11. St Ignatius Wildcats-Patrick Ryan 15-74;
Mark Bobinski 20-41; Dean Stowers 7-32; TEAM 5-minus 5.
PASSING: Olentangy Liberty-Brendon White 4-14-0-90; Mitchell Okuley 5-9-0-64; AJ Smith 0-4-0-0. St
Ignatius Wildcats-Patrick Ryan 8-13-0-89.
RECEIVING: Olentangy Liberty-Brendon White 4-64; Ben Rinsma 2-9; Johnny Wiseman 1-52; Drew Rosi
1-22; Casey Kauf 1-7. St Ignatius Wildcats-Travis Pot 3-62; Mark Bobinski 3-11; Samuel Snyder 1-8;
Connor Kennedy 1-8.
INTERCEPTIONS: Olentangy Liberty-None. St Ignatius Wildcats-None.
FUMBLES: Olentangy Liberty-Johnny Wiseman 1-0. St Ignatius Wildcats-Aidan Gill 1-0.
Olentangy Liberty (13-0) vs. St Ignatius Wildcats (12-1)
Date: Nov 25, 2016 • Site: Mansfield, Ohio • Stadium: Arlin Stadium
Attendance:
Kickoff time: 7:30 PM • End of Game: • Total elapsed time:
Officials: Referee: Mike Dame; Umpire: Rocky Neale; Linesman: John Medula;
Line judge: Gatrell Bentley; Back judge: Bobby Bolin;
Temperature: 36 • Wind: SW 5 mph • Weather: Cloudy
SACKS (UA-A): Olentangy Liberty-Chase Smith 1-0; Drew Rosi 1-0; Matthew Webb 1-0. St Ignatius
Wildcats-James Leyden 1-2; Joseph Gibbons 1-1; Justin Sands 0-1; Michael Chime 0-1; John Velotta
1-0; Adam Shibley 0-1.
TACKLES (UA-A): Olentangy Liberty-Drew Rosi 8-1; Griffin Hughes 7-1; Matthew Webb 6-1; John Paolo
4-1; V. Ramondelli 3-2; Johnny Wiseman 3-2; Lucas Campbell 3-0; Chase Smith 3-0; Will Fowler 2-2;
Drew Doll 2-1; CJ Nossaman 1-1; Skylar Wahlund 1-1; S. Gemienhardt 1-0; Nicholas Paolo 1-0; TEAM
1-0; Jamie Hessing 1-0; Michael Bass 1-0; Drake Carrier 1-0; Trey Stablein 0-1. St Ignatius
Wildcats-John Velotta 7-3; Adam Shibley 5-3; M. Wiegandt 5-1; James Leyden 4-3; Michael Chime 3-3;
Joseph Gibbons 2-1; Cameron Toppin 2-0; C. Hyland 2-0; Michael Czaja 1-0; TEAM 1-0; A. Ringfield
1-0; M. Viancourt 0-2; B. Delhees 0-2; Justin Sands 0-2; Thomas Barrett 0-1; Aidan Gill 0-1.
Olentangy Liberty: 2-Mitchell Okuley, 4-Trey Stablein, 5-Brendon White, 7-Will Fowler, 8-CJ Nossaman,
9-Griffin Hughes, 12-AJ Smith, 13-Ben Rinsma, 14-Grant Wilson, 15-Lucas Campbell, 22-Johnny Wiseman,
23-Jacob Sinek, 28-John Paolo, 29-Nicholas Paolo, 30-Derek Ritter, 32-V. Ramondelli, 34-Jacob Sauer,
43-Jamie Hessing, 45-Matthew Webb, 48-Skylar Wahlund, 50-Drew Doll, 58-Drake Carrier, 59-Chase Smith,
60-S. Gemienhardt, 88-Casey Kauf, 89-Drew Rosi, 90-Michael Bass.
St Ignatius Wildcats: 2-M. Trickett, 4-Cameron Toppin, 5-Travis Pot, 6-Dean Stowers, 7-A. Ringfield,
8-Justin Sands, 11-Connor Kennedy, 15-C. Goodfellow, 17-Patrick Ryan, 25-M. Wiegandt, 26-C. Hyland,
30-Samuel Snyder, 31-Thomas Barrett, 33-Aidan Gill, 34-Mark Bobinski, 39-James Leyden, 44-Adam Shibley,
45-B. Delhees, 47-John Velotta, 48-M. Viancourt, 60-Joseph Gibbons, 63-Michael Chime, 91-Michael

NEO Sports Insiders Newsletter
Sign up to receive our NEOSI newsletter, and keep up to date with all the latest Cleveland sports news.