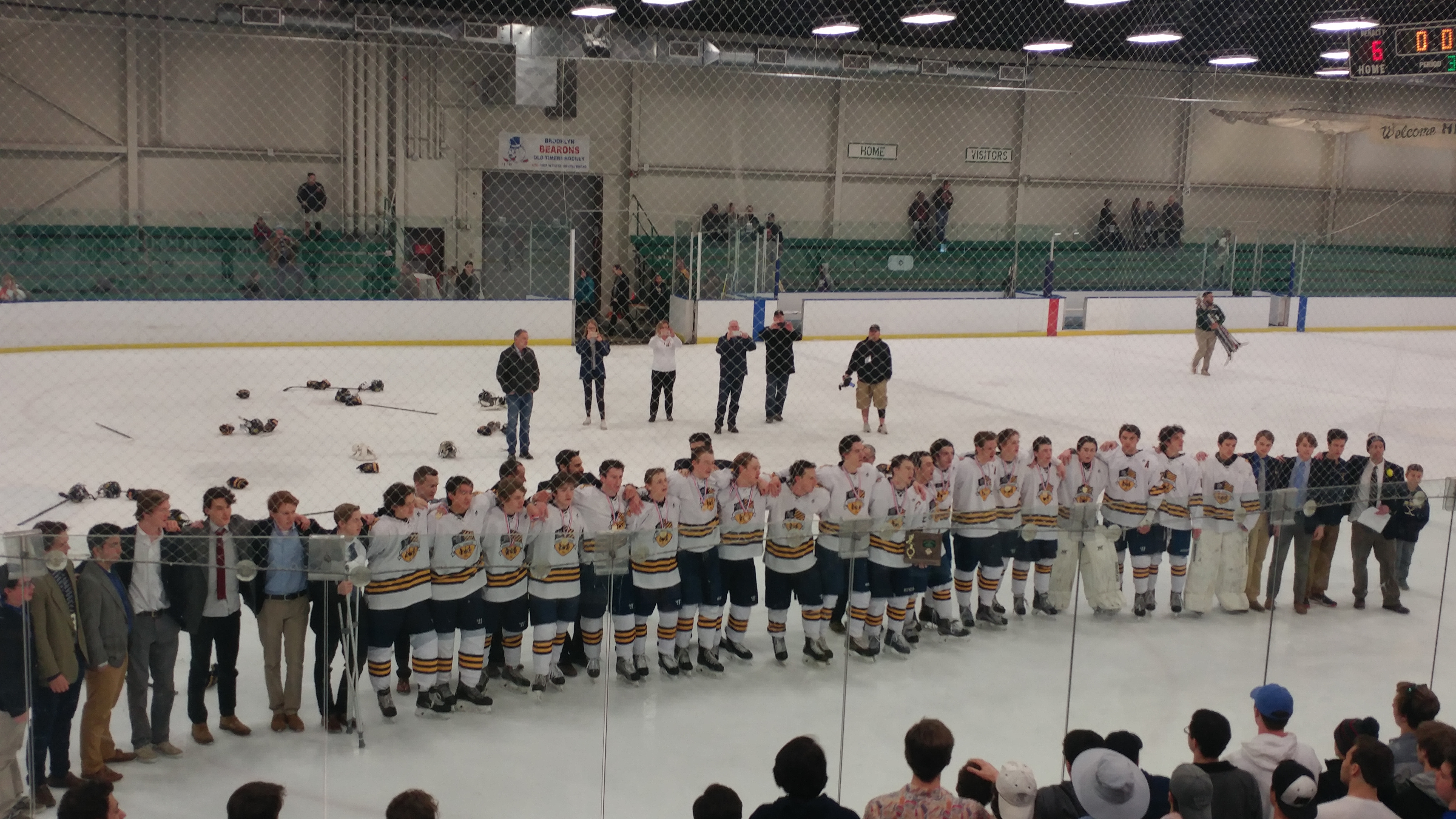 BROOKLYN, Ohio- The defending state champion St. Ignatius Wildcats and St. Edward Eagles took the ice on Saturday for their Brooklyn District Final, with the winner moving on to play University School in the Frozen Four.
The game started off in a wild fashion, as the Eagles struck twice in the middle of the opening frame. At the 6:59 mark, Stephen O' Sullivan would hit a backhanded shot from the left side of the crease past Benny Savarino for the opening goal. At the 8:53 mark, Danny McGuire would go top shelf and get the St. Edward faithful going. St. Ignatius would not stay quiet for too much longer.
The Wildcats would have one of the crazier stretches in this tournament, as it all started with a goal at the 9:28 mark by Connor Koehnke, who worked his way into the slot and scored. At the 11:13 mark, Seth Whitney would net the puck from the left side of Stewart. With 34.1 seconds left, Connor McGowan would fire a puck that would fly over Stewart's head and find the back of the net. The Wildcats would take the 3-2 lead going into the break.
St. Ignatius would strike for two more unanswered goals in the middle stanza, as the first one came off of a turnover by the Eagles. Stephen O' Sullivan won the faceoff for St. Edward and looked to make a pass to one of his teammates. Instead, Michael McCaffery swooped in to steal the pass and caught Andrew Stewart off guard for the goal at the 6:04 mark. At the 8:10 mark, McCaffery would strike again one a give-and-go in front of the net. St. Ignatius would head into the locker room leading 5-2.
Just forty-nine seconds into the frame is all it took for St. Edward to respond, as Ryan Rockwell worked around the cage of Savarino and dumped in front of the crease for Danny McGuire, who fired it through the five-hole of Savarino for the goal. The Wildcats looked in a rough spot following a five-minute major, but that was far away from the case. Michael McCaffery landed his hat trick off of a lead pass from the defensive zone of St. Ignatius, as he handled the puck on the far faceoff circle and ripped one past Stewart at the 7:15 mark. Rockwell would score once more for the Eagles, as he shot the puck right through Savarino's leg blockers at the 7:33 mark. After that, the Wildcats would put the clamps down and win the Brooklyn District with a 6-4 victory.