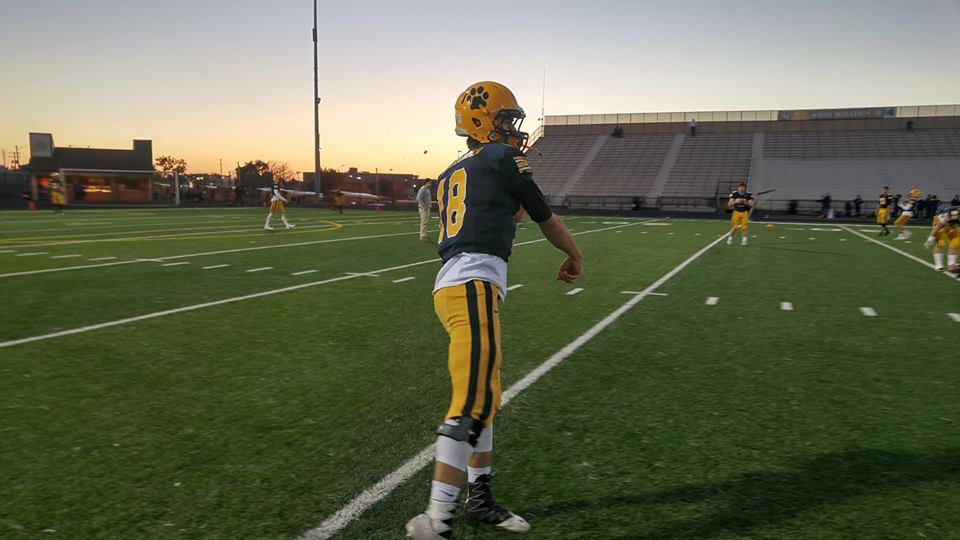 PARMA, OHIO – The St. Ignatius Wildcats welcomed in the visiting Massillon Jackson Polar Bears for opening round playoff competition tonight from Byers Field in Parma.
The Wildcats came in winners of six straight, including a week ten 34-7 drubbing of arch rival St. Edwards at Cleveland Browns Stadium.
The Jackson Polar Bears came in on a slide, losing 3 of their last 4 to close out the regular season. The Wildcats continued that slide for the Bears with a 35-0 victory.
There were two main stars on the offensive side of the ball tonight for the Wildcats. Running back Mark Bobinski who came into the game with 740 rushing yards after replacing injured starter James Andrews, continued his big season with 91 yards on 17 carries. Bobinski also scored 3 times in the victory. Bobinski had touchdown runs of 12, 2 and 23 yards.
Coach Chuck Kyle has this to say about Bobinski,
"He has great vision, speed and he plays well in the zone schemes. He see's things that others may not see. And that has been big for us."
Quarterback Patrick Ryan also had a big night in the air and on the ground. Ryan threw for 162 yards. He also used his feet and mobility well, rushing for 58 yards and scoring once.
Kyle is also impressed with the play of his quarterback and had this to say,
"Pat is an intelligent kid who has been a quarterback in the program for four years. He really knows the offense and sometimes he feels like an assistant coach on the field and it really helps."
Jackson had an impressive opening drive, but it would be snuffed out after a Justin Sands interception of quarterback Jaret Pallotta.
The Wildcats didn't waste anytime, scoring on the next possession on a 12 yard Bobinski touchdown run. He actually stumbled out of the backfield, but managed to stay upright long enough to gain speed and score.
A few possessions later, Ignatius would use great field possession to take the ball in again and score. This time on a 7 yard Patrick Ryan scramble for the score.
The Wildcats would punch it in twice more before the end of the half on another touchdown run by Bobinski and one by Dean Stowers to make it 28-0 at the half. Bobinski would punch it in one more time in the second half to finish the scoring 35-0.
The Wildcats now advance to round two to take on the winner of top seeded Solon and eight seeded Glen Oak.
Boxscore
Jackson 0-0-0-0-00
St. Ignatius 7-21-7-0-35

NEO Sports Insiders Newsletter
Sign up to receive our NEOSI newsletter, and keep up to date with all the latest Cleveland sports news.