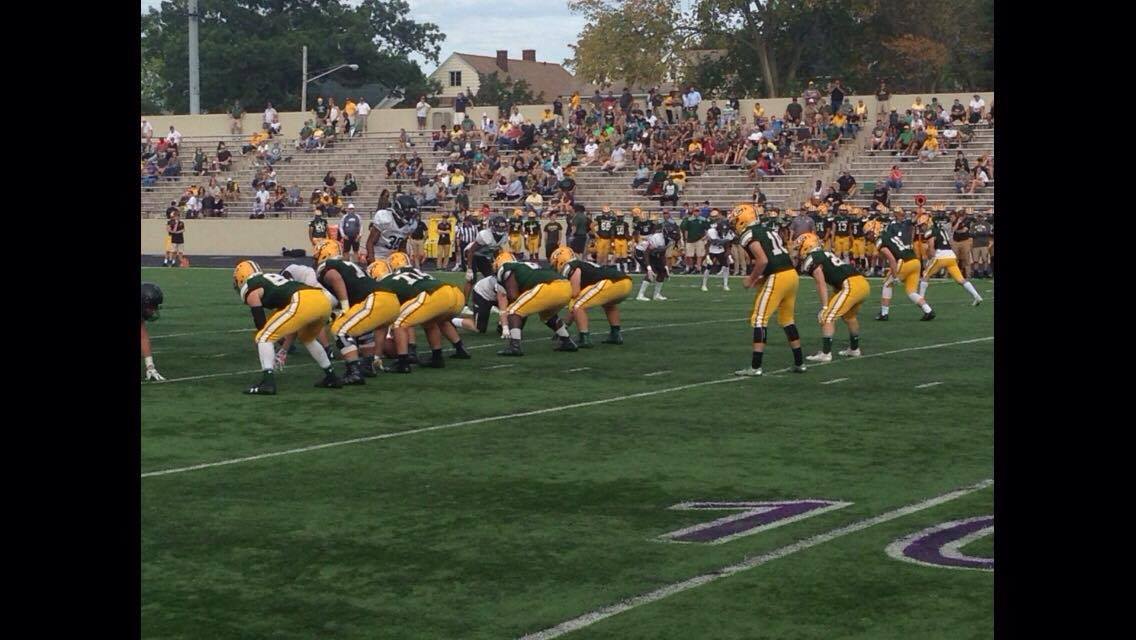 ***Saturday Afternoon's game between the St. Edward Eagles and the Canada Prep Academy Raiders is sponsored by YUZU Lakewood. YUZU Lakewood is located at 13603 Madison Ave. Lakewood, OH. You can also contact YUZU Lakewood at (440) 799-8343.
LAKEWOOD, Ohio-– Going into Saturday Afternoon's matchup between the St. Edward Eagles and the Canada Prep Academy Raiders, the Eagles headed into the game with a 7-0 record. The Raiders came into the game with an 0-5 record. This is the 4th meeting between both teams, the Eagles lead the series 3-0.
In the first quarter, the Eagles scored on their first possession of the game for only the second time this season. With 7:18 remaining in the first, Eagles quarterback Zach Kincaid punched the ball in with a 1-yard touchdown run.
The Raiders looked to answer back on the very next play on their first drive but things didn't go as planned. Aiden McKeown connected with one of his receivers for a 39-yard pass but the ball was fumbled and recovered on the Eagles 37-yard line by Darnell Shields.
Also in the first quarter, penalties were costly for Canada Prep. The Raiders had two facemask calls and a personal foul also.
The Eagles were not done yet. Kincaid connected with Jalen Staples with 3:55 remaining in the quarter on a 28-yard TD pass. With about 8 seconds left in the first quarter, Caden Kolesar intercepted a McKeown pass for a 65-yard return which gave the Eagles good field position. St. Edward lead 14-0 after the first.
In the second quarter, the Eagles only needed 5 plays before they extended their lead to 21-0. Garrett Dzuro found Staples for a 12-yard TD pass. Dzuro and the Eagles offense continued the scoring when Dzuro found Staples for the second time in the quarter and extended the Eagles lead to 28-0.
St. Edward closed out the first half with a 35-yard field goal from Blaine Stencil.
Staples had 3 touchdown receptions in the first half, helping the Eagles jump to an early 31-0 lead in the first half.
Eagles @_JStaples7 with a big first half. 7 receptions for 82 yards, 3 touchdown receptions. 4-6 plays for 10 plus yards went to Staples

— Payton Vince (@PaytonVince) October 14, 2017
With St. Edward leading by over a 30 point margin, the Eagles and Raiders played with a running clock up until 10:35 in the 4th quarter. Jamel Lofton of Canada Prep put the Raiders on the board with a 70-yard rushing TD.
Following a 31-7 victory over the Raiders, the Eagles improved to 8-0 on the 2017 season. The Raiders fell to 0-6 on the year. Penalties were costly for Canada Prep as they committed 8 penalties for 108 yards.
Outside of a big day from Staples; Kincaid, Dzuro, and Pierce Downey (who came in during the second half) combined to be 19-22 passing.
The Eagles also extended their streak to 11 consecutive games of scoring more than 30 points. This streak started during the beginning of the 2016 playoffs.
Jalen Staples had this to say about his number being called often during this afternoon's game:
"It kind of just came out of nowhere. We were going over some of the plays during the week but I didn't expect it to come that much. When they called my number I was just ready."
Staples also commented on one of his touchdown receptions that was caught off of his shoe tops:
"I was talking to the ref at halftime and he asked me if I actually caught that. I told him I caught it. During practice sometimes they would throw a ball to me and it would be low and I am used to just scooping it up. That was easy for me, it just came to me."
Jalen lastly spoke on how it felt having 3 touchdown receptions in a game:
"It's crazy honestly. I didn't expect it at all. It was just something new, I didn't expect it at all. I am thankful that I had the opportunity though."
St. Edward Eagles coach Tom Lombardo also spoke on Jalen Staples performance this afternoon:
"The kid has worked his tail off. He came back from a torn ACL his sophomore year. I am really proud of him"
Player of the Game: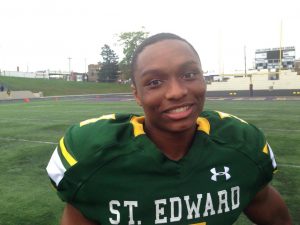 Jalen Staples
7 receptions for 82 yard, 3 TDs
***This recap brought to you by YUZU Lakewood, which you can visit here

NEO Sports Insiders Newsletter
Sign up to receive our NEOSI newsletter, and keep up to date with all the latest Cleveland sports news.