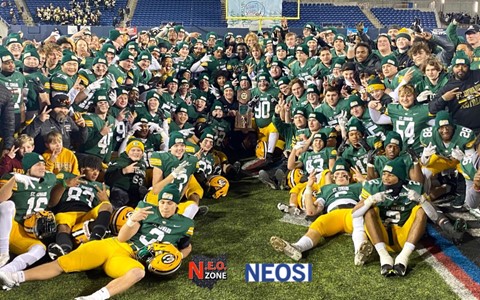 CANTON, OH – On Friday night, the long anticipated D1 State Title Game took place at Tom Benson Hall of Fame Stadium. Last year, St. Edward's of Lakewood took home the State Title over Springfield. This year Springfield looks to have a reversal of fortune. They are led by senior quarterback Bryce Schondelmyer. Bryce threw for over 4400 yards and 40 TDs this season for the Wildcats. He will look to lead Springfield to a win against St. Edward. Coming into the game, St. Edward was ranked 21st nationally by MaxPreps. They are led by a tough defense with Northwestern commit Michael Kilbane and Coastal Carolina commit Wyatt Gedeon. The Eagles will look to have a repeat performance of last year's title game.
Springfield Starts Strong
Springfield won the opening coin toss and deferred to the 2nd half. This gave St. Ed's possession to start the game. After having the punt team on the field on 4th and short, St. Ed's sprinted out their offense. The Springfield defense was ready though. St. Ed's tried to go up the middle and pick up the first down but were stopped by the Wildcat defensive line. 
After forcing the Eagles to turn the ball over on downs, Springfield took over from the St. Ed's 39. Quarterback Bryce Schondelmyer led the Wildcats down the field and deep into Eagles territory. Springfield capped off their drive with a 1-yard touchdown run from Jayvin Norman. With 5:58 to go in the first, Springfield had the advantage.
Division I State Championship 🏆

1Q | 5:58
Springfield – 7
St. Edward – 0

Seeking revenge from last year's title game defeat, Springfield scores first on a 1-yard TD run by Jayvin Norman.#OHSAAChampionships 🏈 pic.twitter.com/9cSeHbSIQt

— NEO Zone HS Sports (@NEOZoneHS) December 3, 2022
St. Edward Takes Over
After a rough start to the game, the Eagles brought their best stuff throughout the rest of the first half. They responded to the Springfield touchdown quickly. The Eagles took the next drive 65 yards in 6 plays. A 24-yard touchdown pass from Casey Bullock to Kyan Mason capped off the drive. The St. Ed's defense stood strong as well. Michael Kilbane led the way in the first half with 5 total tackles including 1.0 sacks and 1.0 tackles for loss.
In the 2nd quarter, Casey Bullock went to work. The Junior quarterback led St. Ed's down the field on multiple drives. Twice it ended in touchdowns. An 8-play 56-yard drive was finished off by Bullock on a 3-yard touchdown run to put St. Ed's in the lead. Later in the 2nd quarter, the Eagles put together a 13-play 87-yard drive. Senior running back Marvin Bell led the way on the drive with 50 yards including a 1-yard touchdown run. Through the first half, the Eagle defense held the high-powered Springfield offense to just 75 total yards.
Division I State Championship 🏆

2Q | 1:06
St. Edward – 21
Springfield – 7

After Kyan Mason is ruled short of the goal line on this play, Marvin Bell leaps into the end zone for a 1-yard TD.

21 unanswered for Ed's!#OHSAAChampionships 🏈 pic.twitter.com/w6E6yDJHph

— NEO Zone HS Sports (@NEOZoneHS) December 3, 2022
Springfield Keeps Fighting
If they wanted to stay in the game, Springfield needed to put together a good 3rd quarter to have a chance. They did just that. Their defense was stopping the St. Ed's rushing attack unlike they did in the second quarter. They took a 16-play drive of 70 yards while taking almost 8 minutes off the game clock. Their drive was capped off by a 17-yard touchdown pass from Bryce Schondelmyer to Daylen Bradley. This cut the Eagles lead to just 7.
Division I State Championship 🏆

*End of the 3rd*
St. Edward – 21
Springfield – 14

This one isn't over yet… 👀

On 3rd and goal from the 17, Bryce Schondelmeyer throws a dot to Daylen Bradley to cap off an eight minute drive.

Onto the fourth!#OHSAAChampionships 🏈 pic.twitter.com/DIhviYyfM7

— NEO Zone HS Sports (@NEOZoneHS) December 3, 2022
St. Ed's Finishes Off the Wildcats
Heading into the 4th quarter, St. Ed's had possession looking to extend their 7-point lead. After running back Marvin Bell was out for much of the 3rd quarter, he returned for the opening drive in the 4th quarter. He helped lead the Eagles down the field on a 10-play 78-yard scoring drive. Bell punched it in from a yard out for his second touchdown of the contest. The Eagles defense came up clutch on Springfield's last drive. The Wildcats were driving, and St. Ed's stopped their drive by forcing a turnover on downs deep in St. Ed's territory. The combination of Wyatt Gedeon and Michael Kilbane on the defensive line was too much for the Wildcat o-line. Gedeon and Kilbane combined for 6.5 sacks on the night for the Eagles. They helped seal the win late in the game. St. Ed's came away with their second straight D1 State Title with a 28-14 win over Springfield.
Division I State Championship 🏆

*Final Score*
St. Edward – 28
Springfield – 14

The Eagles soar to a second consecutive state title and their sixth in school history!#OHSAAChampionships 🏈 pic.twitter.com/rFNW8HQiZH

— NEO Zone HS Sports (@NEOZoneHS) December 3, 2022
Key Players:
St. Edward Eagles:
QB Casey Bullock: 8/13 passing, 102 yards, 1 TD; 17 rushes for 101 yards, 1 TD
RB Marvin Bell: 24 rushes for 170 yards, 2 TDs
WR Kyan Mason: 6 rec. 73 yards, 1 TD
Springfield Wildcats:
QB Bryce Schondelmyer: 21/30 passing, 206 yards, 1 TD
WR Anthony Brown: 8 rec. 83 yards

NEO Sports Insiders Newsletter
Sign up to receive our NEOSI newsletter, and keep up to date with all the latest Cleveland sports news.