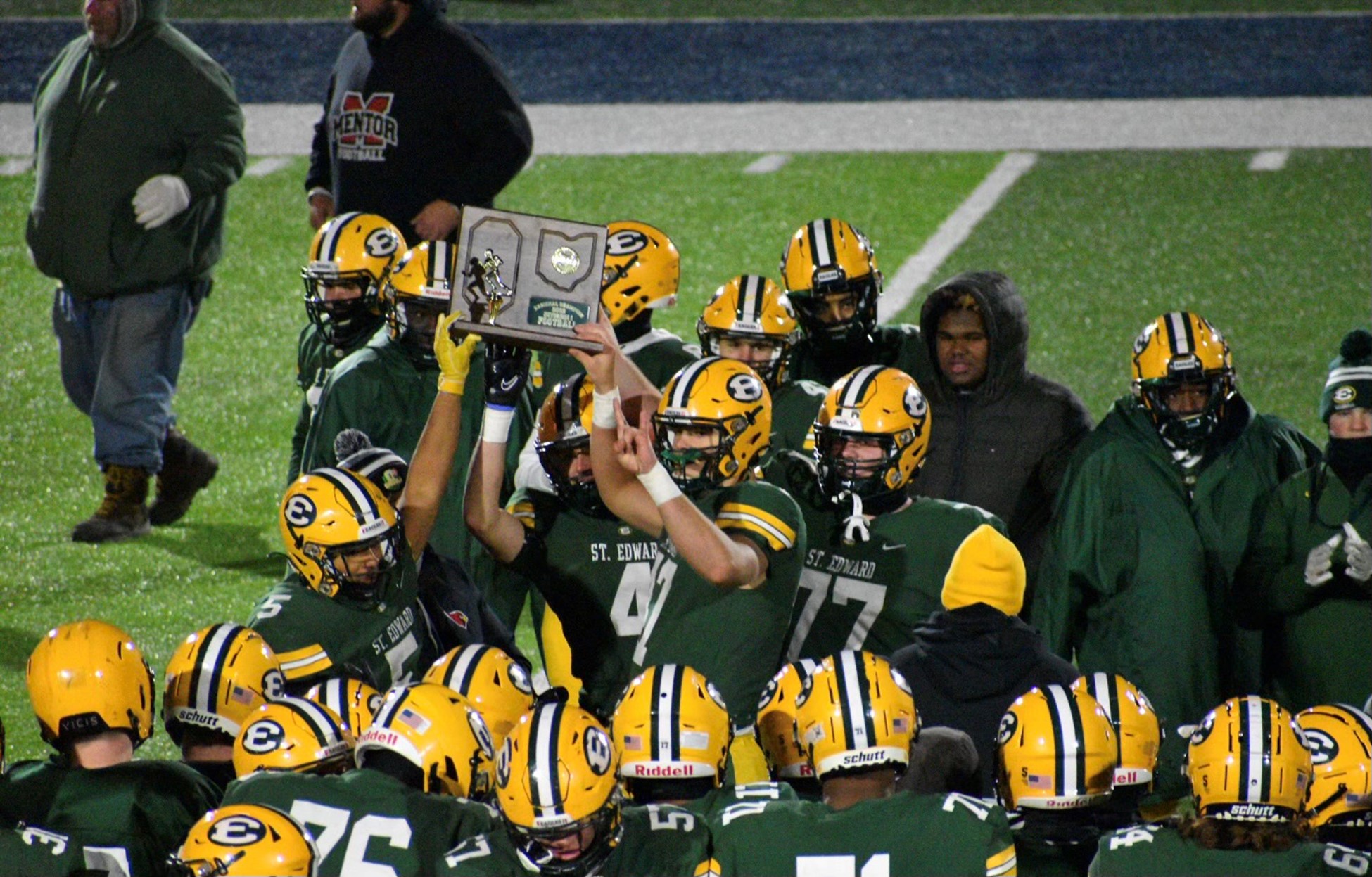 St. Edward Eagles shut out the Mentor Cardinals 27-0 and won the Division 1, Region 1 championship on Friday night at Euclid Community Stadium.
St. Edward came into the game as 23-point favorites according to Drew Pasteur (fantastic50.net), with a 90% probability of winning.
First Half
Mentor won the opening toss and marched into St. Edward territory in 4 plays. Taking a shot down the right sideline, Mentor sophomore quarterback Scotty Fox's deep pass was intercepted by St. Edward senior defensive back Cy Colvin, who camped under the under thrown pass.
With that momentum, St. Edward opened the game with 7 consecutive runs before a 26-yard completion from junior quarterback Casey Bullock to junior wideout Kyan Mason. Two plays later, senior running back Marvin Bell ran off the right side for the game's opening touchdown.
St. Edward's defense stepped up in the following drive, as Mentor found themselves going for it on 4th down from the Eagles 35. Fox took a shotgun snap and looked for his senior running back Mitchell Waite in the flat, but St. Edward senior defensive back Cam Drewery read the play from the beginning and deflected the pass in the backfield, leading to a turnover on downs.
With a short field, St. Edward needed only 5 plays to score their second touchdown of the first quarter. Bullock took a read option for himself and ran down the right side for a 19-yard rushing touchdown. Making a big block on the play was junior tackle Ben Roebuck, who sealed off Notre Dame commit Brennan Vernon while Bullock ran right.
Mentor was not completely incompetent in moving the ball despite scoring no points in the first half. The ensuring drive for Mentor was 11 plays, but again was stopped on downs due to a pass breakup by Drewery in the back of the endzone.
From this point until the end of the half, both teams would alternate failed drives. This included missed field goals by both teams. St. Edward went into halftime up 14-0 and would start the second half with the ball.
Second Half
Starting off with the ball in the third quarter, St. Edward continued with a rush heavy attack, running the ball eight straight times down to the Mentor 22. In total, St. Edward ran for 387 yards against Mentor on 59 rushes. However, Mentor was able to force a turnover on downs after a big run stop by senior defensive back Caden Markowski on a stretch run by St. Edward.
But despite the Mentor defense holding St. Edward to only 14 points through three quarters, the offense was never able to get anything going against the Eagles. Mentor rushed for only 46 yards total on 15 rush attempts and managed a meager 6.4 yards per attempt through the air, a respectable number but not enough to upset a team like St. Edward. Unlike their game against Medina, Mentor's offensive and defensive line were outmatched and outsized, which limited Fox's time to throw and nullified their run game.
Mentor's best chance for a comeback came down 14-0 with the ball at the Eagles 30 late in the third quarter. However, the Eagles defense consistently held Mentor out of the red zone, and after four consecutive incompletions, St. Edward took over and never looked back. The ensuing St. Edward drive lasted 12 plays and chewed up the clock until there was just 4:38 left in the game and was capped by Bell's second rushing touchdown of the game, a 5-yard score that put St. Edward up 20-0.
Mentor was able to drive down in their two-minute offense to the Eagles 10-yard line, however, Fox was intercepted again by Colvin on a slant route over the middle where his receiver fell down (or was bumped, depending on your point of view), giving Colvin the easy interception to seal the game. While they could have easily run out the clock to end of the game, St. Edward tacked on another touchdown in garbage time to put the game at 27-0.
Notable Stats
Casey Bullock (St. Edward): 12-16, 174 yards, 1 TD, 14 rushes, 88 rush yards, 1 TD
Marvin Bell (St. Edward): 25 rushes, 129 yards, 2 TD
Kyan Mason (St. Edward): 6 catches, 94 yards
Scotty Fox (Mentor): 22-40, 256 yards, 2 INT
Mitchell Waite (Mentor): 11 rushes, 40 yards, 3 catches, 18 rec yards
Jordan Stapleton (Mentor): 5 catches, 77 yards
Scoring Summary
First Quarter
St. Edward: Marvin Bell, 5 run (kick good, 6:27)
St. Edward: Casey Bullock, 19 run (kick good, 2:55)
Fourth Quarter
St. Edward: Marvin Bell, 5 run (kick failed, 4:38)
St. Edward: Grady Lentz-Pieffer from Casey Bullock, 20 pass (kick good, 1:32)

NEO Sports Insiders Newsletter
Sign up to receive our NEOSI newsletter, and keep up to date with all the latest Cleveland sports news.