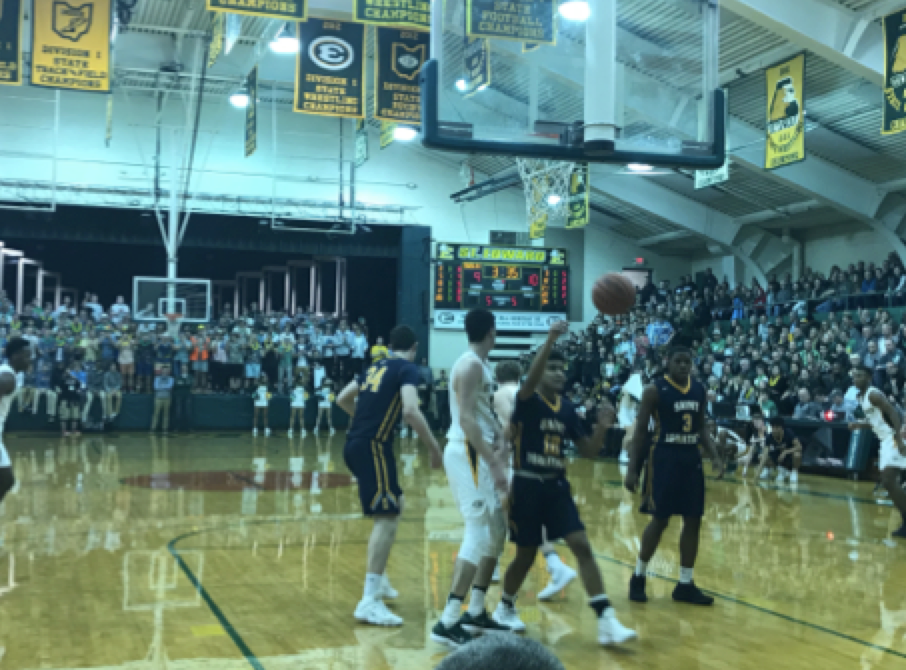 ***This recap is brought to you by our fine sponsors at Nurenberg Paris.  You can visit them here***
Lakewood, Ohio– The St. Ignatius Wildcats hosted the Eagles back in late January where the fast-paced game lead St. Edward to an eight-point victory. Friday night, St. Edward's picked up right where they left off, defeating the Wildcats 85-67.
Beating your rival once during the season is a tough task, but twice in just under a month helps boost some confidence for your team.
"Anytime you beat your rival like Ignatius, I think our seasons have always taken off a little more," coach Flannery said. "You kind of get that relief that you took care of business with that and now you can focus on what is in front of you."
Senior Patrick Flannery played a pivotal part in starting runs that would give the Eagles a confident lead throughout the game. Flannery went on to finish with 17 points, knocking down five 3-pointers Friday night.
The team knocked down a total of 10 3-pointers, with six players hitting at least one.
"I think it was great for us to make those," said Flannery. "They happened to play zone a lot early in the game, which I expected them to do. Fortunately, we were able to make some threes and keep the movement which made them get out of it."
In a back-and-forth first eight minutes, the Eagles would hold onto a slight 19-15 lead.
St. Ed's would force the Wildcats into turning the ball over early on in the second quarter. A 3-pointer by Patrick Flannery at the top of the arc followed by a Grant Huffman steal and dunk would force St. Ignatius coach Brian Becker to call a timeout. The Eagles would lead 26-17 at that point.
Huffman would lead the Eagle offense Friday night as he had a game-high 19 points. Montorie Foster had 15 points along with Devontae Blanton's 13 points. Demetrius Terry would round out the scoring as he had 11 points. It was a well-balanced game for St. Ed's as they had five players score in double figures.
St. Ignatius would quickly find its rhythm towards the end of the quarter, which would bring the Wildcats right back into the game. A layup by sophomore Tevin Jackson followed up by a nice up-and-under move from Demetrius Terry at the buzzer would give St. Ed's just a three-point lead heading into the half.
Grant Huffman would pick up his third foul with just over seven minutes left in the third quarter, forcing him to sit. The defensive pressure by the Eagles forced St. Ignatius to commit some turnovers, which would add to the Eagle lead. After three quarters, the St. Edward lead ascended to 13 points.
The Wildcats cut the lead to just eight points with just under seven minutes left, but that would be the closest they got as the route would continue for St. Ed's. An emphatic one-handed dunk by Demetrius Terry would seal the deal for the Eagles late in the fourth quarter.
For the Wildcats, it was senior Neeko Melendez that would lead the way. He had a team-high 19 points, with Josh Ozanne and Jon Barnes rounding out the scoring with 13 and 11 points respectively.
St. Ed's did a good job getting to the free throw line during the win. They went 14-21 from the charity stripe, while the Wildcats went just 7-9. Coach Flannery knew that his team needed to be aggressive during the rivalry, and they did just that by getting to the free-throw line more often.
"It's definitely something that we try to work on and it was just good to see us execute that tonight."