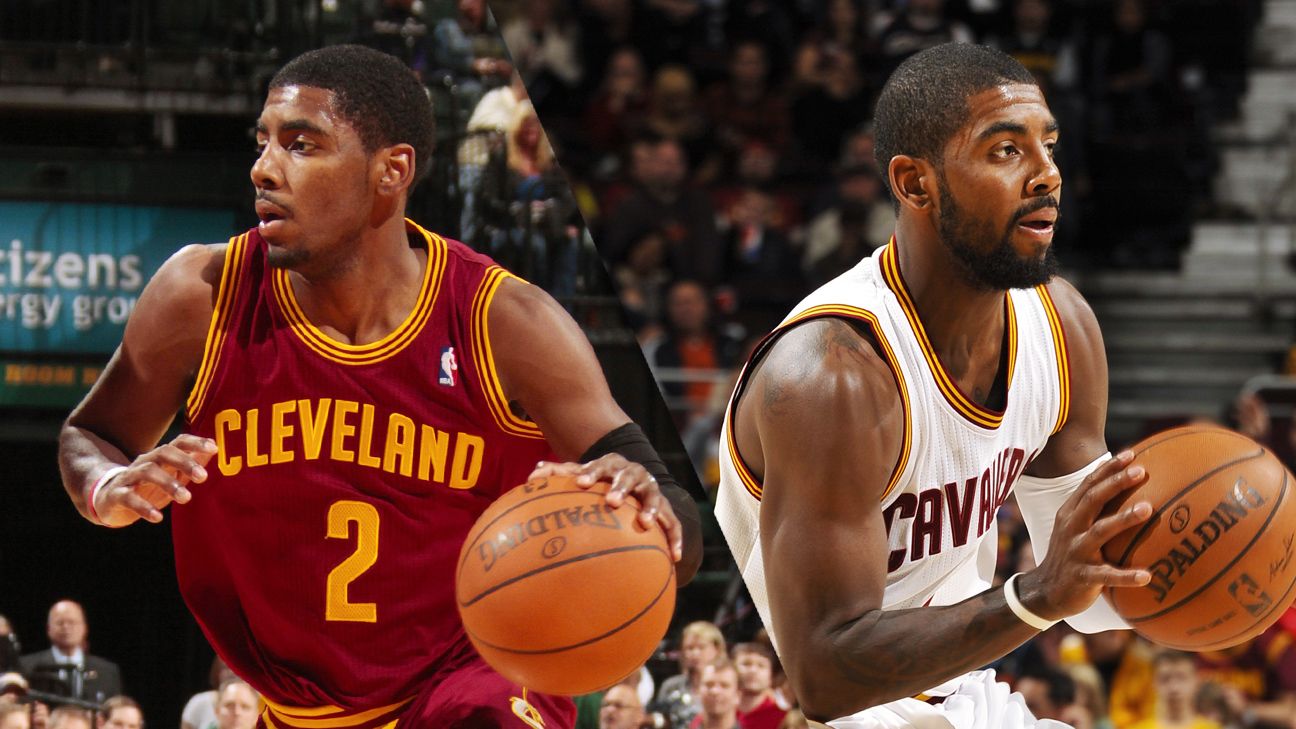 Kyrie Irving is, well, he's a lot of things. He's a ridiculous isolation scorer, an enchanting ball handler and finisher, and he's making significant strides as a passer this season.
You know what else he is? A lot better in the playoffs (as long as he's got LeBron).
Meet regular season Kyrie Irving. He is the college student during syllabus week. He knows the major responsibilities are down the road, and he shows it.
Regular season Irving is still incredible to watch. Buckets don't take days off because they are fun to accrue. But, he's a little more loose with the ball, he's not as accurate from 3-point range, and he's a lot less committed on defense.
Since LeBron James returned to the Cavaliers, Irving has averaged an 11.5 percent turnover rate and shot 38 percent from 3 in the regular season. He's also never posted a positive defensive plus/minus in his entire regular season career, per basketball-reference.com.
Yet in the Cavs' two playoff runs, Irving has registered a +0.7 and +0.1, respectively. Those numbers might barely be above average, but it proves he's capable of playing respectable defense when motivated.
Irving has also cut down his turnover rate to 9.1 percent in the playoffs, while shooting six percentage points higher (44 percent) from 3 than he's shot during the three regular seasons with James. Playoff Irving brings all the dazzling excitement, but with a touch of disciplined reform.
Speaking of The King, it's no secret he's the key to the Cavs thriving in the playoffs. Irving is noticeably better in the playoffs than in the regular season, but that doesn't mean the Cavs are better with him.
When Irving has been on the floor the past two postseasons, the Cavaliers have outscored their opponents by 7.8 points per 100 possessions according to nbawowy.com. That number would be good for third in the NBA so far this season.
When Irving plays without James, however, the Cavs get outscored by 14.2 points per 100 possessions, which is about six points worse than what the last place Brooklyn Nets are doing this season. When Irving has been on the bench in the playoffs, LeBron's presence has kept the Cavs at +11.2, including scoring at a rate of 125.4 points per 100 possessions, which would be an all-time record over a full season.
To be fair, A lot of that 225 minute sample size came against the dreadful Eastern Conference, so let's look at what really matters here: the Warriors. When either LeBron or Kyrie were on the floor without one another, they got outscored by 35-plus points per 100. But in the 22 minutes Irving played without James, that number jumped to 68 points per 100. Small sample size, sure, but that's a terrifying number.
So meet playoff Kyrie Irving. He's the college student that steps his game up at the end of the semester to get the grade he needs, but he can't do so without the help of his all-knowing, selfless professor.

NEO Sports Insiders Newsletter
Sign up to receive our NEOSI newsletter, and keep up to date with all the latest Cleveland sports news.