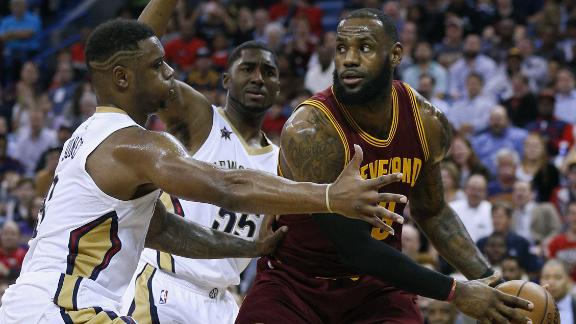 LeBron James let his feelings be known after an embarassing loss to the New Orleans Pelicans on Monday night.
LeBron unplugged: "We're not better than last yr. I just hope we're not satisfied as an organization" Final thoughts https://t.co/bkwwZcvl7S

— Jason Lloyd (@ByJasonLloyd) January 24, 2017
Some quotes that stood out include:
 "We're not better than last year, from a personnel standpoint … we're a top-heavy team," James said, adding a few minutes later, "I just hope that we're not satisfied as an organization. I just hope we not satisfied. How hard it was to do that s—. I just hope we're not satisfied."

"I don't got no time to waste," he said. "I'll be 33 in the winter and I ain't got time to waste. That's what I'm talking about. … When I feel like physically and mentally, me personally, can't compete for a championship no more or I feel like I can't do it, then I won't have this problem. But until that happens, and it don't seem like no time soon…
As for the Mo Williams situation:
"We got f—– with that," James said.

"No disrespect to DeAndre (Liggins) and to Kay (Felder), you think we can rely on them to help us win a playoff game right now?" James asked. "And it's no disrespect to them. But it's like, it's not fair to them."

"(Felder) has gotten better," James said. "I commend him." "It's tough for Coach because we're in the process of trying to win a f—— championship," James said.

"It would've been unfair to Delly to ask him his rookie year to play on a championship-level team. So that's why you got guys in front of him that allows him to (grow). We telling Kay to be a backup point guard to a f—— superstar right now, instead of being a backup point guard to a guy that's proven in the league. You know what I'm saying?"

"I ain't got no problems with the front office," James said. "I told (Griffin) to his face, so it ain't like I'm telling y'all to put it on record. I see Griff all the time. One thing about me, if I got something to say, I'm going to tell it to your face. We need a f—— playmaker. I'm not saying you can just go find one, like you can go outside and see trees. I didn't say that.

"It's been a s—- 2017 so far."
The first three weeks of 2016 didn't go well for the Cavs, either.
Safe to say David Griffin is hard at work, looking to find the right fit.

NEO Sports Insiders Newsletter
Sign up to receive our NEOSI newsletter, and keep up to date with all the latest Cleveland sports news.