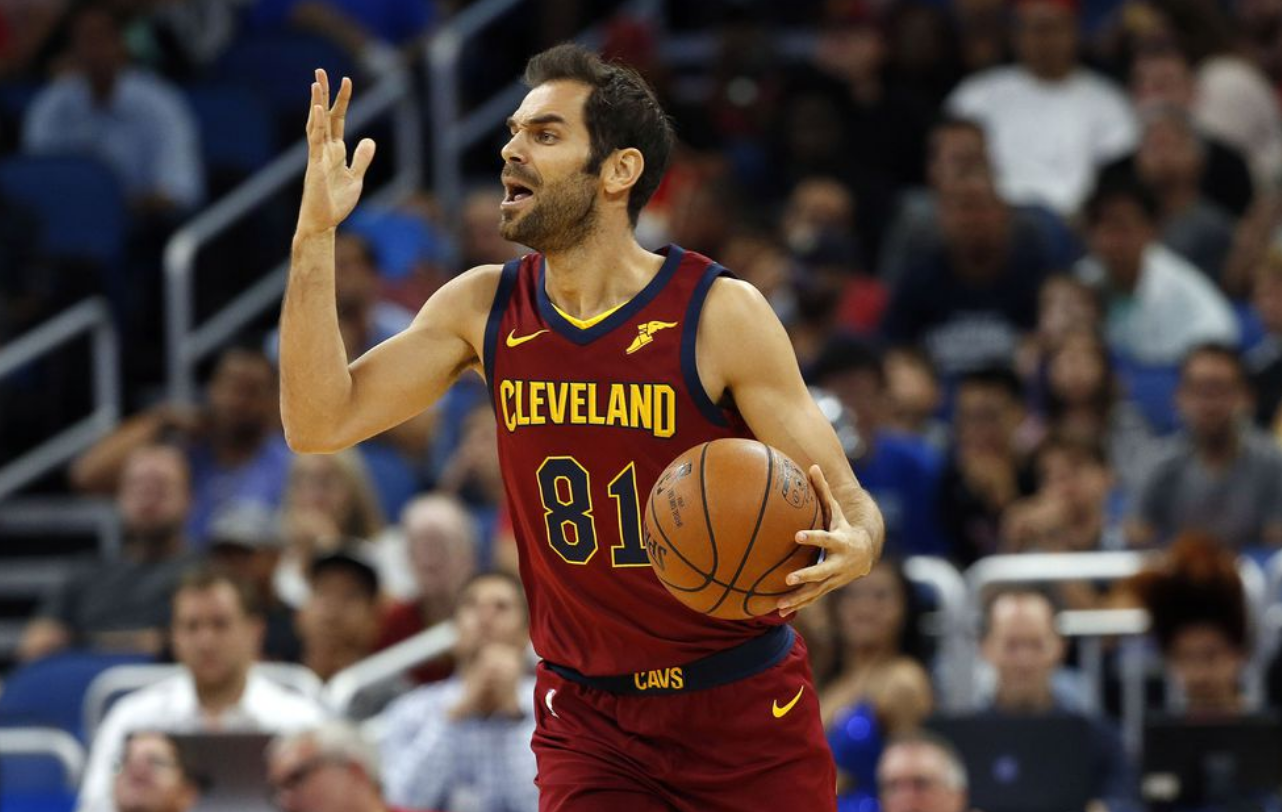 DETROIT– The Cavaliers haven't had much luck when it comes to healthy point guards so far this season.
Isaiah Thomas appears to be getting closer to returning to action, but of course, has not appeared in a game since the 2017 Eastern Conference Finals due to a torn labrum in his right hip. Derrick Rose continues to have lingering issues after spraining his left ankle in the second game of the year against the Milwaukee Bucks, and is expected to be out for at least two more weeks. Iman Shumpert is also out for the next week due to knee soreness, the second time this year he has had to miss time for the issue.
As a result, veteran Jose Calderon is getting the start against the Detroit Pistons on Monday night.
"We got him in last game, we knew at some point we were going to need him and he's a great veteran to have," head coach Tyronn Lue said after practice on Sunday. "He gives us steady minutes and once he gets a feel and gets comfortable out there, I think he'll be great. He's getting a big start tomorrow."
Calderon has only seen action in seven games this season, and Monday night will be his second start this season. Despite his limited action, Calderon played just over 10 minutes in Friday's overtime win against the Los Angeles Clippers.
"The most difficult part could be the game rhythm more than the physical part or the mental part," Calderon said. "Three weeks of just sitting there and watching and trying to help your team in a different way and jump in there, but that's what it is."
Given the fact that he is a veteran who has played 13 years in the NBA and another seven years in Spain, Calderon understands how to play within himself, and also said that he is more used to knowing how his teammates play now.
"I just got to go out there and you don't have to mess things up," he said. "Like the other night, you just can't go and shoot every time. That's not going to help the team. What I tried to do was organize them, give them good shots. Try to be active on defense with a steal or a charge. Try to get them some movement, some energy."
At least mentally, it seems as though Calderon is taking a step in the right direction. Much like Lue has said all year of the team's new additions, he just expects the new guys in the rotation to be themselves.
"Shoot the basketball, run the pick and roll, be confident and just play his game," Lue said. "Offensively, we know he can shoot the basketball so we want him to shoot the ball, but defensively he understands what's going on. He's going to be in the right spots, he's going to take charges, so just being who he is."
Of course, even with the injuries at the point guard spot, the Cavs have a benefit that most teams do not: LeBron James being able to play any position on the floor at any given moment.
Regardless, Calderon is ready to do all that he can to help the team and step into the rotation.
"Whatever system we want to be in, what is the plan for tomorrow, I'll do that 100 percent," Calderon said. "That's what I got to do. Don't bring these guys down."

NEO Sports Insiders Newsletter
Sign up to receive our NEOSI newsletter, and keep up to date with all the latest Cleveland sports news.