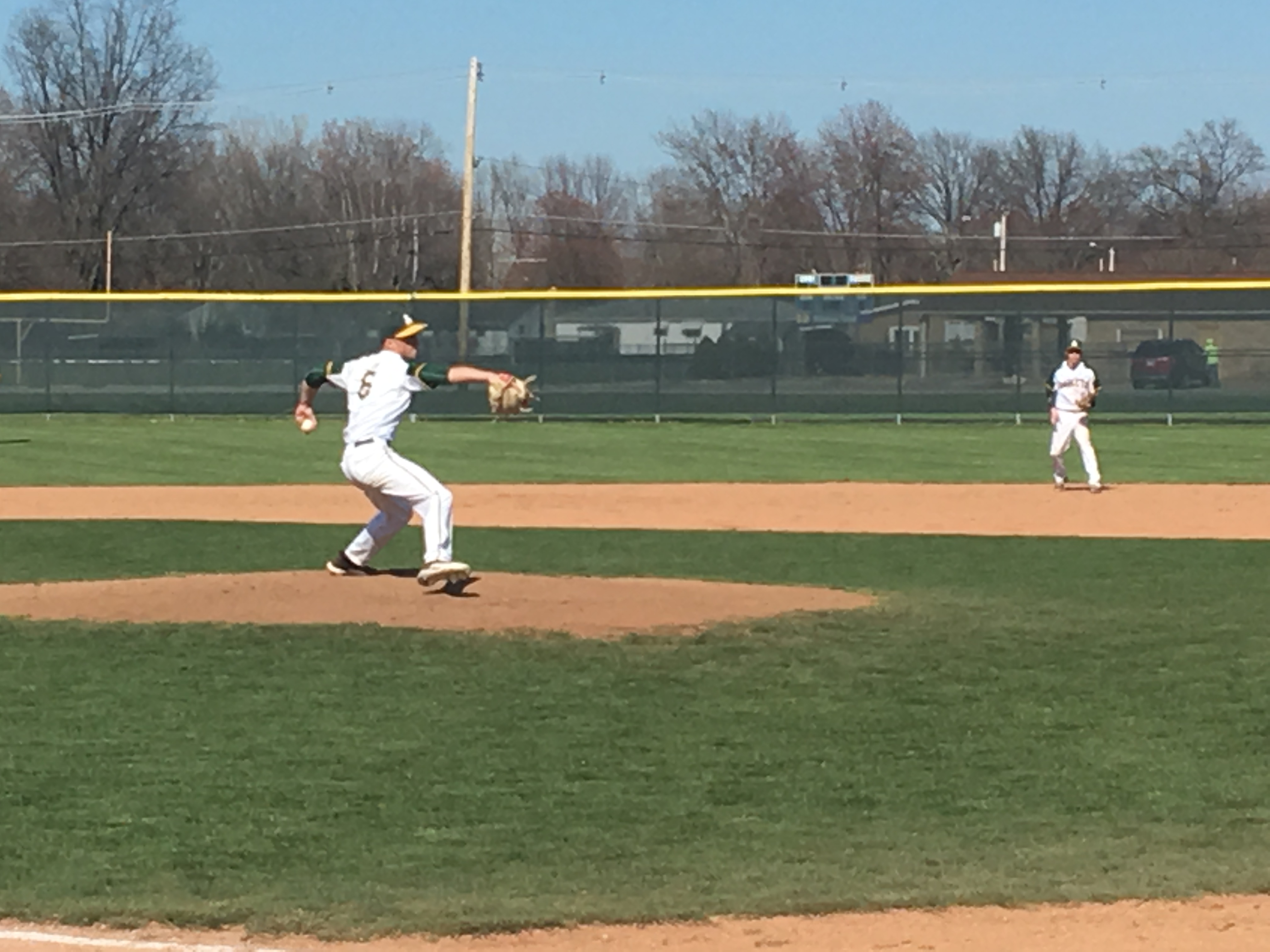 AMHERST, OHIO– In a game with huge Southwestern Conference implications, the Amherst Comets toppled the Avon Lake Shoremen 5-0 thanks to some stellar situational hitting and another standout performance from their ace.
Evan Shawver did what Evan Shawver does best on Monday evening, striking out 12 of the 24 Shoremen batters he faced in six innings. He gave up just four hits and walked one. The last 33 innings that Shawver has thrown have been scoreless.
Oh, and for the season, he's amassed 88 strikeouts in 41 innings. In 2017 Shawver set the single-season strikeout record with 92. With two starts remaining, it's a number he should blow out of the water.
"I just came out here with the same mindset I do every time, just try to throw strikes and let my defense work," Shawver said postgame.
Shawver did have to pitch himself out of traffic early in both the first and second innings. Jason Gregovits recorded a one-out single and Jacob Krukowski drew a walk in the next at-bat. Shawver responded by striking out Michael Sacco and getting Connor Koncelik to fly-out to center to get out of the inning.
In the second frame, Aidan Jantz recorded another one-out single for Avon Lake while Aidan Flinn got on base because of an error at second. Kai Kuwalu laid down a sacrifice bunt to record the second out, and Shawver capitalized by striking out Jacob Caraballo for the third.
"Anytime he steps on the mound you kind of expect him to pitch well and that's what he did today," Amherst head coach Matt Rositano said. "I thought their hitters had a great approach against him. They fouled a lot of pitches off, they ran his pitch count up and that's something a lot of teams haven't done this year.
"And he has the stuff where even if he gets himself into trouble he can pitch himself right out of it, and that's what he did today."
Shawver used his off-speed pitches (particularly his curveball, which can be described in one word: filthy) to get himself out of that early trouble. Combine that with his fastball that tops out in the mid-90s, and you have a lethal combination for even a good hitting team.
"We told the kids if he's breaking off curveballs for strikes you tip your hat to him," Avon Lake head coach Kevin Marlow said. "Especially early in the game we had them sitting on the fastball. Actually, we had some good at bats all day against him, but he was throwing that off-speed pitch for strikes. Tip your hat to him."
Offensively, the Comets got on the board early in the first inning, as Ryan Glowacki plated Jake Hart with a sacrifice fly, and Shawver recorded an RBI single to bring home Jacob Lezon.
Getting the early 2-0 lead is something that helped the Comets put pressure on Avon Lake's bats, knowing what they were up against on the mound.
"If we're able to score first whether it's one, two, three, whatever, that puts a lot of pressure on other teams," Rositano said, "because they know it's really hard to score against our pitching staff and virtually impossible to score against Evan."
The Comets would not score again until they put up three runs in the sixth inning. Lezon got on base because of a dropped catch in right field. Two at-bats later, Shawver brought him home with an RBI double. Gabe Solak made it all the way to second on another outfield error as Shawver advanced to third. Hunter Cassidy plated both of them with an RBI double to give the Comets the 5-0 win.
As well as leading them on the mound, Shawver led the Comets offensively going 2-for-3 from the plate with two RBI. Cassidy was 1-for-3 with two RBI as well, while Glowacki was 1-for-1 with two sacrifice flies and an RBI.
For the Shoremen, Aidan Jantz was 2-for-3 from the plate. Ryan Shinko picked up his second loss of the year. He recorded five strikeouts and gave up just two earned runs on four hits through six innings. The Shoremen drop to 11-6 overall and 10-4 in the SWC.
With the win, Shawver improves to 6-0, and the Comets improve to 17-4 overall and 13-2 in the SWC. The Comets close out SWC play with three more games this week. They'll travel to Westlake on Tuesday, to North Olmsted on Wednesday and will take on Avon at home on Thursday.
They're currently in first place in the SWC, and if they can pick up two wins, they'll take the conference crown outright.
"That's one thing we've been talking about since the beginning of the year," Rositano said. "They want to repeat as SWC champs, something we haven't done since I don't even know. It's been awhile. And I think it's been even longer since we won an outright conference championship that hasn't been shared.
"That's their first goal and they're pretty focused on achieving that."