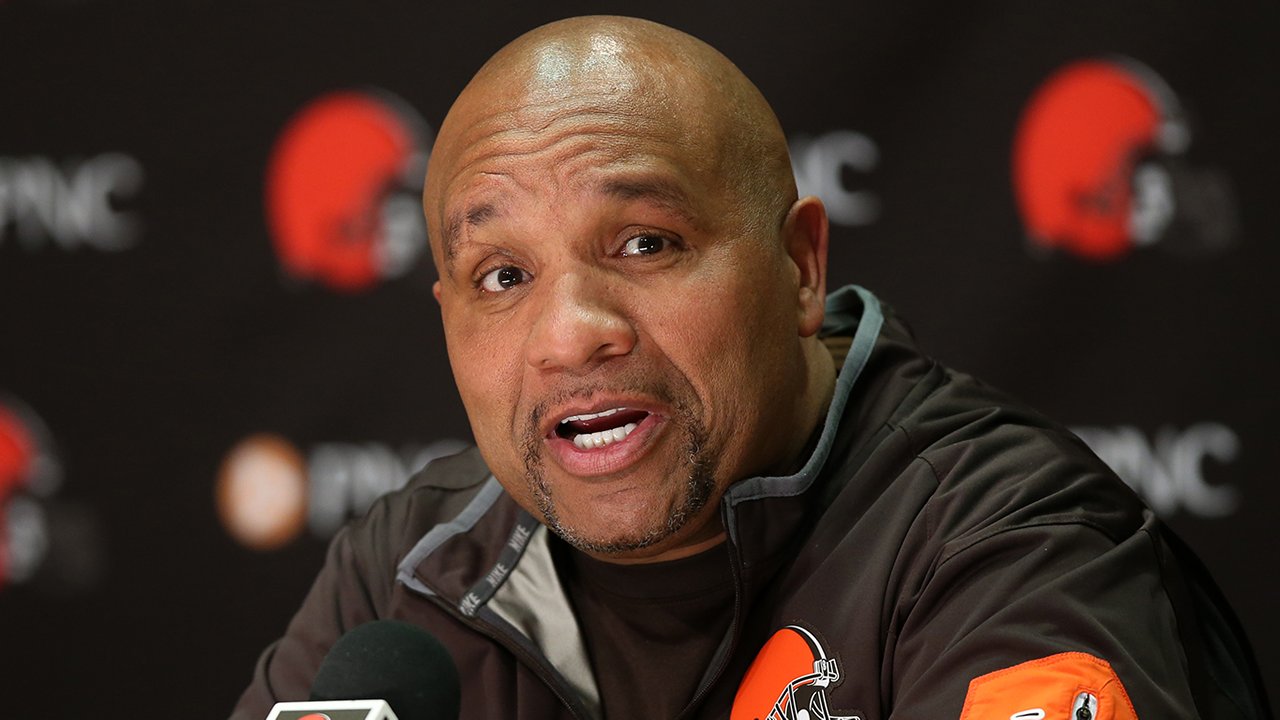 CLEVELAND – When it comes to developing a young quarterback, there are two philosophies NFL coaches subscribe to: start him immediately and let him learn on the fly or let him sit and learn behind a veteran for a few years. For the Cleveland Browns – who used the No. 1 overall pick in last week's NFL Draft to select Baker Mayfield – it appears the latter option is prefferable.
Back in March, Browns head coach Hue Jackson declared newly acquired veteran quarterback Tyrod Taylor the team's starter next season even if they drafted a rookie. With Mayfield joining the team that is now a reality, and Jackson is sticking his guns.
Asked if there was any chance Mayfield could become QB1 by the start of next season during an interview, Monday on 92.3 The Fan, Jackson said he would have to be "blown away" by the Oklahoma product to start him over Taylor.
"It would have to be something that blows me away and blows the organization away because we have a plan in place," Jackson said. "I know plans do change, but I would like to really, really make sure that that is the case as opposed to creating the narrative that that is the case. Let's let it happen that way, and if it does that, organically happen, and if it doesn't I think we're going to be in a great spot moving forward."
Showing patience in regards to Mayfield's development may be the best case scenario for organization that has historically struggled with developing quarterbacks. This past season for example, Jackson and company toyed with rookie QB Deshone Kizer, benching and reinstating him as the Browns starter on numerous occasions throughout their disastrous 0-16 season. It wasn't the first time the organization was overzealous in thrusting a young QB into action.
Past misteps aside, it appears Jackson has learned from his mistake and with the luxury of Taylor as a bridge QB, plans to do a better job managing Mayfield's development.
"This is going to be the future of our franchise, [so] I'm not gonna stick him out there too soon," Jackson asserted. "Now, if some reason the learning curve is really fast and he's doing some great things, we'll still temper it and let it take its course the way it needs to go. But I think Tyrod Taylor is going to be our quarterback, I've committed to that. Obviously, Baker's gonna compete and where that all fits in the rotation when training camp is here and done we'll kinda go from there."
Jacks0n's willingness to be patient with Mayfield should be a breath of fresh air for Browns fans.

NEO Sports Insiders Newsletter
Sign up to receive our NEOSI newsletter, and keep up to date with all the latest Cleveland sports news.