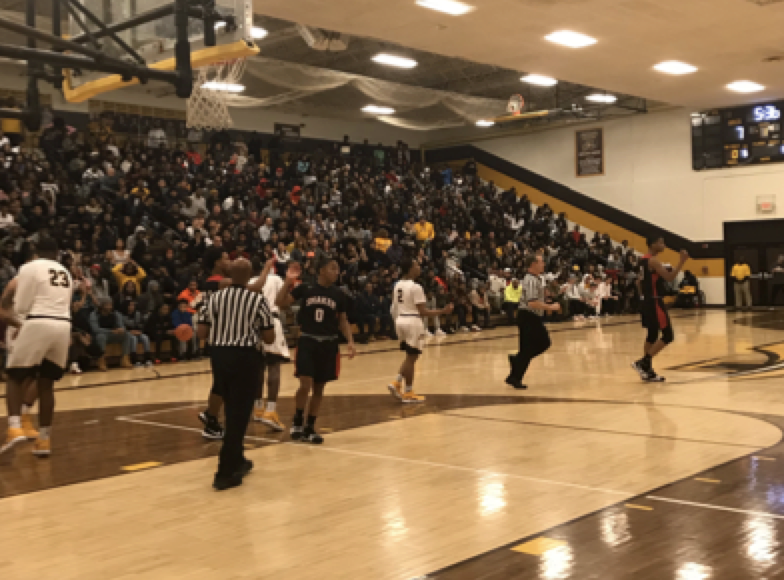 This game recap is brought to you by Nurenberg & Paris.  You can reach them at the above link.
LYNDHURST, OHIO– The battle between Brush and Shaker took an extra four minutes to finally decide a winner. It was the Raiders who dominated overtime to defeat Brush in a showdown Tuesday night.
Shaker Heights head coach Danny Young knew coming into the game Tuesday night that it would be a challenge to walk out of the Brush gym with a win. In a very physical and scrappy game, Young was very jubilant with the way his team performed.
"We got a win on the road against a team that's kind of hot right now," he said. "Anytime you come into somebody else's place and get a win, it's great."
Senior Dale Bonner led the Raiders Tuesday night with 26 points. Christian Guess added 22 points followed up by Justin Phillips with 13 points. Najee Hardaway rounded out the scoring with 10 points as four players scored in double figures to help secure the win.
Brush got up on Shaker early as they led 18-8 after the first quarter. The second quarter is where Shaker would make up for their slow start. A 10-2 start to open up the second frame quickly put Shaker right back in the game.
After 6-foot-9 sophomore John Hugley picked up two first-quarter fouls, he was forced to sit the whole second quarter, which is when Shaker took advantage. The Raiders would outscore the Arcs 20-10 in the second quarter and found themselves tied up at halftime.
Back and forth these two teams would go as they battled all night. In a very physical and chippy game, Shaker would carry just a five-point lead entering the final quarter.
Coming down to the final seconds, Hardaway fouled Andre Harris to put him at the free throw line to try to tie the game up. He would go on to sink both free throws and the score would be tied at 67 with just 10 seconds left.
A pull-up jumper by Bonner from just inside the arc bounced off the back rim as time expired, forcing four more minutes of overtime basketball.
Shaker would start the overtime period on a 7-0 run and later outscored the Arcs 15-5 to defeat them by 10 points. Free throws played an imperative part in the overtime victory as the Raiders made them when they mattered the most.
"I get them tired in practice and then we go shoot when we're tired," Young said. "When it mattered, they made them."
For the Arcs, it was junior DJ Dial who led the way with 21 points. Harris added 17 points, 11 of those points came at the free throw line. Hugley rounded out the scoring with 12 points.