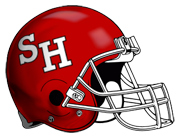 SHAKER HEIGHTS, OHIO – Shaker Heights had a big day on defense, intercepting five passes and recovering two fumbles, to defeat John Adams, 41-6, and improve to 2-0 on the season.
The Red Raider defense got things started early in the first quarter when senior defensive back Owen Tafe, in his first football game, picked off a Rufus Hamm pass and returned it 36 yards for a touchdown to put Shaker Heights on top, 7-0.
"When the ball went up in the air, I was thinking, please don't drop it. I wanted to show up and do well in the first game." said Tafe.
Shaker Heights quarterback Jamir Dismukes is known for his dual-threat ability as the Red Raiders starting quarterback. He also can play defense pretty well, too.
On the ensuing John Adams possession, Dismukes would pick off a John Adams pass and return it to the end zone, but it was called back due to a block in the back. Dismukes would find tight end William Dunn Jr. in the end zone from ten yards out to increase the lead to 14-0 barely three minutes into the ball game.
But the Red Raiders weren't finished. Shaker Heights came up with their third interception of the game on John Adams' next possession, this one by junior defensive back Makari Stanberry. They would capitalize on the next drive when Jamir Dismukes evaded two defenders and found a wide-open William Greer in the end zone to increase their lead to 21-0.
After a John Adams defensive stand in the red zone, Jamir Dismukes picked off his second pass of the day, giving the ball back to Shaker Heights. Junior Kenai Cooper would punch it in from three yards out to give Shaker Heights a 28-0 lead.
The Red Raider defense would force another turnover, stripping quarterback Robert Ramsey of the ball. Sophomore linebacker Dreshawn Carter would recover, and quarterback Jamir Dismukes would add a rushing touchdown of his own from three yards out to further increase the lead to 34-0.
Late in the first half, senior running back Caleb Owens would add another touchdown for the Red Raiders to  put them up 41-0 at halftime.
It was a struggle for John Adams, as they could not get much going on offense. But in the fourth quarter, the Rebels broke the shutout when freshman quarterback Rufus Hamm found sophomore wide receiver Johnny Collins in the end zone for a 31-yard touchdown.
Jamir Dismukes accounted for three touchdowns (two passing, one rushing) in total and two interceptions.
Kenai Cooper carried the ball six times for 83 yards and a touchdown.
"It was another great win for us, but we're ready for Week 3. We're ready to go into conference play and put in work." said Dismukes.
"I was fourth string running back last week. I wanted to come out to shine today, and I did. I'm ready for next week." said Cooper.
In addition to the interceptions by Dismukes, Tafe, Carter, and Stanberry, Ian Suber recovered a fumble, and Blare Sawyer also picked off a pass for the Red Raiders.
For John Adams, sophomore Johnny Cullins had two catches for 47 yards and a touchdown, and freshman Deaunta Taylor had six tackles and a sack.
Shaker Heights (2-0) travels to Brunswick on Sept. 8 to open up Greater Cleveland Conference play.
John Adams (0-2) travels to Brush on Sept. 8.

NEO Sports Insiders Newsletter
Sign up to receive our NEOSI newsletter, and keep up to date with all the latest Cleveland sports news.