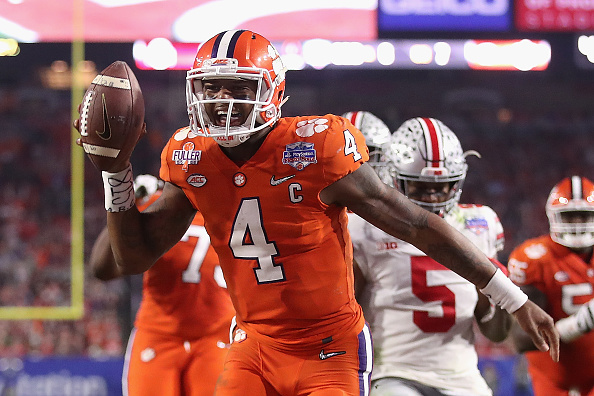 1.) Overinflated National Championship Games
Everybody wants to point to the National Championship game the last two years and say that Deshaun Watson is going to be a great QB because he played well against the best college defense on the biggest stage. That is only somewhat true. Yes, Watson had a couple of great games against the Tide, but everything can't weigh on two games. I put more weight into the Ohio State semifinal game where he had to go up against Malik Hooker, Gareon Conley, and Marshon Lattimore, three Buckeyes secondary players who could go in the first round of this year's draft. The major concerns with Watson come with his reads and throwing ability which would be tested more against a strong secondary compared to the strong pass rush of Alabama. Against the Buckeyes secondary he went 23/36 for 259 yards with 1 TD and 2 INTs. In his 2016 National Championship he was 30/47 for 405 yards 4 TDs and 1 INT and for 2017 36/56 for 420 yards and 3 TDs with 0 INTs.
So what are some negative reasons to take away from his Championship performance? Let's look at the 2017 game. It was a tale of two halves. In the first half he was just 13/23 for 153 yards. In the second half Alabama's inefficiency on offense caused their defense to be out there for way too long. Starting at the end of the 1st quarter, Alabama did not have one drive last over two minutes until their final possession of the game. They ran a total of 27 plays the entire second half. Clemson ran a total of 99 offensive plays. On the year, Alabama was only on the field for more than 70 snaps three times, 73 against Ole Miss, 78 against LSU, and 84 against Arkansas. The National Championship total was 118% of what the most they faced at any point this season.
When did Watson do most of his damage? Late in the game against a tired defense. We can also put this in terms of a NFL game. The New Orleans Saints led the league this year with 69 plays per game which breaks down to just over 17 plays a quarter. Doing the math for 99 plays would put the game at just under 4 minutes remaining in the second overtime. Now imagine how a defense would play going up against the Saints in double overtime but cramming that into four quarters. Yes there are more stoppages to allow more plays in college but the total amount of snaps does not change. Alabama simply ran out of gas, had no pass rush and Watson took advantage.
There can also be the stat on QBR which isn't a perfect stat but it puts a lot more into perspective than just a stat sheet. QBR summed up is a matter of how efficient a QB is and ESPN does a good job of explaining it here.
For the National Championship Game, Watson's QBR was 67.1, which ranks 10th out of 15 on games played in 2016. So while his stat sheet looks great passing, he was a little bit of a liability in the run game with 21 attempts for just 43 yards including a lost fumble. His 2016 Championship game ranked 11th of 15 with a 69.4 QB rating. So in terms of efficiency from a calculated standpoint, his National Championship games don't appear as good as most people would believe.

NEO Sports Insiders Newsletter
Sign up to receive our NEOSI newsletter, and keep up to date with all the latest Cleveland sports news.