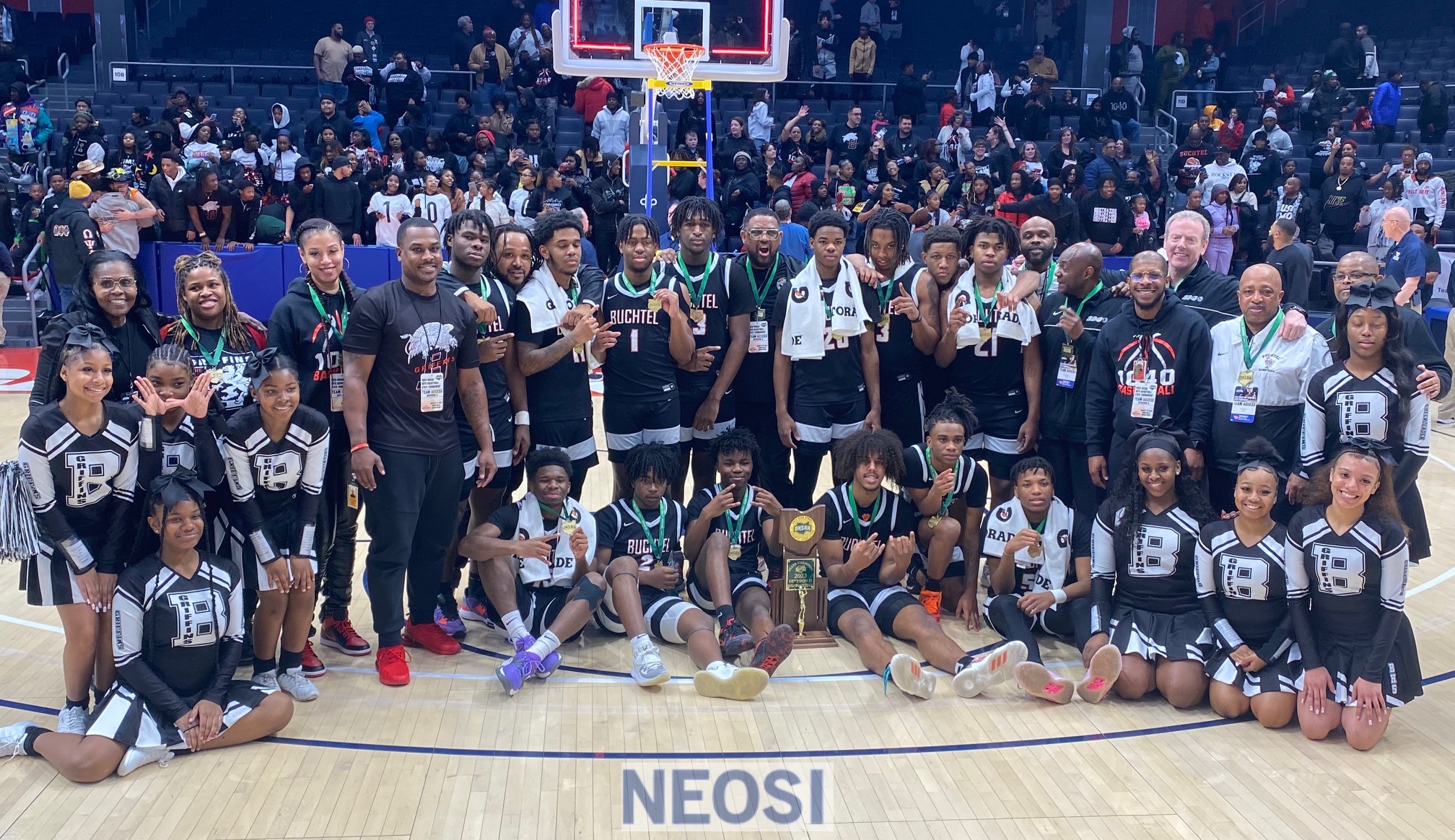 With the clock showing double zeroes and the entire crowd on their feet, the fate of the season was hanging on a replay review. After several tense moments, Lutheran West's game-tying shot was waved off, sending the Buchtel faithful into a frenzy. This moment solidified the first ever state championship victory for the Griffins, a 51-49 victory that had been years in the making for an experienced group.
A Back-and-Forth Affair
From the opening tip-off, it was clear that neither of these teams were going to shy away from the moment. After Lutheran West went up 5-0 early, Jayden Maxwell connected on back-to-back three pointers to give Buchtel the lead.
This would become a trend, with 11 lead changes and nine ties occurring throughout the course of the game.
Lutheran West Responds To A Buchtel Run
After playing to a 30-27 lead at halftime, Lutheran West gave up an 8-0 run to fall behind 38-34. It was a senior connection from Amire Robinson to Maxwell that forced a timeout.
This break in the action proved to be important, as momentum quickly swung in favor of the Longhorns.
Jayson Levis converted on a four-point play to give Lutheran West a lead, with the game eventually becoming tied at 42 through three quarters.
Marcel Boyce Comes Up Clutch
In his last high school game, senior Marcel Boyce put together a huge stretch. In a low-scoring fourth quarter, Boyce scored eight of Buchtel's nine points. This stretch included three go-ahead scores, including the game-winning free throws in the final seconds.
Those free throws were set up by a strong possession in which Buchtel held the ball from the 1:40 mark until there was 18.7 to play.
The Finish
Lutheran West's final chance came on an inbound play with 3.8 remaining. Levis lost control of the ball, which was scooped up and laid in by Josh Meyer to tie the game at the end of regulation. To the benefit of Buchtel, the play went to review. It was concluded that the ball was still in the hands of Meyer when the buzzer sounded, giving Buchtel the 51-49 win.
It was an unforgettable moment for a group led by seniors Marcel Boyce, Jayden Maxwell, Amire Robinson, and Khoi Thurmon. They will forever be remembered as the group that won the first title for the "1040".

NEO Sports Insiders Newsletter
Sign up to receive our NEOSI newsletter, and keep up to date with all the latest Cleveland sports news.