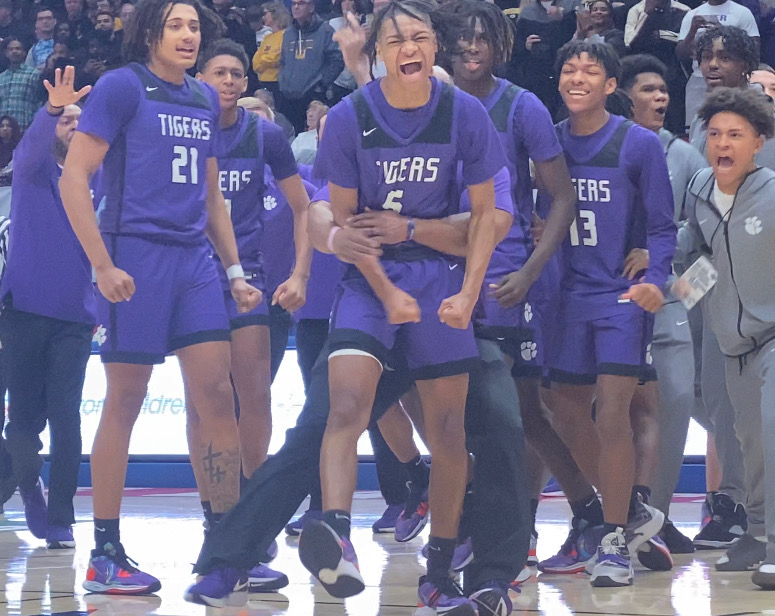 The Rematch!
Centerville and Pickerington Central renewed their rivalry Saturday from last year's championship game in Division 1 Ohio State Boys Basketball. With all the focus on 2023 Mr. Ohio Basketball, Devin Royal, and Gabe Cupps, the 2022 Mr. Ohio Basketball for the Elks, this was a game 360 some odd days in the making. But like last year, Pickerington, on a running left handed hook shot with seconds left by Markell Johnson, defeated the Elks, 57-53.
Pickerington will go for a second straight Division 1 Boys Basketball title tomorrow at UD Arena against Akron Hoban. Centerville finished the year 25-4 and ended a remarkable three year run as one of the most memorable in Ohio's illustrious basketball history!
Pickerington: For the win………..GOOD!
The game was tied until late in the fourth when Markell hit the shot of the tournament with 1.3 remaining in the game. Here it is!
Game winning basket in the Centerville/Pickerington Central Division I State Semi-Final Game. pic.twitter.com/XXC0v4JmLK

— OHSBCA (@ohioBKcoaches) March 19, 2023
"It was a little luck at the end of the day. I'll take it," he told reporters after the intense game.
Coach Eric Krueger for Pickerington explained that last play. "What is interesting about that is [out of the timeout before the final shot, Centerville] came out in a 2-3. We had a man play called, and they called timeout again. I had the same man-to-man play but also I drew up a 2-3 play. They came back with man and we got that initial play I wanted."
Juwan Turner, 4-4 from three point land for the Tigers, tossed the inbounds to Markell since Devin wasn't available. He moved from the low block into the lane and his running hook dropped in for the game winner.
Centerville falls just short
Gabe Cupps, the outstanding Centerville senior, was complimentary on the winning shot but despondent, too. "He made a great shot," he said of Johnson's play. "But I should have made him go right. Just not following the scouting report." 
Centerville took the inbounds away from Devin, but as Elk's coach Brook Cupps said, "You can't take everything away. Look, he made a ten foot running hook shot going to his left." Yes, Markell did, and he loved the idea of having that chance to win the game for his team.
"Ever since I was a little kid I'd practice game winners in the driveway. It felt natural. I felt I could hit the shot and I did."
"I wouldn't change anything we did and how we do it," Cupps said later. He was proud of his team AND his program. Why not? Three years in the state final four with a championship two years ago…pretty amazing stuff from the Elks program!
First half: Pickerington leads by four
HUGE turnout for this Centerville/Pickerington Central game! 🔥 pic.twitter.com/ucwwraL90t

— NEO Zone HS Sports (@NEOZoneHS) March 18, 2023
Centerville found the board first as Gabe Cupps hit back to back triples to stake the Elks to a quick 6-0 lead. But Pickerington scored 6 of the next 8 points to make it 8-6. The two sides traded baskets and Devin Royal finished the quarter scoring with 2 free throws.
As the second quarter started Centerville pushed the lead to 6 again behind two Jonathan Powell treys, the last one coming off a turnover by Royal. But then the momentum changed as Juwan Turner went on his own 8 point run!
Juwan Turner with eight points for Central, including two big 3s.

— Dave Purpura (@dp_dispatch) March 18, 2023
Pickerington went to the locker rooms with a 27-23 lead as Centerville needed the time to regroup.
The Elks fumbled passes and missed shots during this Tiger run. Pickerington had 13 fast break points in the half and outrebounded Centerville 13-7.
Third Quarter
Centerville started the third with a 9-5 run to knot the score at 32. Gabe had five points and his teammate, Emmanuel Deng, had four of his own.
At the 3:20 mark, Royal, an Ohio State bound senior, took a pass in the paint, spun, and hit a fade away jumper to tie it back up. It was a big time play, demanding the ball at that time. He had just fumbled the ball away in the prior possession and wanted to atone for the mistake.
The play was physical all quarter as each coach wanted fouls called for their teams. But each time their team needed a bucket or a play to be made, Royal and Cupps were there to make it.
Fourth quarter
Baboucarr Njie was a thorn in the Tigers side. Everytime they got back to a tie or were looking for a big play, Njie was there for a layup or a crushing dunk like the one at 4:02 to put Centerville up 46-44.
The Tigers wanted to look for Devin down low on the next possession after the timeout and he delivered with a short jumper and the free throw with it to put the Columbus school up 47-46.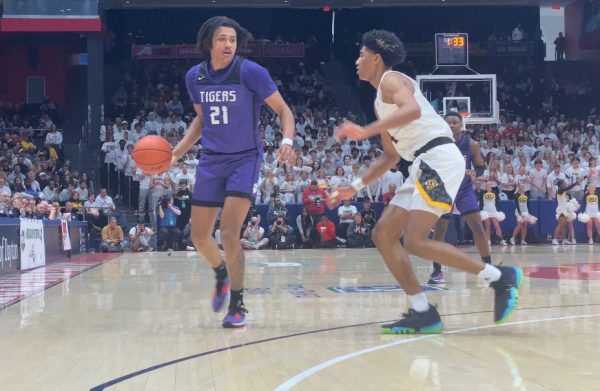 Patience was Centerville's key. They worked the ball around for over a minute and found an open Cupps to take the lead 48-47. Then Royal took a handoff from Juwan, got around a pick and tossed up a shot that dropped and converted the "and 1" for a 50-48 lead.
Centerville answered quickly with a back door pass for a layup to tie it up.
Juwan for THREEEEEE
As the Elk Defense attacked Royal, Juwan found himself alone at the top of the arc. The pass to him and the three were perfect and with that, Centerville called time. 53-50, 1:08 left. With that three, Juwan is 4-4 from deep. Elk's coach Cupps mentioned later, "In the fourteen games we had statted him, he shot 26% [from threes], but that's what great teams do!"
Then with 52.3 seconds left, Gabe attempted a three from in front of his bench. The ball was off the mark but Johnson was called for a foul after Gabe's attempt. Cupps calmly hit all three in front of a screaming Elk fan section.
53-53!
Royal got the ball over the timeline but he lost the ball and smartly fouled Njie who out reached him for the loose ball. Njie missed the first toss and the Tigers grabbed the rebound with 31.9 left in the fourth, setting up the final moments and the Markell winner.
The state has been blessed with a great rivalry with Centerville and Pickerington…Cupps and Royal. Asked to give his thoughts about his amazing career, Gabe shared this: "At this point I'm just grateful and thankful to be a part of something [like this run]."
"I got a lot of confidence in these kids and I encourage them to play with confidence," coach Krueger mentioned. And his confidence was rewarded by Johnson, Turner and Royal for one final trip to a state final game!

NEO Sports Insiders Newsletter
Sign up to receive our NEOSI newsletter, and keep up to date with all the latest Cleveland sports news.