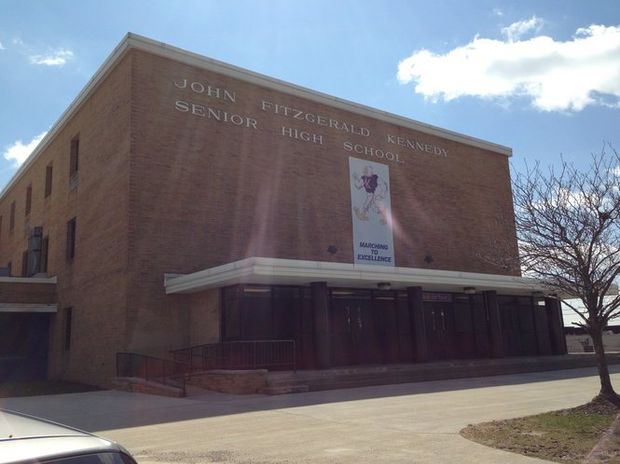 by James Reed
CLEVELAND– Tuesday presented a Senate League matchup between two winless teams trying to get their first win: Lincoln West at 0-2 and John F. Kennedy at 0-1. Even with all the snow and bad weather it didn't stop the fans from coming out to support their local high school.
The game didn't start on time because the schools had testing, plus JFK had to come from off Lee & Harvard. In speaking to three Lincoln West varsity players before the game started, Devonte Smith, Randy Rivera and Francis Stewart, the three told me that they need to play just as aggressive, compete at a high level throughout the game and to play as a team against the bigger Eagles.
As anticipated, Lincoln West was eating JFK alive throughout the first quarter. At the end of the first quarter, the Eagles were on top of JFK 16-8 with Randy Riveral leading all scorers with seven points.
The Eagles started stepping up their game in the second quarter. The ending score of the second quarter was 28-22 Lincoln West. During the beginning of the third quarter it got really tight between the two teams. The Eagles stepped up and took advantage of the smaller Wolverines, and took the lead to end the third quarter, 39-38.
No. 1 for the Eagles, Bouldin, is the main reason that they stayed in the game as he had six key points in the third quarter.
It was clear the fourth quarter would be hotly contested. Kennedy had some amazing fans that helped them continue to keep the lead throughout the fourth. Lincoln West had the lead throughout the first three quarters, but with 1:58 to go in the game, they were down 49-42. Head coach Omar called a timeout with 52.9 seconds left to try to get his team together to pull this one out, but it was just a little to late in the game.
The Wolveriness let the boys from off Lee & Harvard come into their house and get their first win of the season. Making their record 0-3, with the Eagles being 1-1. The final score of the game was 55-45.

NEO Sports Insiders Newsletter
Sign up to receive our NEOSI newsletter, and keep up to date with all the latest Cleveland sports news.