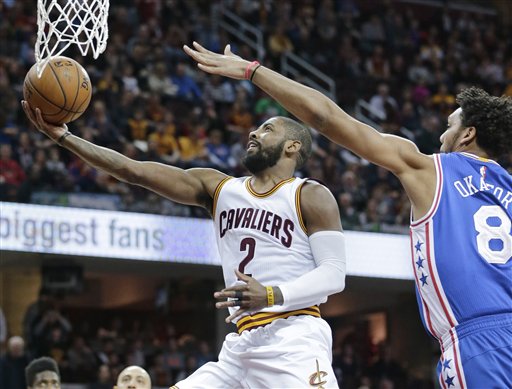 AKRON– Former Cavalier Ron Harper had plenty to say about Kyrie Irving's trade request yesterday at the Bridgestone Invitational.
Speaking with the Akron Beacon Journal, Harper said he was "a little surprised, a little shocked and kind of saddened" by Kyrie Irving's trade request last month. He also said he attributed the request to "youth, ignorance," and that he doesn't really understand what's behind Irving's desire to leave Cleveland.
"Young. Youth. Kids … listen, the inmates are in charge. So when the inmates are in charge, nothing but bad things can happen, right?," he told the Beacon Journal.
Harper also emphasized the fact that plenty of guys wish they could be in Irving's shoes, having been to three straight NBA Finals.
"It's never your team. You play for the front of your jersey, your name is on the back of it," he said. "When you get a chance to win and a chance to be on a good basketball team, you have to take that opportunity. That opportunity doesn't come around all the time.

"You're on a team that's been to the NBA Finals the last three seasons. How many guys get there? How many guys would kill to be him? If you go talk to most superstars that quote 'had their own team' that don't get to the playoffs, ask them how they feel."
Harper himself had to play with plenty of egos during his 15-year career. He won three championships with the Chicago Bulls playing with Michael Jordan from the 1996-1998 seasons. He also had a stint with the Los Angeles Lakers where he won two more in both 2001 and 2002, playing behind Kobe Bryant and Shaquille O'Neal.
When it comes to James, Harper said that James is more "mature" than Irving and "just wants to win."
"It's always going to be a two- or three-star team," Harper said. "You're never going to be a guy who carries your team. You see when LeBron doesn't play, you don't carry the team."
Given Irving's lack of a no-trade clause, the Cavs are not obligated to send him to one of his four preferred teams, or even to trade him at all. That fact was not lost on Harper.
"It's not a guarantee that the Cavaliers are going to trade him to a good team," Harper told the Beacon Journal.
"I asked a guy, 'What happened to the old-school days?' When a guy asked to get traded, you traded him to the sorriest team. That's the way it worked."

NEO Sports Insiders Newsletter
Sign up to receive our NEOSI newsletter, and keep up to date with all the latest Cleveland sports news.