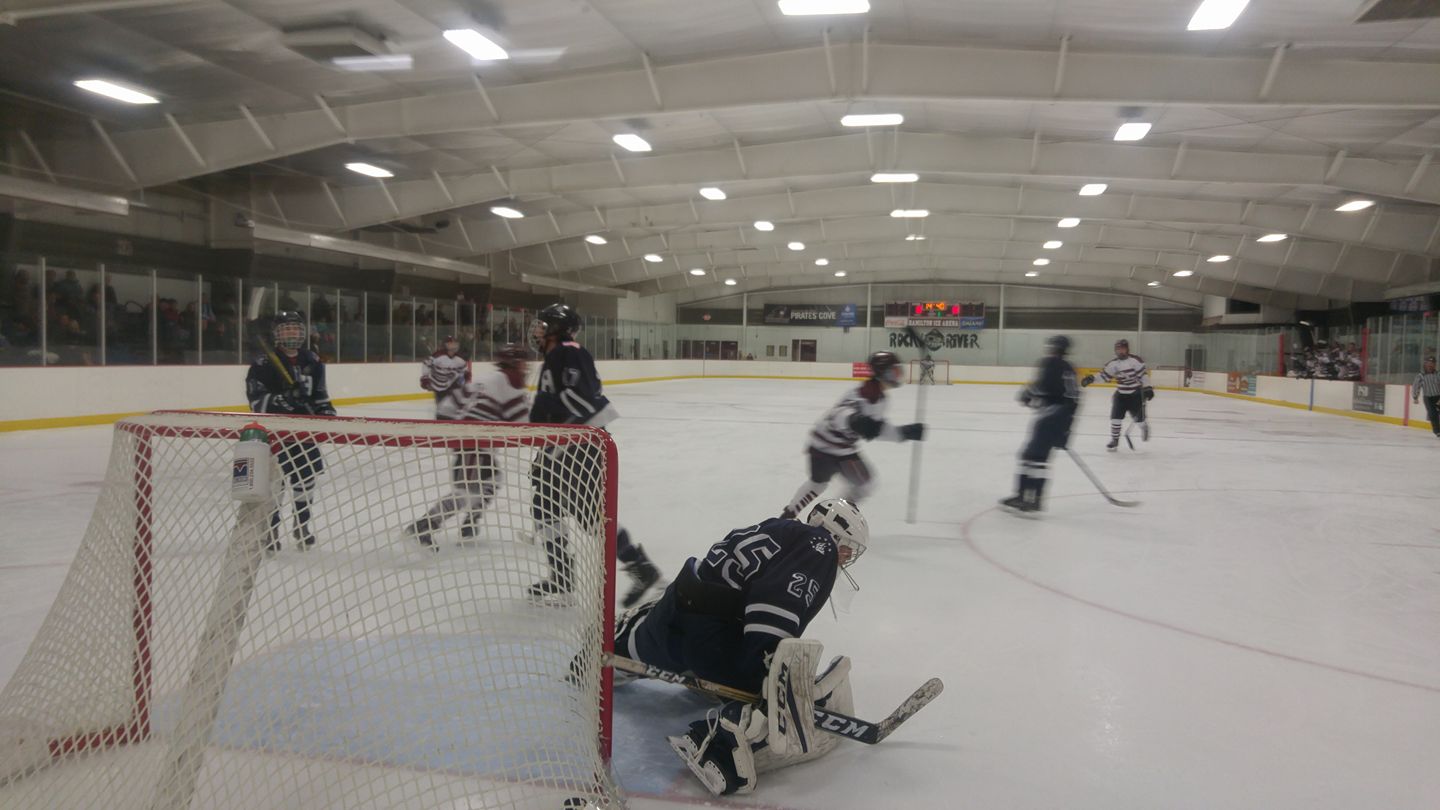 ROCKY RIVER, OHIO
In a game that saw plenty of hard hits, rough no calls and fancy skating on both ends, it was the Rocky River Pirates remaining red hot this season and coming out on the winning end once again.  The Pirates topped the visiting Hudson Explorers 3-0.
The Pirates wasted no time getting the scoring going as Teddy Stueber found a slashing Ben Brej near the net to connect for the games first goal only seconds into the contest.  It was a beautiful break away that took place off the opening drop of the puck.
The intensity would pick up on both ends the rest of the first period, but neither team was able to find the back of the net again.  Hudson did commit a few silly mistakes with an ill-timed offsides call and icing a few times as well.
The game remained 1-0 until 6:15 left in the second period on a hard hitting one timer that blasted past the Explorer Goal Tender to extend the Pirate lead.  It was set up perfectly as Logan Fortune practically put it on tee for Mallett to launch the puck in the back of the net.
Hudson also dealt with several injuries during the rough second period stretch.  One player went down with what appeared to be a pulled hamstring, while another laid on the ice for several minutes clutching his head. Words were exchanged by Frankie Lord of Rocky River and Sullivan Clark of Hudson but cooler heads prevailed before it got ugly.
Seconds after that, a slashing call on a Teddy Steuber would give Hudson their second power play chance of the game.  It would only last a few seconds however as Miles Harr would get called for roughing.  It was clear, this game got heated quickly.
While tempers flared, the Rocky River Pirates remained focused on the task at hand, scoring goals and winning!  They connected again with only 49 seconds left in the second period as it was Ben Braj scoring his second goal of the night making it 3-0 as the second period came to a close.
Aiden Dempsy had a chance to break it wide open on a one on one with goal in the opening moments of the third period, but the shot was just wide.  The physical down right dirty play continued throughout the third period.  This teams got awfully chippie with one another.  Neither team was able to light the lamp again however, and the game finished with a 3-0 tally.
Box Score
Hudson 0 0 0 = 0
River 1 2 0 = 3
Goal Summary
FIRST PERIOD
14:40 Rocky River Brej from Steuber
SECOND PERIOD
6:15 Rocky River Mallett from Logan Fortune
0:49 Rocky River Brej from Hess
THIRD PERIOD
Power Play Summary
FIRST PERIOD
1:24 Hudson Failed to convert
SECOND PERIOD
3:47 Hudson Failed to convert
3:32 Rocky River Failed to convert
THIRD PERIOD