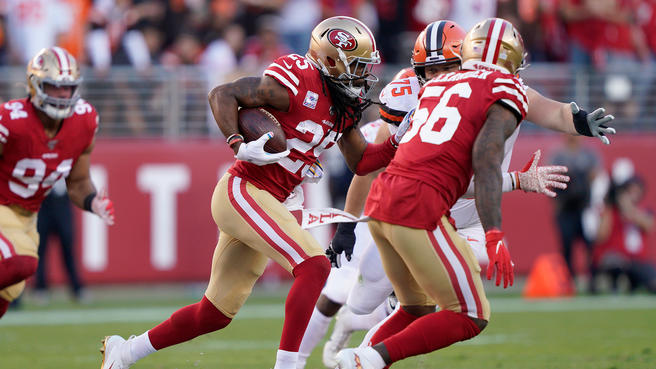 To this point, Baker Mayfield can do no wrong in Cleveland. His brash, tell it like it is personality and on field antics have endeared him to Browns fans through the first 18 games of his NFL career. But his shenanigans may be partially to blame for his team's 31-3 dismantling by the 49ers on Monday night.
San Francisco cornerback Richard Sherman – outspoken in his own right – took exception to a move pulled by Mayfield before the ball was even kicked off.
"What's amazing, and annoying, was him not shaking hands at the beginning," Sherman said to the NFL Network's Mike Silver. "That's some college s—. It's ridiculous. We're all trying to get psyched up, but shaking hands with your opponent — that's NFL etiquette. And when you pull bush league stuff, that's disrespectful to the game. And believe me, that's gonna get us fired up."
In a league and sport where players find anything they can use to play with a chip on their shoulder, Mayfield's pregame snub of Sherman may have seemed like nothing in the moment. Apparently it became as extra source of motivation for Sherman and the 49ers.
Unwise on Mayfield's part, as everything that happened after that meeting at midfield for the coin toss was a colossal meltdown on the part of the Browns, starting with a  three-and-out that paved the way for an 83-yard TD run for the 49ers Matt Breida then an interception for Sherman one series later. Everything spiraled from there as San Francisco bullied the Browns into submission on national TV.
One could say it was a statement that Mayfield and the Browns haven't quite arrived yet.
"He hasn't earned anything in this league. How many games has he won? He's acting like he was the MVP last year," Sherman said of Mayfield. "If [the Chiefs' Patrick] Mahomes did that, it would be one thing. But he would never do that, because he has too much respect for the game.
"And when you see a guy who doesn't? You humble him every chance you get. Because eventually, he will have respect for the league — or he'll be out of it."
Harsh words from one of the NFL's loudest critics. Mayfield's schtick has gotten old fast to veterans like Sherman and other NFL peers. Meanwhile, Mayfield's "I'm gonna be myself" mentality is  viewed as one of his most redeeming qualities among Browns fans – for now at least. But that could change if his antics continue to become fodder for other NFL opponents. And especially if he fails to back up his impetuous personality on the field.

NEO Sports Insiders Newsletter
Sign up to receive our NEOSI newsletter, and keep up to date with all the latest Cleveland sports news.