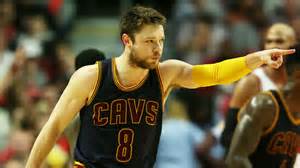 According to Chris B. Haynes of Cleveland.com, the Sacramento Kings, Atlanta Hawks, Dallas Mavericks and Milwaukee Bucks have all reached out to inquire about Matthew Dellavedova.
Delly is reportedly expected to get anywhere from 8-10 million per year, which would more than likely mean the Cavs would not match an offer.
If Dellavedova signs elsewhere, he would be the second Cavalier of the night to depart from Cleveland, as Timofey Mozgov has reportedly reached an agreement to join the Los Angeles Lakers.