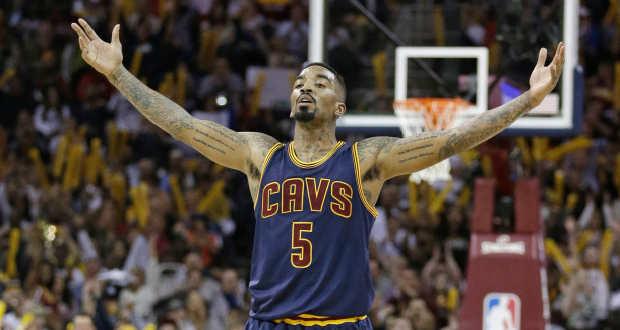 LeBron James has made it known that he has no intentions of leaving Cleveland.
Dwyane Wade and Dirk Nowitizki are not going to join the Cavs. Banana boat and dance parties aside, Wade wants the max. Dirk isn't going to come to Cleveland for charity.
The Cavs only have a $3.5 million mid-level exception to use on signing free-agents, aside from LeBron and J.R. Smith.
They are going to want to re-sign Richard Jefferson, but given the hefty contracts that have been dished out already after just over 12 hours of free-agency, Jefferson is far from a sure thing to return to Cleveland.
Assuming Matthew Dellavedova receives offers from other teams in the neighborhood of 8-10 million dollars per year, the Cavs would have the option to match, but it wouldn't make sense considering their salary cap situation.
Dahntay Jones is a free-agent, but could be signed for the minimum and it wouldn't be a surprise if the champion wants to repeat with the Cavs in 2017.
This offseason, the number one priority on the Cavaliers' list has to be J.R. It goes without saying that LeBron is the most important player on the team, but we're already considering it a forgone conclusion that he stays in Cleveland.
This Smith contract situation is going to baffle people at first sight when the numbers come to light on how much money he is positioned to make.
Shooting guard Bradley Beal reportedly reached an agreement on a five-year $128 million deal with the Wizards. Beal is injury-prone and only played in 55 games in 2015-2016, but the Wizards value his upside and believe he can be a part of their core to help them get to the Playoffs if healthy.
DeMar DeRozan reportedly will sign a five-year $139 million contract with the Raptors. DeRozan was an All-Star in 2015-2016 and his numbers are comparable to other star players in the league.
Although Smith's contract will not be as large as those two, he is one of the best shooting guards on the market. Timofey Mozgov just received $64 million for four years after being non-existent in the Playoffs.
Smith was a valuable player for the Cavs in the regular season and Playoffs. This situation could end up becoming eerily similar to what the Cavs went through with Tristan Thompson in 2015.
Smith recently switched agencies, to Klutch Sports, which is run by Rich Paul, LeBron's agent and friend. Paul's clients are known for squeezing teams to get big contracts. LeBron and Smith are close not only on the court, but have a great friendship aside from basketball. LeBron is going to lobby for Smith to get a big contract, like he did with Thompson in 2015, and LeBron will stress how valuable Smith is to the team.
Last September and early October, many Cavs fans scoffed at the notion that Thompson could be asking for upwards of $80 million for five years.
He ended up signing for $82 million, which under the new salary cap, looks relatively inexpensive.
Those same fans that were criticizing Thompson's inability to hit free throws at a good percentage, or his inefficiency scoring down low, were not booing him when he dominated the boards in the Finals, helping the Cavs win a title.
If it comes down to it, and Smith is asking for what seems like a steep price, just remember, Smith was the one who scored eight straight points in Game 7 to shoot the Cavs back in the game in the third quarter.
Smith is a great two-way player and although he may not be a star, the team would severely miss his presence.
If Wade decides to give up $20 million plus to join LeBron, feel free to tell writers and members of the media how they don't know what they're talking about.
But in the mean time, the rest of us in reality are hoping Swish is back for the repeat.

NEO Sports Insiders Newsletter
Sign up to receive our NEOSI newsletter, and keep up to date with all the latest Cleveland sports news.