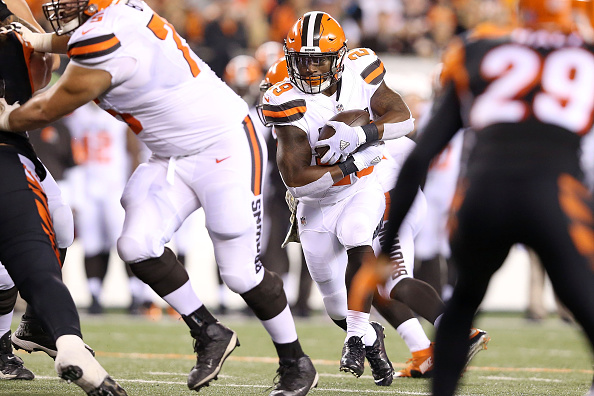 According to a report from Mike Silver, the Cleveland Browns have current plans to keep running back Duke Johnson Jr. in town. The University of Miami product has spent the last three seasons with the Browns since being drafted with the 77th overall pick in the third round of the 2015 NFL Draft.
Since some of you have asked: The Browns and RB Duke Johnson have been working toward a new deal. They absolutely want to keep him. Still somewhat apart on money. We'll keep watching. ?

— Michael Silver (@MikeSilver) March 12, 2018
Out of the three years he's been in the NFL, 2017 was by far his best season. Johnson Jr. earned 348 rushing yards and four touchdowns on 82 rushes while also catching 74 passes for 693 receiving yards and three touchdowns, all career-highs on the receiving side of the spectrum.
Johnson Jr. has been a part of a backfield that also featured Isaiah Crowell, who was the featured back in the running game while the pair were together. With Crowell hitting free agency, it appears Duke will get more play in the offense. Of course, Cleveland is also looking to add another running back through the draft. If it happens to be Saquon Barkley, it would make it interesting to see if Duke transitioned to the slot receiver role entirely.
With a knack for catching the football and making himself a problem once he gets it, Johnson Jr. deserves a spot on the field at all times. It appears Cleveland believes so as well and will sign him to an extension to keep him a member of the Browns for the foreseeable future.