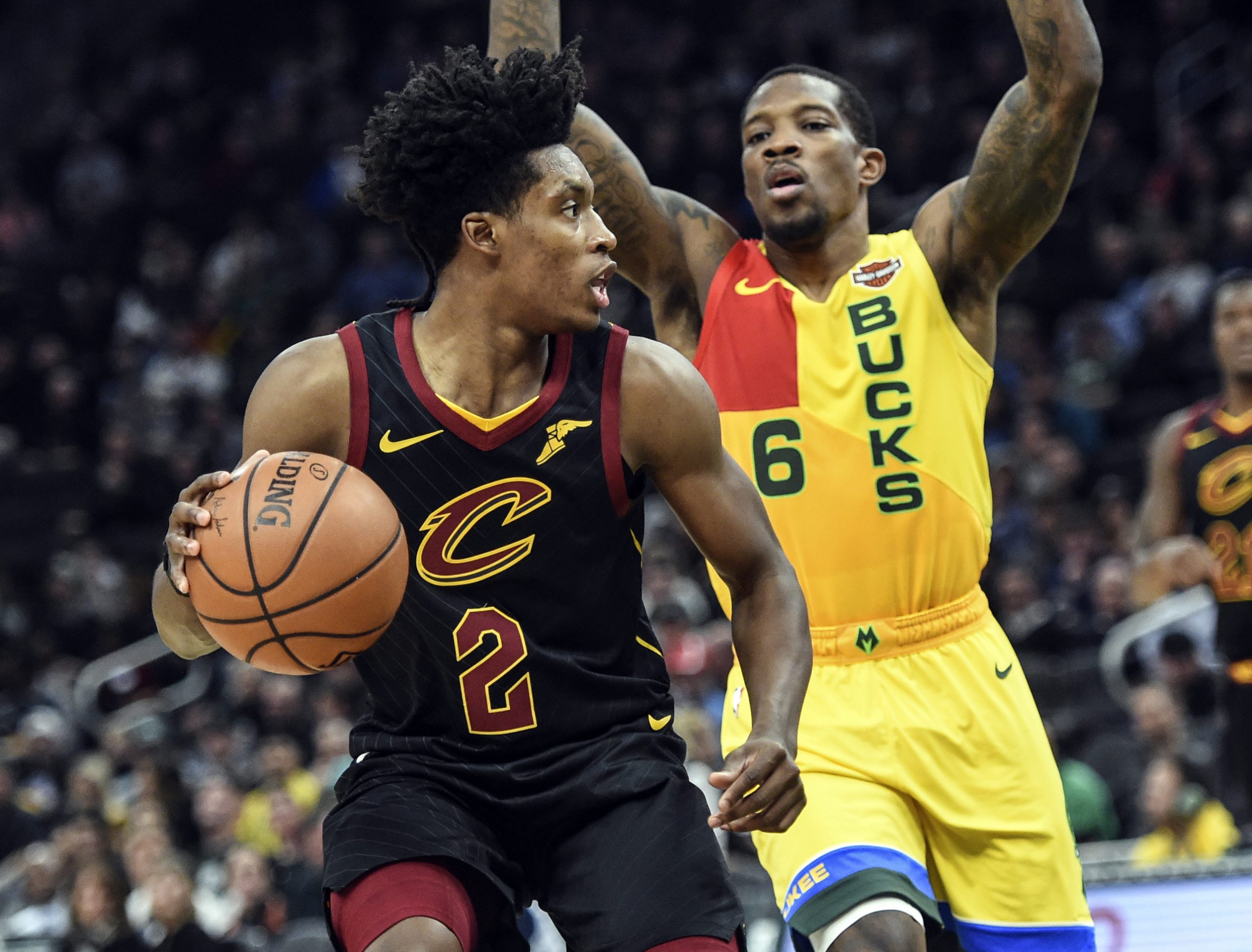 The Cleveland Cavaliers were walloped by the Milwaukee Bucks on Monday night, losing 108-92 to the team that just delivered them a trade package of guard Matthew Dellavedova, center John Henson and two picks in the 2021 NBA Draft (one first-round pick and one second-round pick).
It wasn't a game that was overly complex, as the Cavs were plagued by bad shooting nights from most of their players, who clanked even their open looks off the rim. Meanwhile, the Bucks seemingly hit everything they wanted. By the end of the game, the Wine and Gold had shot just 37.5 percent from the field and 33.3 percent from three-point range while Milwaukee had converted 43.8 percent of their field goal attempts and 41.7 percent from three-point range.
The Bucks' field goal percentage is surprisingly low given their margin of victory but there was stout defense played by Rodney Hood and Larry Nance Jr. at various teams in Monday's contest, which led to Bucks shooting guard Khris Middleton going just 5-16 from the field while Milwaukee's backup big men Thon Maker and Jason Smith went a combined 2-8 from the field.
Nonetheless, there were a couple of takeaways from Cleveland's loss, with the most notable being Cavs head coach Larry Drew's fascination with playing shooting guard Jordan Clarkson when the fifth-year guard is playing so selfishly.
Clarkson can do little wrong in Drew's eyes
Perhaps it's because they're a team starving for talent and points but as Clarkson went 4-13 from the field (0-3 from three-point range), incessantly attacking off-the-dribble looking for a crease to score and dribbling the air out of the ball before making an incorrect read, I began to wonder what it would take for Drew to take Clarkson off the floor.
Frankly, Clarkson has been the team's best scorer on quite a few nights and he's having one of the best season of his career, averaging 16.0 points in 25.0 minutes per game while shooting 44.3 percent from the field and 31.7 percent from three-point range. However, for a team that already has one high-usage ball-handler who needs to develop his court vision and show more of a balance between scoring and facilitating in rookie Collin Sexton, Clarkson's inability to elevate his teammates game by using the threat of his scoring ability has been difficult to ignore.
Maybe it shouldn't fall on Clarkson's shoulders to be more of a facilitator, although if he wants to become a more complete player, he should. Nonetheless, when Clarkson is playing as horribly as he did against the Bucks — his ninth time this season shooting below 40.0 percent from the field — then it may be time for Drew to look for other options, if even for a moment.
The decision was made more difficult for Drew because Hood (1-7), Alec Burks (1-8) and Cedi Osman (3-13) had struggled from the field as well but unlike Clarkson, Hood and Osman have consistently shown a willingness to find easy shots for their teammates. Osman, though having shown a need to have a better balance between facilitating and attacking as of late, was at least a player that Drew could have relied on offensively and had six assists against the Bucks.
Dellavedova is picking up where he left off
Dellavedova didn't have the most stout defense against Milwaukee on Monday night, with athletic guards like D.J. Wilson and Malcom Brogdon, specifically, getting to the rim seemingly at will. However, with 11 points (4-7 shooting from the field, 1-3 shooting from three-point range) and four assists, Delly picked up right where he left off in Cleveland.
As the Cavs backup point guard, Delly was a reliable floor general for the second unit who consistently made the right decision with the ball in his hands and had a knack for finding big men for lobs near the rim. That was certainly the case again on Monday night and though veteran point guard George Hill, who now plays for the Bucks, was a heady player as well, Cleveland can't possibly be displeased by Dellavedova's play against Milwaukee.
Though the starting lineup has constantly been in flux due to injuries, Dellavedova and Clarkson should be mainstays in the second unit backcourt. The duo didn't play well together defensively against Milwaukee and the chemistry that Clarkson and Burks had in the second unit may cause Drew to move Delly to the starting lineup in place of Burks, a player whose ability to consistently penetrate the lane and keep his head up while looking for the pass has helped the Cavs generate plenty of clean looks.
No matter where he's placed though, first or second unit, Dellavedova has experience in both roles and should fit in either.
A developing drive-and-kick game
Though they were inefficient throughout the night, in the first half of the Cavs game against the Bucks, the Wine and Gold surprised by getting off a number of clean looks after drive-and-kicks to the perimeter.
Even more surprising was that it was Hood, arguably the starting lineup's least athletic players, who made the bulk of those plays. To be sure, with Hood's willingness to pass, increased aggression in attacking the rim and developing court vision, it's not surprising that he can make those plays. However, given the playmaking potential displayed by Burks and Osman, it would seem that more Cavs should be making those types of plays more often.
Unfortunately, Burks and Osman seem to often have more belief in their ability to convert a contested shot around the rim rather than their ability to whip a pass to an open man on the perimeter.
This is typically more true of Osman, who consistently opts to take contested shots around the rim rather than passing out to a teammate beyond the arc when he's on the move. For a player like Clarkson, who have made a name for themselves in the league as a scoring-minded guard, that type of decision-making is expected. However, Burks and Osman, two athletic players who can penetrate the lane consistently, should take pride in their ability to generate open shots for their teammates and do it more consistently.
The same holds true for Sexton in some ways although he's far and away the most reliable perimeter scorer in the starting lineup. Sexton often controls the tempo by lighting up the scoreboard and as the Cavs witnessed on Monday, when Sexton started off the game 0-6 from the field (he finished shooting 5-18 from the field), if he's not scoring they could be in for a long night.
However, even Sexton, whose speed allows him to burst into the lane, determining ways to set up teammates behind-the-line should be a priority. When All-Star Kevin Love returns, pick-and-pops and finding trailing three-point shooters in transition will be a more common occurrence for the rookie. However, until then Sexton — like Osman — needs to work on seeing the passes to the teammates standing open in the corner when they drive to the rim.

NEO Sports Insiders Newsletter
Sign up to receive our NEOSI newsletter, and keep up to date with all the latest Cleveland sports news.