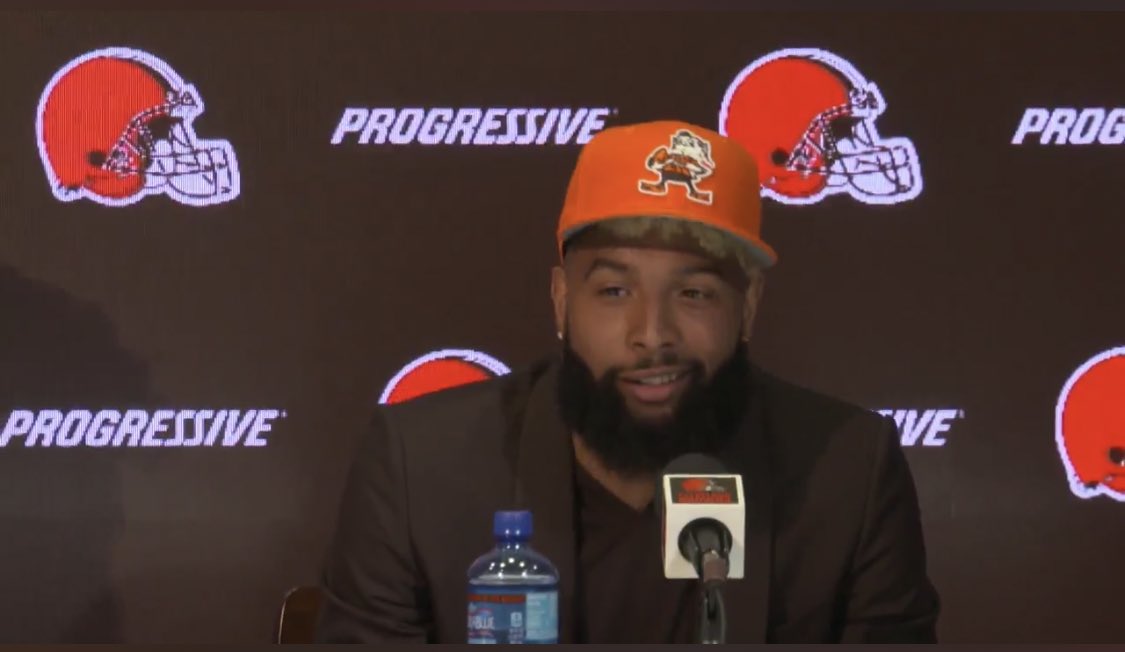 If you still hadn't come to terms with the fact that Odell Beckham Jr. was a Cleveland Brown, it's as real as ever now. Ironically, the Browns introduced their newest weapon to the media and fans on April Fools Day. This wasn't a joke though. It was reality.
Donning an orange Browns hat featuring the old school Brownie the Elf logo, Beckham Jr. made his way to the press room table for the first time with the likes of Baker Mayfield, Myles Garrett and his best friend Jarvis Landry.
The last few weeks have been a whirlwind for the 26-year-old, who admitted to being caught off guard by the trade. Right off the bat he tried to explain how he felt the night his life was flipped upside-down.
"I can't even put it into words," Beckham Jr. began. "I was heading to dinner and I remember seeing [Dave] Gettleman calling and I knew something was going down. I took the call. It was quiet for a minute at dinner. It was just a lot. A lot of emotions, a lot of thoughts that run through your mind; your whole life is changing. I just took it to process, I think I called my mom. Called [Jarvis] and here we are today."
It was the trade heard round the sports world so of course it rocked OBJ's world. And until late last week it wasn't even clear if he'd be present for day one of the Browns offseason program. The 2014 Offensive Rookie of the Year was bound and determined to make an appearance though.
"It's the first day. I wanna set the tone," Beckham Jr. said. "I don't know exactly my offseason plans. I usually train in LA, but I definitely want to be able to be here and create that bond, that relationship with the new teammates the new coaches everybody.
"I just thought it was important to be here today. I knew [Jarvis] was gonna be here so I had to come see my guys."
Those guys, at least the ones sitting up there with him, sang OBJ's praises throughout the 30-minute introductory press conference. Mayfield came to his defense when a question about the emotional wideout's supposed "me-first" attitude. "He's here today, I think that shows that," Mayfield asserted.
Nobody knows the true Odell better than his former LSU teammate and friend Landry though. Landry hasn't been very subtle since being traded to Cleveland himself last March about his desire to play with Beckham Jr. again. That's a dream they've both shared since their days growing up together in Louisiana and in Baton Rouge.
"I feel like we almost spoke this into existence almost," OBJ said. "Him and I dreamed of this. This is something we talked about at 17. I'm gonna live right down the street form you. We're gonna be on the same team, everything. It's like, surreal."
Surreal is how Browns fans feel about it as well, many of whom have probably had to pinch themselves at least a dozen times to make sure it wasn't all a dream. It's most certainly real.
Odell Beckham is here. He's a Brown and no matter what his since deleted, cryptic Instagram post may have suggested about his thoughts on coming to Cleveland, the freakishly talented receiver is thrilled about what's to come.
"I've watched this team from afar — everyone wants to talk about them going 1-31 or whatever it was — and how each year they were building, they were building they were stacking players," OBJ explained. "And now it's like, 'it's finally here' and I'm excited to be a part of something like this. A team that is ascending.
"As it all settled in, I'm very excited about this and I think it's gonna be one of the best things that ever happened to me in my life."
Landry agreed.
"It was tough for me too, making the transition," the former Miami Dolphin said. "When you play in a place and you have given your all to one place and it ends so quickly and sometimes out of nowhere.
"But the love and appreciation from everybody that work in this building from top to bottom is something that made me feel comfortable, the way it feels like family here. And I told [Odell] that he would appreciate that, he would appreciate that he can come here and honestly just be himself and people will love him for that."

NEO Sports Insiders Newsletter
Sign up to receive our NEOSI newsletter, and keep up to date with all the latest Cleveland sports news.