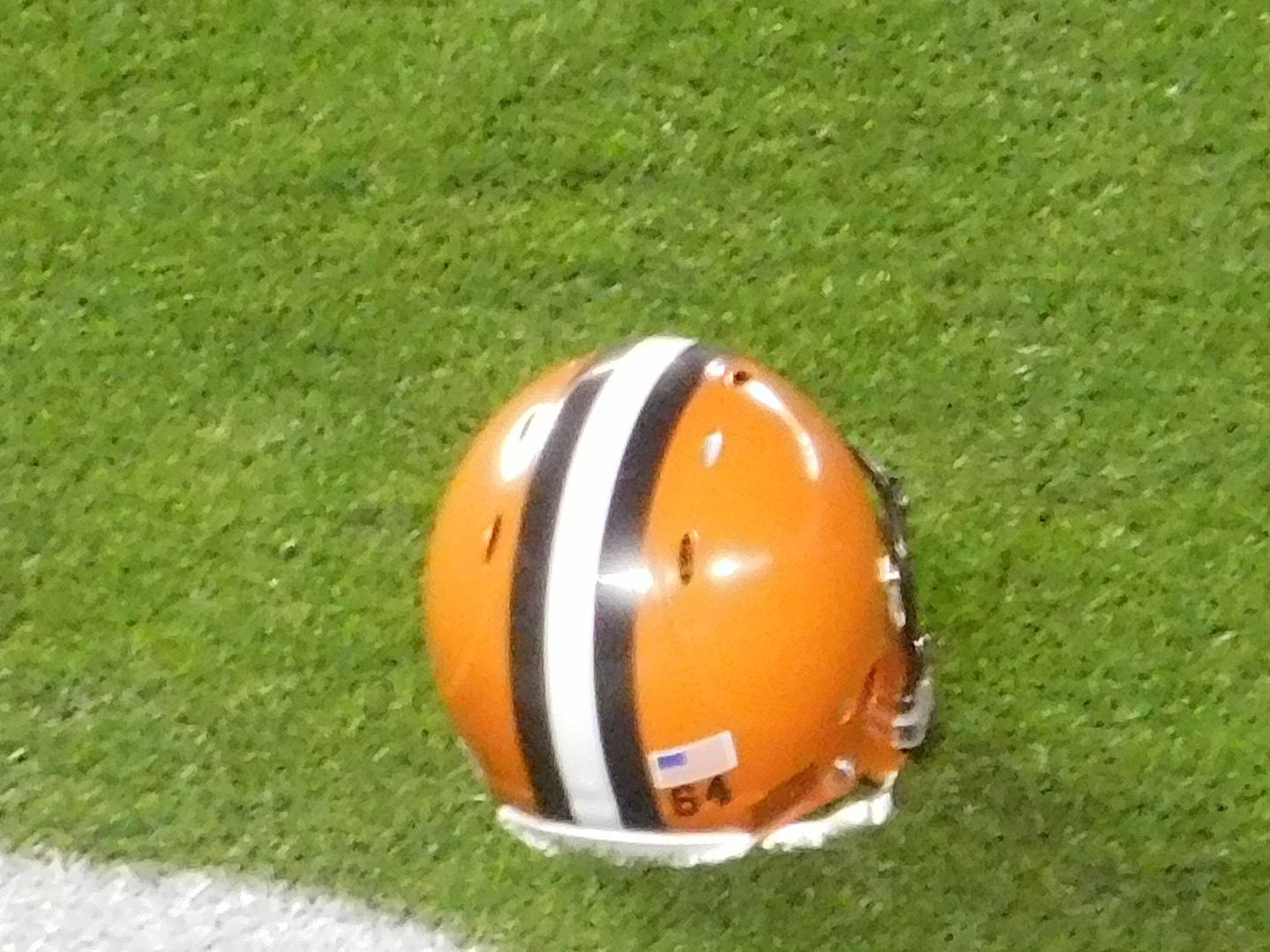 With the NFL Draft officially over, everyone debates on whether it was a good draft or not and what picks they did and didn't like. Then there's also the argument of what picks they would have made if they were the GM. Here are mine:
1.) Round 1 No. 15
Josh Doctson WR TCU
I'm sticking with the idea of drafting a WR with the first pick, but I want my top overall WR and one that would better compliment what the team already has. With a lot of slot receivers on the roster including Taylor Gabriel (5'8"), Andrew Hawkins (5'7"), and Darius Jennings (5'10"), the team would benefit more from getting a taller WR that can play outside. Josh Doctson is that guy at 6'2" 202 pounds, he is a monster WR. He also has 4.5 speed for that size and a Combine high 41 inch vertical jump among the WRs. Nobody in the draft is better at going up and getting the football in the air and his stats were one of the best in the country.
2.) Round 2 No. 32
Myles Jack LB UCLA
The chances of picking a bust in the draft are pretty good. Myles Jack is one of the safest players in my mind in terms of players to hit the level of play that is expected. Everyone was so concerned about his knee not holding up that he fell, but there was nothing to say that his knee for sure would fall apart and need surgery. While it's a risky pick, the Browns need talented players, and Jack's physical abilities are something the team has never had from the LB spot. While the long term risk is there, he can have an immediate impact on the team and if he works out in the long run then the pick looks even better. Dr. Andrews also saying he believes that Jack will not need microfracture surgery and the UCLA doctors clearing him for spring ball if he would have stayed are another couple good indicators.
3.) Round 3 No. 65
Jonathan Bullard DT Florida
The Browns finished the year as the third worst run defense just one year removed from being dead last. In this draft, they didn't make any picks to address that need. I was not going to ignore it. Bullard was the best player available at this point in the draft and also fills a need as a run stopper. He can be plugged in day one opposite Desmond Bryant on the line. While a little smaller for a 3-4 DE at 285 pounds, he still has the explosiveness to disrupt the gaps and free up the LBs behind him to make the plays if they don't get there before him.
4.) Round 3 No. 76
Shon Coleman OT Auburn
This was the only pick from the Browns draft that I did not change. I actually really like the selection of Coleman here. The team needed to do something with losing Mitchell Schwartz to free agency and with a lot of better players on the board with picks before this, the Browns can finally get around to drafting a starting RT. Coleman fits better on the right side as he is a plus run blocker as compared to his pass protection. He still has some technique issues to work on but his skill set should translate well.
5.) Round 3 No. 93
Jeremy Cash S Duke
Never mind the fact that he went as an undrafted free agent, I still had a third round grade on him as did a lot of people. Medical concerns about his wrist are the likely reason why he dropped all the way down to being undrafted. When we look back on this draft, I think Cash if he's given a chance could be the best SS selected. With the release of Donte Whitner, the team needs a starting SS. Cash was the ACC Defensive Player of the Year and recorded 100+ tackles each of his three years at Duke. The TJ Ward comparison is one that would have gotten a lot of Browns fans excited about this pick.
6.) Round 4 No. 99
Jordan Howard RB Indiana
With 14 picks in the draft, I'm really surprised the team didn't take a RB at some point. There were a lot of talented ones that fell to day three of the draft, and the team could have started the day on a high note by taking one of them. Crowell and Duke are the only two RBs on the current roster that saw significant playing time last season, and with the beating they endure each week it wouldn't have been a bad thing to add a third back into the mix to compete. Howard was my number two RB in the draft. He won't compete in the passing game which leaves those situations still to Duke, but he's still a pure runner who averaged over 6.0 YPC that could compete with Crowell for the top back spot.
7.) Round 4 No. 114
Rashard Higgins WR Colorado State
Higgins was my top sleeper WR and while I'm happy the Browns got him, I would have selected him sooner to ensure him not going to another team. At 6'1", he also offers a potential outside threat to go with Doctson. He doesn't have the same speed with his 4.64 40, but he would be a great possession WR as he runs great routes and has the ability to catch the ball away from his body.
8.) Round 4 No. 129
Christian Westerman OG Arizona State
Westerman is too good of a player to pass up at this point with the questions surrounding the offensive line. Westerman is one of the best pass blocking guards in this draft who uses good technique to effectively block his opponents. His run blocking can use some work and it's possible that he could play center in the NFL too due to his shorter arms. He could have competed in training camp with Greco or Erving for a spot at C or RG day one.
9.) Round 4 No. 138
Matt Ioannidis DT Temple
The Browns use another pick to add more beef up front to the defensive line to try and stop the run. Ioannidis did well during Senior Bowl week and his non-stop motor is something that makes good defensive lineman great. While he would be more of a situational lineman, his talent is too good to pass up as he could emerge as a starter if the Browns get rid of Desmond Bryant's contract next season.
10.) Round 5 No. 154
Jerell Adams TE South Carolina
Jerell Adams was my number two ranked TE in this draft class and for him to be here in the fifth round, I would have run this pick straight up to the podium. The team got no production from the position outside of Gary Barnidge who the verdict is still out on if he was a one year wonder or not. Adams 4.64 speed was faster than some of the WR's that came out in this draft. He's a lanky guy that can both run routes and block along the line. Barnidge and Adams in two TE sets could cause some mismatches against opposing defenses.
11.) Round 5 No. 168
Harlan Miller CB Southeastern Louisiana
While the Browns have a lot of corners on the roster, they need to upgrade the quality of them. Harlan Miller was one of the smaller school corners that made a name for himself with a strong showing at the Senior Bowl. His 6'0" frame is something that is well liked for a corner on the outside. His skills are that of a third round corner, but his 4.65 40 at the Combine is what likely caused him to tumble on draft day. Fellow Browns corner Joe Haden was another CB that didn't have a great 40 time but he turned out all right.
12.) Round 5 No. 172
Tyler Matakevich LB Temple
With the first compensatory pick of the fifth round for the team, the Browns steal Tyler Matakevich, the second Temple defensive player of the draft. The Nagurski Award winner, Matakevich was a team leader on defense and tackling machine racking up 100+ tackles each season at Temple. He went low because of his average physical ability, but his quick instincts and reaction time are where I think he can overcome that to be successful in the NFL. He would have gone earlier then this for me, but with them working to improve the ILB position earlier in the off-season, he becomes a luxury pick as the team tries to find some diamonds in the rough.
13.) Round 5 No. 173
Nate Sudfeld QB Indiana
If the Browns were going to take a QB in the draft, I would have used one later on as compared to earlier. The team is going to be bad enough next year that taking a QB with the first overall pick next year is certainly in play. Drafting a QB any earlier than this could lead to a wasted pick as the next QB will be the future face of the franchise. Instead the Browns can get a developmental QB who can be groomed into a quality backup. Dallas this year showed what can happen if you don't have one. Sudfeld is my late round sleeper as a QB who fits the AFC North look at 6'6" 234 pounds. He's got a big arm, another thing that can't be taught. Where he needs to improve is with his awareness and accuracy, something that can be worked up over time and there wouldn't be pressure on him early on as the team can see whether RGIII has something in the tank still or not.
14.) Round 7 No. 250
Ben Braunecker TE Harvard
With the last pick, I had to scour through the list of undrafted free agents and find one I thought would have some potential of making the team. I went with a different Ivy League TE for the final pick. Once again there is not much depth at the position as the team got no production from its draft picks there last year and the free agent signings didn't pan out as well. Braunceker was a Combine stud as he was at the top of every drill for the position. Also coming from Harvard you just know he is going to be a high IQ football player and that along with his physical skills will allow him to make the team in some form.

NEO Sports Insiders Newsletter
Sign up to receive our NEOSI newsletter, and keep up to date with all the latest Cleveland sports news.