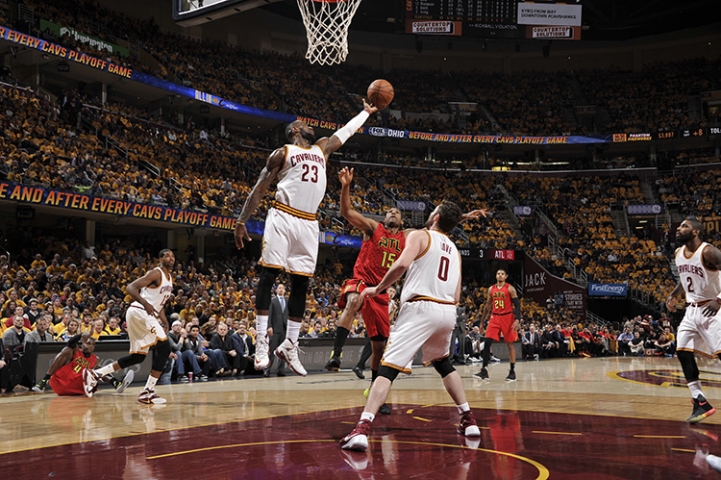 The Cavs came out fired up in Game 1 of the Eastern Conference Semi-Finals against the Atlanta Hawks at Quicken Loans Arena on Monday night.
Cleveland was in control early, but Atlanta rallied back late in the third quarter, and the Cavs finished strong to take Game 1 at home by a score of 104-93.
Whoever was worried about the eight day lay-off possibly resulting in the team coming out flat or rusty had their concerns put to rest from the second the game started.
Here are some highlights from the first quarter.
Kyrie Irving got things started.
J.R. Smith his first three of the night less than a minute into the game.
LeBron James knocked down a wide open three the same day that an article surfaced about teams losing respect for his jumper.
Kyrie was feeling it from deep, knocking down back-to-back triples.
J.R. fired another from beyond-the-arc late in the quarter.
Channing Frye hit a three for the Cavs' last basket of the first quarter.
The Cavs led 30-19 at the end of one. Irving led the way with 10 points in the quarter, while LeBron was right behind him with seven.
Richard Jefferson got in on the action early in the second quarter, knocking down a three, thanks to some beautiful passing.
Kevin Love hit his first three-pointer of the night midway through the second quarter.
Followed up by RJ knocking down another.
LeBron found Jefferson with a sick bounce pass leading to the throwback slam.
Late in the second quarter, Matthew Dellavedova found Tristan Thompson down low, a combination that has been fun to watch all 2015-2015 season.
The Cavs would enter halftime leading 51-41.
LeBron led the way with 13 points, while Irving scored 12 in the first half. The Cavs hit 9-of-21 three-point attempts in the half.
The Cavs kept it up to start the third quarter, as Smith hit his third three-pointer of the night.
LeBron drained his second three-pointer of the night midway through the third quarter.
Love would promptly follow that up with his second of the night, as well.
Irving would find LeBron on the fast break for a signature dunk we have all come to know and love.
Atlanta went on a run late in the third quarter to cut the deficit to seven, but Frye quickly got it back to a double-digit game with his second three of the night.
Atlanta answered back, going on a 5-0 run to make it 75-70 heading into the fourth quarter, but Frye's three was overturned, after the replay review in the break, making it 74-70 after three quarters.
Iman Shumpert made his first basket of the night to start out the fourth quarter to give the Cavs a six-point lead.
The Hawks slowly climbed back and Kyle Korver took advantage of getting fouled by Shumpert while shooting a three.
It's an moving screen then he hooks Iman yet somehow it's a foul on Shump pic.twitter.com/go6Y2BLoTR

— Mr. Robinson (@sthrob77) May 3, 2016
Korver would hit all three free throws to make it a one-point game, 79-78 in favor of Cleveland with just over nine minutes to play.
Dennis Schroder would find Al Horford for an alley-oop to give Atlanta their first lead of the night with just under eight minutes to play.
Kyrie answered back with a triple on the next possession.
Kyrie would score seven straight points for the Cavs, but both sides traded baskets back and forth.
The Hawks took a brief 88-87 lead before J.R. came through in the clutch with a difficult three-pointer to give the Cavs a two-point lead.
Love would draw a foul while shooting a three-pointer, and made two of three free throw attempts to make 92-88 with 3:32 to play.
The hustle of Thompson and Smith saved a possession for the Cavs, as each player grabbed an offensive rebound, thanks to their hustle, leading to LeBron making a layup while drawing contact. He would sink the free throw to make it 95-88.
Love would hit two free throws to make it 97-88 with 1:40 to play.
LeBron put a spin move on Horford and made a layup to make it a nine-point game with 1:05 to play, pretty much putting the nail in the coffin.
Irving and Dellavedova would hit four-of-four free throw attempts in the final minute to close out the game, as Cleveland would take a 1-0 series lead, winning by a final of 104-93.
LeBron finished with 25 points, six boards, and nine assists. He also swiped five steals.
Irving scored 21 points and dished out eight dimes.
Love posted a double-double with 17 points and 11 rebounds.
Tristan led the game in rebounds with 14 boards.
Smith scored 12 points, all from downtown.
Frye and Jefferson each scored eight points off the bench.
Schroder led the way in the losing effort for Atlanta, scoring a career-high 27 points.
Game 2 is Wednesday night at 8 PM in Cleveland. The Cavs are 11 wins away from a title.

NEO Sports Insiders Newsletter
Sign up to receive our NEOSI newsletter, and keep up to date with all the latest Cleveland sports news.