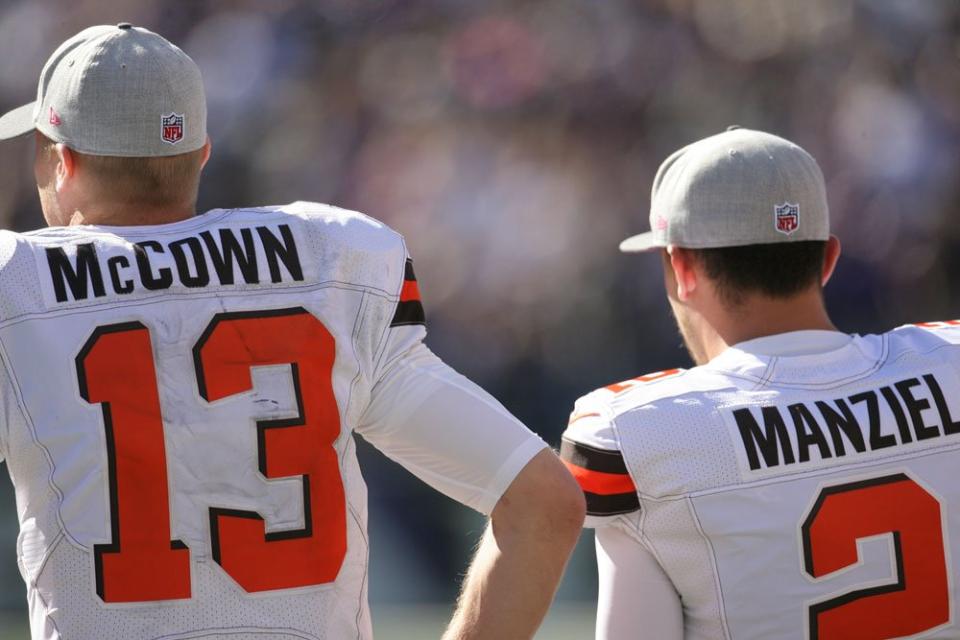 With folks in the local and national media, and a decent-sized part of the fanbase, calling for the Cleveland Browns to part ways with second-year backup quarterback Johnny Manziel – either via trade or via his outright release – the ones who think the team would be jumping to conclusions dangle the "Only in Cleveland" argument.
It's otherwise known as the "Bill Belichick argument" – when someone leaves Cleveland, they wind up winning a championship. In the case of Belichick and even (sigh) Art Modell, you would be right. You would even be right for some players.
But for quarterbacks, especially for those since the team returned in 1999, not so much. Cleveland has become a place where both quarterbacks and head coaches go to die.
The Browns have gone through seven full-time head coaches since 1999, including the current coach Mike Pettine. Only one, Romeo Crennel, of the other six ever became a head coach in the NFL again, including Butch Davis (head coach at North Carolina, now currently out of football) and Chris Palmer (head coach for Hartford in the defunct United Football League, but that's not the NFL), and Crennel was fired by Kansas City in 2011 after a dismal 2-14 season.
The Browns 23 starting quarterbacks since 1999 have met a similar fate. If you can't make it here, chances are good you definitely won't make it anywhere else.
Out of those 23 quarterbacks, only one left the Browns and wound up going to a Pro Bowl, JUST ONE! That would be the ageless wonder Jeff Garcia, who quarterbacked the Browns for half a season in 2004 at the tender age of 34 and wound up playing until he was 41, starting until he was 38.
If you want to go further back, Vinny Testaverde did have two Pro Bowl seasons with the Baltimore Ravens (1996) and the New York Jets (1998), but his was a victim of circumstance – he moved with the franchise to Baltimore, the Browns never cut him. And, his career really did blossom after he left the Browns, although it was on the road to salvation during his three seasons in Cleveland after five miserable ones in Tampa Bay.
Bernie Kosar did win a Super Bowl ring with the Dallas Cowboys in 1993, but it was as a backup – he took one snap at the end of the game and took a knee – and he never was a regular starting quarterback in the NFL again before retiring following the 1997 season.
And, if you want to go one step further, remember Eric Zeier? The quarterback Belichick drafted in the third round out of Georgia who had one of best rookie starting debuts in Browns history? His NFL career never really panned out. He was mostly Testaverde's backup in Baltimore and wound up serving as a backup with Tampa Bay in 1999-2000 and had a cup of coffee with Atlanta in 2001. He only started eight more games in his career after starting four as a Browns rookie in 1995 – he couldn't beat out an aging Jim Harbaugh with the Ravens in 1998, although he did start four games that season.

NEO Sports Insiders Newsletter
Sign up to receive our NEOSI newsletter, and keep up to date with all the latest Cleveland sports news.