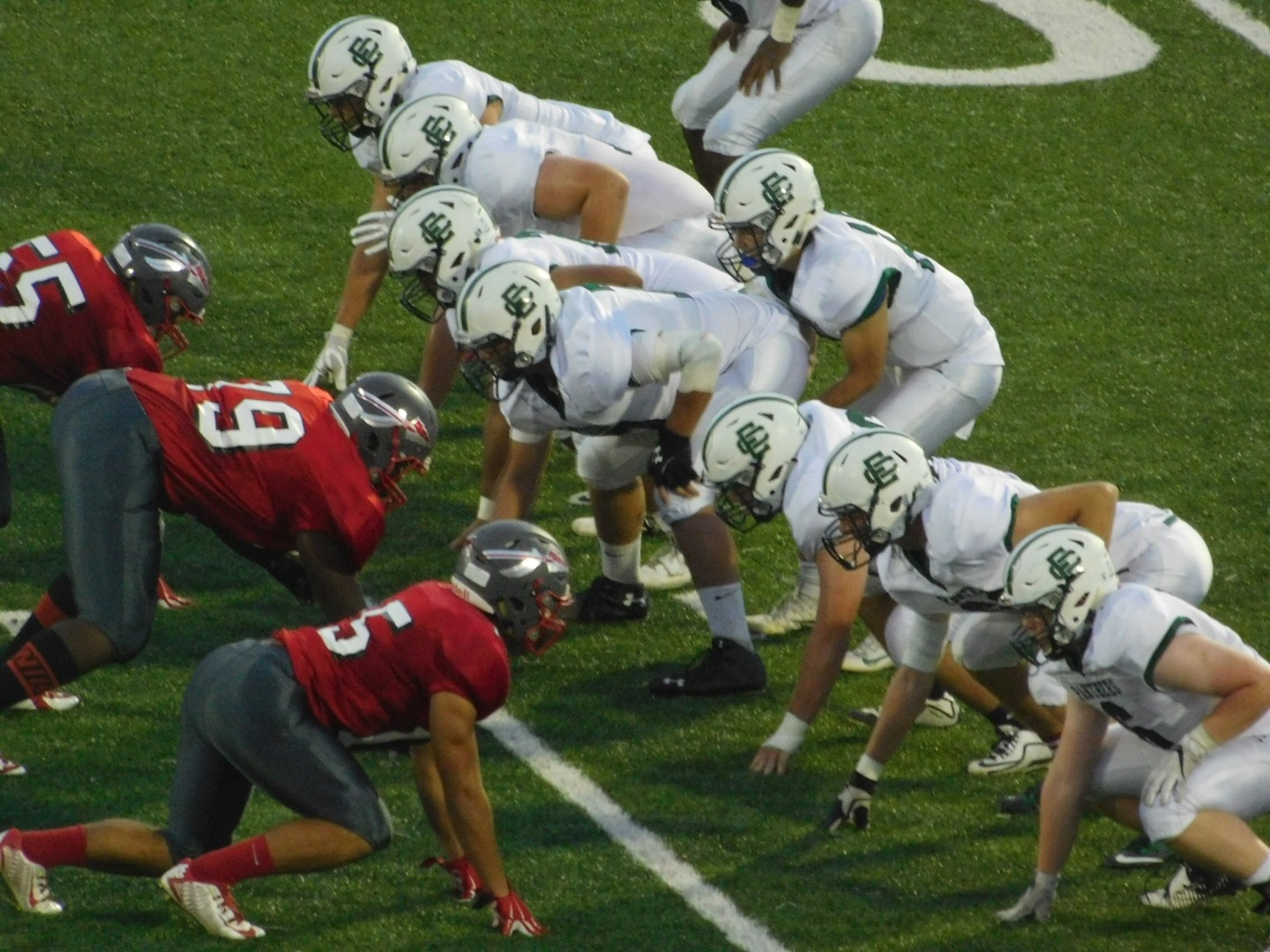 ELYRIA, OHIO– Brian Fox wasn't looking for a head coaching job this season.
That is, until Elyria Catholic had an opening.
After coaching at the collegiate level at Illinois College and Heidelberg as an assistant, the Baldwin-Wallace alum decided that making the jump to Elyria Catholic would be the perfect opportunity for him as the Panthers rebound from a 3-7 season in 2017.
"I just kind of saw that it had opened up, and all of a sudden I realized this would be a great opportunity," Fox said on the 2018 WEOL Lorain County preview show. "I had thought about kind of transitioning away from college. It's an extreme time commitment and I kind of wanted to get back into something like high school. I saw the program opened up. It's funny because I was watching film, I was watching these kids and I was like they are way better– how did they get to 3-7? This is a really good group."
The Panthers return 17 varsity letter winners. Starting quarterback Cameron Engrish is back, along with offensive lineman Jack Decker and all-around player Gavan Hrobat. As far as receivers go, the Panthers have David Griffin, Jaret Frantz, and Jack Griffin. Defensively, the Panthers will rely on David Griffin, Leighton Banjoff and Griffin Davies.
The Panthers also have Branson Taylor on the offensive side of the ball, a 6-foot-7, 280 lbs. basketball player who is drawing some college interest on the gridiron.
"Things are really coming together nicely, we had some basketball players who weren't interested in the past, they hear about what we're gonna do and what direction the offense is gonna go, and we started to get a little more interest from guys like that," Fox said.
"Branson Taylor, he's 6-foot-7, I tell him everyday, I look up at him and say 'You look tall today.' He's 6-foot-7, 280 lbs. He's an incredible player. We have a very good senior class, not to mention I think the seniors and juniors lost one game as freshmen, so obviously they had a lot of talent coming in."
In 2017, the Panthers won their opening game but then went on to drop four in a row after that. In order to compete in the tough Great Lakes Conference, Fox knows that the culture has to change.
"Fast and physical," he said when asked what he wants the Panthers' stamp to be. "I've never been in a game where we physically dominated the other team and came out losing. So if our team can be thought of for two things, it's gotta be fast and physical."
***You can listen to Fox's entire interview with WEOL here. Below is Elyria Catholic's entire regular season schedule.
2018 Elyria Catholic Panthers Schedule
8/24 @ Brookside High School
8/31  VASJ High School
9/7  Cleveland Central Catholic High School
9/14  @ Mogadore High School
9/21  Valley Forge High School
9/28 @ Parma High School
10/5  Holy Name High School
10/12 @ Bay High School
10/18 Normandy High School
10/26 Rocky River High School

NEO Sports Insiders Newsletter
Sign up to receive our NEOSI newsletter, and keep up to date with all the latest Cleveland sports news.