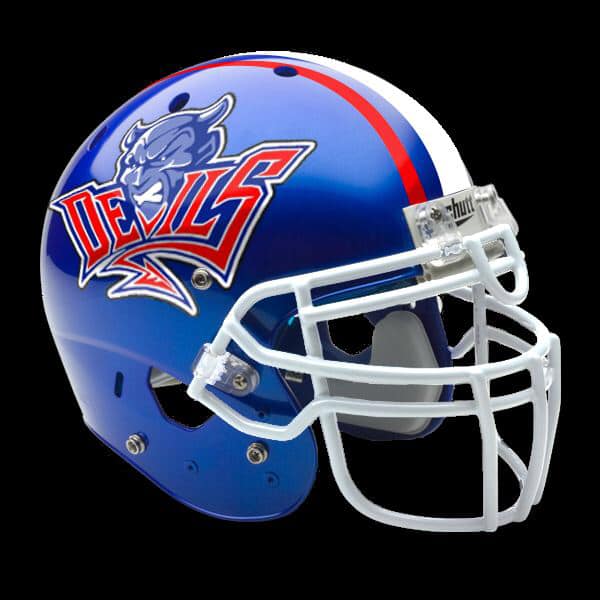 Story by Mark Perez
The final whistle went off as A.J. Gucciardo let his emotions get the best of him as he walked off the field for the last time as a Springfield Blue Devil.
He hugged his coach Pat Gucciardo, A.K.A. his father, who has been the Springfield's head coach before he attended Springfield.
During A.J.'s Gucciardo's time as a Blue Devil, he broke nearly every passing record during his 3-year tenure.
"(A.J. Gucciardo) had a spot to earn and he earned it," head coach Pat Gucciardo said after the 49-14 loss to the Avon Eagles in the Division II, Region 6 Quarter-Finals. "He took it, he earned it and is by far the best quarterback I've ever coached. I'm extremely impressed with his work ethic, his knowledge of the game.
I've never really got a chance to view and see all the things he has done because we are always game planning for the next week. Now I have an opportunity to sit back and just say: "what a great job and a great career he had." And tell him that, because I never wanted him to be satisfied."
During A.J. Gucciardo's tenure at Springfield, he is the Blue Devils' all-time passing leader throwing for 7918 yards, and 84 passing touchdowns, also a record.
"It will be a standard that (Springfield) quarterbacks will have to stand for," Pat Gucciardo said. "(A.J. Gucciardo) had a great mentor in Scottie Seymour the three years before he played. Scottie (Seymour) set all the records. Then A.J. (Gucciardo) came in and broke them all. I've said for years (that) records are made to be broken. Whether you are a running back. Tailback, receiver. I want the players to see the records on the record board and go after them, whether it's in the weight room, the classroom, or on the football field."
The father and son duo led Springfield to have two playoff seasons. One of which was a perfect 10-0 regular season in 2016-17, which holds as the best season in the school's history when A.J. Gucciardo was a sophomore. Their record is 23-9 in three years.
"(Pat Gucciardo) is awesome," A.J. Gucciardo said about his dad after the game. "I learned everything I know from him and he was a great mentor. Just being in the system really helped me as a quarterback."
There is another Gucciardo that plays for the Blue Devils, but he plays wide receiver. Ty Gucciardo is a Junior, who will likely see more playing time on the field in his senior year in the 2019-20 season.
A.J. Gucciardo's football career in high school may be over, but he has plans on taking the next step to go play college football. He is undecided, but he has mainly two school candidates, which are Toledo and Notre Dame College.

NEO Sports Insiders Newsletter
Sign up to receive our NEOSI newsletter, and keep up to date with all the latest Cleveland sports news.