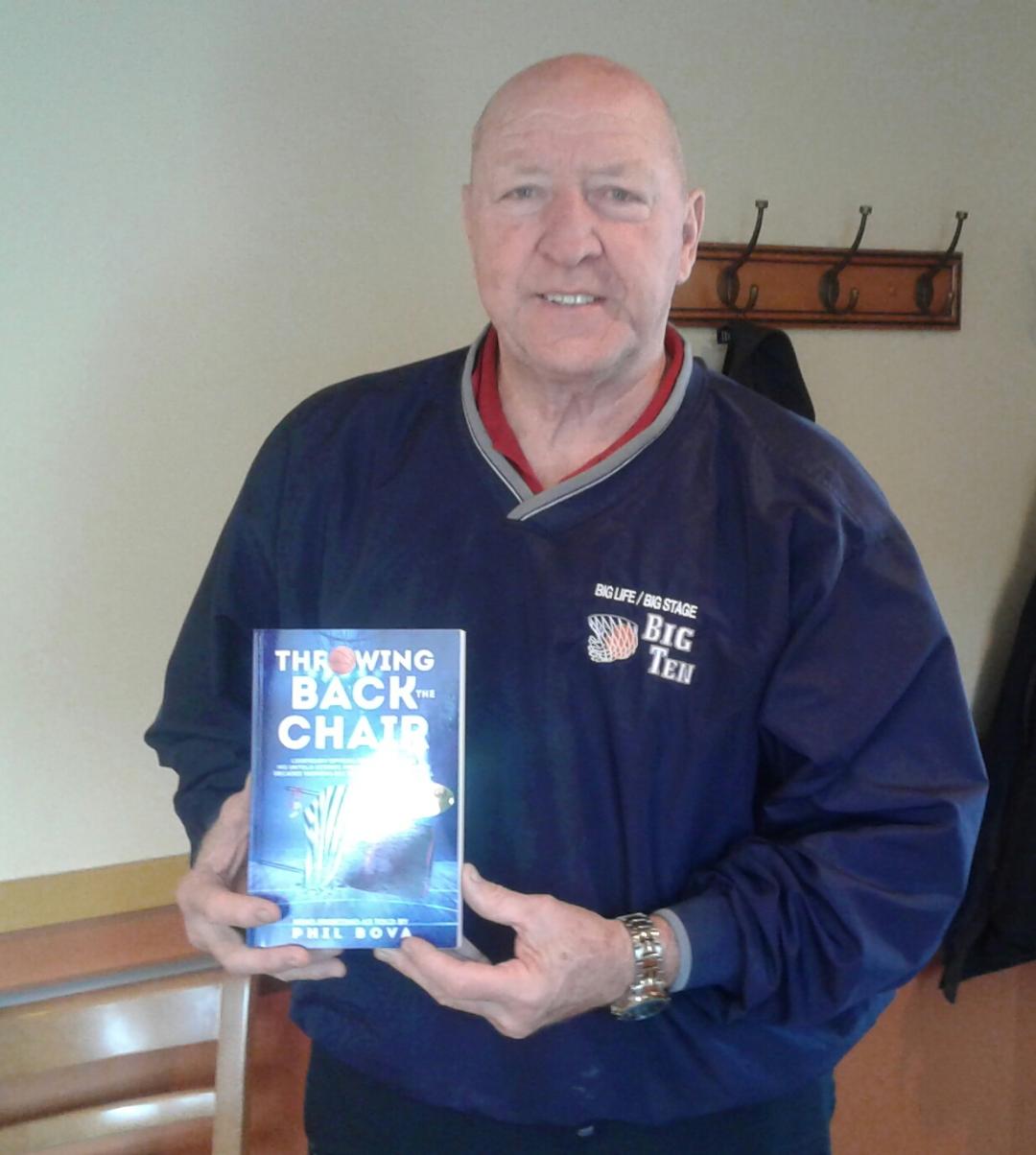 By Mike Holzheimer
Embrace your passion.
Those are the words Phil Bova inscribes on the first page of his newly-released book "Throwing Back the Chair." Bova, with friend and author Nino Frostino, takes college basketball fans on a trip down memory lane with inspirational and humorous stories chronicling the life of a National Collegiate Athletic Association referee.
Bova, a longtime educator, basketball official and baseball camp director, enjoyed an expanded 44-year career. His professional life took many twists and turns but with an intense desire to always give the maximum of efforts each and every day, Bova inevitably arrived at his intended destinations.
And with so many stories from Bova's officiating days just too good to keep locked up inside, he, and Frostino, one day decided it was time to share with the world.
"A lot of things happened on the way to publishing this book," Bova told me, during an exclusive interview. "Now I'm basically the 'ghost' writer for this but Nino puts it all together. He grew up near me, hung around my house a lot and actually went to school with my son and one daughter. He would hear all of the crazy stories associated with my officiating days. At that time, Nino, who I think is very gifted as an author, would say to me 'Mr. Bova, you need to get all of this down on paper.' I remember kidding him a bit telling him basically, to 'hit the road,' which he laughed at. But really, I just didn't want to do this because I wasn't sure if anybody would be interested."
Well, as time went by, Frostino just kept pursuing his idea with Bova. The two neighbors eventually got together on selected nights during the week to talk about those officiating days and life in the Big 10 Conference.
Frostino, having already authored one sports book with the 2003 release "Right on the Numbers," was ready to create another work of literary art. He believed that with this proposed book idea, they had something special. Bova finally gave in and told Frostino "okay, let's do it and take a chance. We'll see what happens."
In 2018, the project was officially underway- let the memories begin.
"The one thing about this book is that not only are there humorous and emotional stories that I hope entertains the reader, but it is filled with great history," Bova said. "It's touching in that it outlines what a lot of other people, not just me, went through in walking upon that special road.
"There were so many avenues we could have gone down with this book," Bova added. "The actual travel involved was one issue. I recall one of my earlier trips for a game assignment, we wound up arriving at the wrong airport, and another, well, let's just say based on what happened as far as mechanical plane issues, I'm lucky to be here right now. The traveling is unique, as is the selection process in becoming a NCAA referee."
Bova talked about sports fans getting so excited for the Super Bowl, but he believes that right after the NFL's climatic grand finale, NCAA basketball, and in particular, "March Madness" is definitely next on a fan's "must see" list for sports excitement and entertainment.
In writing the book, Bova and Frostino made their own list looking at what they could come up with to pique the readers' interest. In doing just that, Bova, who worked 20 consecutive NCAA tournaments, admitted that basically every question that he has ever been asked about his officiating career is answered in the book.
One key to success, he says, is to set realistic goals. In the business of college basketball, and it is a business Bova emphasizes, you may start at the junior varsity or freshmen levels with the goal being to work varsity games.
It is a process and a big time sacrifice. And along the way, there are some positive and negative aspects but one must keep a few things in mind.
"Do you have the ability and the skill level to work at being a college basketball official," Bova asks. "Also, where you live is key because of that travel time I talked about before, and regarding your regular daily job, do you have the time to break away and work those game days and nights on top of what you already do.
"These guys who work college ball work for multiple conferences and you don't say no to league supervisors. If you do, your phone doesn't ring," he added. "The ultimate thing you need to have is the support of your family because you must accept the fact that you'll be working extensive hours on the road at various locations resulting in time away from your family. That's the big-time sacrifice I spoke of earlier."
Bova couldn't have stressed more the importance of family encouragement. And in the case of Donna, his wife of 52 years (and counting, as he says), his children and grandchildren, he couldn't have asked for a more understanding and supportive group.
"Donna was, and still is a real trooper in that regard, a real role model for my kids, and the sacrifices she made were exemplary," Bova said. "One chapter in the book talks about the challenges that come with being the spouse of a major college basketball official. As far as it being tough on her watching me work and hearing me being criticized from the stands, she's dealt with that too. You have to understand that depending upon the game (level) you're working, if the gymnasium isn't full you're more apt to hear people's comments.
"There were a couple of times when I thought Donna's Italian temper was really going to come out of her, but again, she handled things very well, he added. "But one time, I'm working a contest at Michigan State and one guy is just on me throughout the game. 'Bova, you're this and you're that.' Finally, my daughter Jennifer, who's in the stands, and who doesn't take anything from anybody asks this person yelling at me 'you really don't like that Phil Bova guy, do you?' The guy responds, 'No, I don't. He's a blankety-blank.' My daughter then says 'well, that guy happens to be my father. And if you say one more thing, you're going to have your hands full.' So, it can be tough on a lot of people but as an official, and a family member of that official, you have to bite your tongue knowing it isn't anything personal, it's strictly business."
Of course, we discussed the reason why the book is titled "Throwing Back the Chair." It is in reference to the time Bova was working a Big 10 game featuring Indiana and the legendary coach of the Hoosiers Bobby Knight.
Bova "fondly" recalls, as he put it, the "beauty" of that game. Indiana is playing Purdue and in terms of rivalries, it didn't get much bigger than these two conference foes and fiercely competitive titans clashing on the basketball court.
There's Gene Keady, the coach of Purdue on one side, and Knight on the other. Bova outlined the procedure for officials before every game that included going over any number of things that could transpire out on the court and to merely be on the lookout for incidents so as to not get caught off-guard.
Nothing, though, could have prepared Bova and his crew for what would take place during this contest.
"At the outset of the game, nothing went right for Indiana," Bova said. "We called the game as we saw it but several fouls were going against Indiana. One thing led to another and things escalated to an exchange between Knight and my officiating partner Fred Jaspers. Well, here comes the first of three technical fouls, and then here comes the chair. Now, most people thought Knight actually threw the chair at me-he didn't.
"Quite frankly, and I joked with Knight about this later, if he had thrown the chair at me, he knew me well enough to know I might have thrown it right back at him," Bova added. "Knight would later tell me 'well, then I'm glad I didn't throw it at you.'"
Bova recalled the chair, a plastic chair mind you, going all the way across the floor where the handicapped section was located inside Indiana's Assembly Hall. Fortunately, thank God Bova said, nobody was injured. But once Knight tossed the chair, Bova and his partner had their hands full in trying to restore order and get things back under control.
It seemed like an eternity, Bova suggested, because Knight continued going on and on verbally expressing his dissatisfaction with the way the game was being called. Then the Indiana athletic director comes over and relays his disappointment that Knight got ejected. Bova's officiating crew conveyed the message that Knight's behavior warranted an ejection. The unfortunate thing, as Bova states, this all happened on national television.
"It took us about 7-to-8 minutes to restore order. Indiana goes on to lose the game (72-63) that wound up having a total of three technical fouls," Bova said. "The biggest thing, though, was what took place after that game in the summer. First of all, let me say that the date of that 'chair toss' game was Feb. 23, a date very significant to me. Three things are noteworthy about that date. First of all, it's my daughter Jennifer's birthday, who was 16 at the time of that Indiana game, second was Knight throwing the chair and then on Feb. 23, 1991, I'm working the Temple-West Virginia game (at West Virginia), which was a huge rivalry in the Atlantic 10 Conference, and John Chaney, the Temple coach, gets tossed out of the game.
"But back to that summer in 1985, Knight, unbeknownst to anyone, gets on a plane and comes to my referee camp to talk to my officials for over three hours," Bova added. "He did a great job. Of course, the chair throwing incident and other humorous stories came up during his talk but every one of my officials nearly had their jaws drop to the floor when I introduced Knight."
The former all-Ohio high school baseball player and "Educator of the Year" recipient for Buckeye High School, also shares some of his more memorable games on the hardwood. His working a game featuring Toledo and Central Michigan in the Mid-American Conference was a classic in that it went into five overtimes. Today, a game lasting that long is very rare. Another memory was his good fortune to be assigned to work the very first Big 10 tournament championship game in Chicago.
"That was big because both teams were fighting to get into the NCAA tournament," Bova said. "The tension gets higher with each game with teams looking to advance to the Sweet 16, the Elite 8 and then, of course, the Final Four. Every possession, every call is critical. And as an official working that big game, you always say to yourself that you'll work that game like no other because a lot is on the line.
"Of course, you want that mindset during every game you work but more so when it comes to those big games that decide whether or not a team goes on in the tournament, or they go home," he added. "I was fortunate to work games with great endings and to have dialogue featuring some one-liners between myself, the players and coaches. Everyone walked away feeling good about themselves after those verbal exchanges. As officials, we try to let the kids decide the game. I always tried to be as fair as I could, and not have my integrity questioned."
Bova also talks in his book about how the game of basketball has changed since he donned the striped shirt.
He will once in a while check out some collegiate action on Saturday afternoon looking at how the officials of today approach the game. Bova looks for continuity among the working crew. Anybody can blow air into the whistle, he says, but the good official allows for the play to develop. Anticipation and assumption is what an official cannot do. With three officials, every referee has a particular area on the court he is responsible for.
"No matter what sport you're officiating, you must believe in your partner (s) and let things develop in front of those other guys working with you," Bova said. "In basketball, don't go out of your area and make calls when your partner is right there. It is important today that referees have a good feel for the game. I also think if you've played the game you have a better feel for officiating that sport."
A member of the Medina County Sports Hall of Fame and the Greater Cleveland Sports Hall of Fame, Bova also discussed the number of decreasing officials today due to all of the verbal abuse coming from the spectators. He is seeing the overall number of officials declining across the country in virtually every sport.
"It's difficult today regarding the abuse because young officials just don't want to take it, and at the lower levels of play, even in high school, you see more abuse going on," Bova said. "Some guys say they just don't need the headaches. But there is more pressure the higher you climb up the ladder, which is why some officials don't pursue the next level."
We also briefly touched on his giving back to the kids of Northeast Ohio by way of his summer baseball camp that stood the test of time for a remarkable 45 years.
"Looking back on that, we were able to present a staff, a wonderful staff with baseball experience at the high school, college and in some cases, the professional level," Bova said. "I trusted my people and because of that trust, I could assure every camper's parents that their son or daughter would improve in order to get them to the next level of competition, if they so desired.
"Fundamentally, we were as sound as sound could be. We ran camp like spring training," Bova added. "We emphasized the importance of learning the fundamentals of the game. Baseball, well, it's a challenging, challenging game. What made the staff feel good is that we could see the kids improving Monday thru Friday during camp week year after year. It was also nice to get notes from the parents saying that their kids made their school teams the following year, not that they became starters or top players, but they were able to make their teams because my camp's staff gave their children the confidence they didn't have before. Well, it doesn't get any better than that."
Bova recalls that same commitment to quality staff members and trust when it came to his other camp-The Phil Bova Referee Camp, which was established in 1980. It was rated the No. 1 camp of its kind by "The Book for Referees" publication.
Bova promised to surround those referees attending his camp with knowledgeable and successful people to put them in a position to work the highest levels of college basketball competition. He introduced them to successful people (Bobby Knight) and knowledgeable officials that he worked with so as to give them the confidence they needed.
And when it was all said and done, at the end of his officials camp that ran for 23 years, Bova had close to 65 referees go on to work at the Division III, Division II and Division I college basketball levels with three of his camp graduates working the NCAA "Final Four."
"Whatever you accomplish in life, you want to have peace of mind and a feeling of satisfaction," Bova said, referring to one of the many deciding factors in moving forward with the publishing of his book. "Hopefully, you have quite a few things you can look back on and be proud of regarding what you were able to accomplish. I was an educator for 44 years, and roughly put that same amount of time working as a basketball official in the NCAA. I was blessed to have two great careers with so much support around me to be able to accomplish what I did.
"As to my careers, just like with this book, it was a case of 'right man, right spot,'" Bova added. "But you have to work hard and always make every effort your best effort because as I tell kids, and I tell this to my grandkids, you never know who is watching you. And, you must remember that you always have to answer to that man in the glass. You want to play the game or do a job like it could be your last, and just leave everything that you have out there. This is how I got started by believing in such a philosophy and talking advantage of every opportunity that came my way."
This book, so well-written and told by Frostino and Bova, will provide readers with many takeaways. Bova hopes everyone who turns the pages will get a deep appreciation for what a blue collar young man, the son of a Cleveland police officer, and one so blessed with a mother and father serving as great role models guiding him every step of the way could accomplish.
Bova would also like readers to develop an appreciation for what it takes to become a college basketball official. Mainly, just adopt the notion that if you work hard, commit to something and make the sacrifices necessary in addition to having the support of family; you too can make your dreams become reality.
"You can become successful and go on to have a decent career," Bova said. "I would like people to appreciate that it took a lot of sacrificing and that while knowing the tremendous challenges going in, you'll also know success and be able to look back on a career with the feelings of satisfaction and pride.
"I was blessed to have two careers (education and officiating) and I believe I rose to the challenges of both," he added. "I know that I gave it everything I had and tried my best. And most importantly, I was blessed with good health, as was my family, which means everything to me."
Through the highs, the lows and those many bumps in the road that one sometimes must endure to make the good times so much sweeter, Bova's family and friends remained by his side making it all worthwhile. And that is being successful.
Bova's life accomplishments, and now his words available for all to enjoy will inspire you to be the best that you can be. Everyone has the power to succeed. All you need is to believe in yourself, and of course, embrace your passions.

NEO Sports Insiders Newsletter
Sign up to receive our NEOSI newsletter, and keep up to date with all the latest Cleveland sports news.