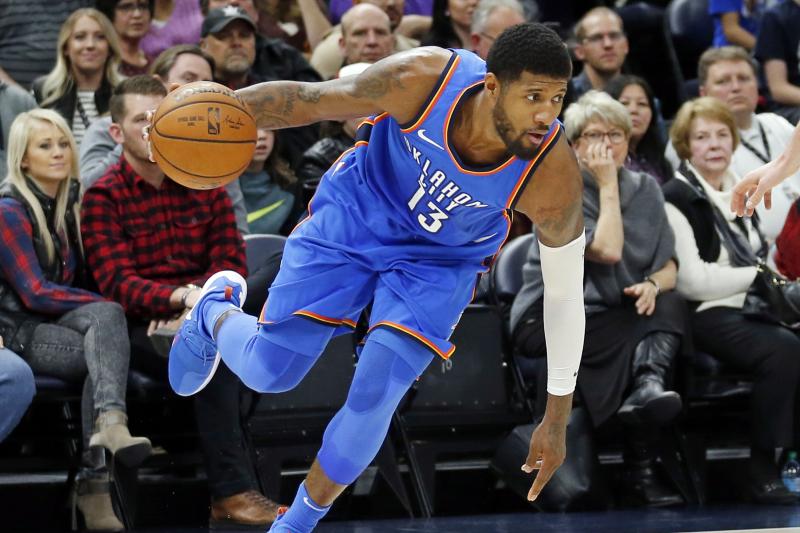 It's no secret that LeBron James' free-agency decision will dictate what the rest of the NBA does. James is set to be an unrestricted free agent if he declines his player option, which he must make a decision on by June 29th. But there's another name that will be important to keep an eye on, especially because this person's future may reveal where LeBron ends up this off-season.
That person would be Paul George.
George is an unrestricted free agent and is fresh off the heels of his first season with the Oklahoma City Thunder. He was traded there last off-season by the Indiana Pacers, the team that he played his first seven NBA seasons for. George averaged 21.9 points, 5.7 rebounds, and 3.3 assists per game with the Thunder during the regular season.
But the reason why George is so important to LeBron's decision is the fact that he is the second biggest star on the free-agency market. George also is a native of Los Angeles, the city where many assume LeBron is heading next to play for. If George commits to the Los Angeles Lakers, would LeBron be on his way to join him?
Maybe it could be the other way around. If LeBron commits to Cleveland, would Paul George be in the plans for the Cavaliers as they retool for another crack at a championship?
In an interview with TMZ Sports, George playfully joked around while being thrown questions about his NBA future and the possible landing spots for LeBron this summer.
George was asked about the idea of teaming up with LeBron next season and if he enjoys that possibility.
"Yeah, I'm with LeBron every All-Star (Game). Every one of my All-Star's I've been teamed with LeBron," George told TMZ Sports. "We got a losing record but I like playing with him. Yeah, it was fun playing with LeBron All-Star Weekend."
Which then led to George being asked if he thinks that James should be out in Los Angeles. Unfortunately for the reporter, he wasn't very specific and it cost him. George decided to answer in the present tense.
"It's the summer. Of course, he needs to be out here," George said with a relaxed tone of voice. "It's the summertime."
But when the reporter turned the focus to the two meeting up in Oklahoma City, George made sure not to answer for The King.
"That's up to LeBron. You gotta question LeBron on that one."
The NBA Free Agency period begins on July 1st.