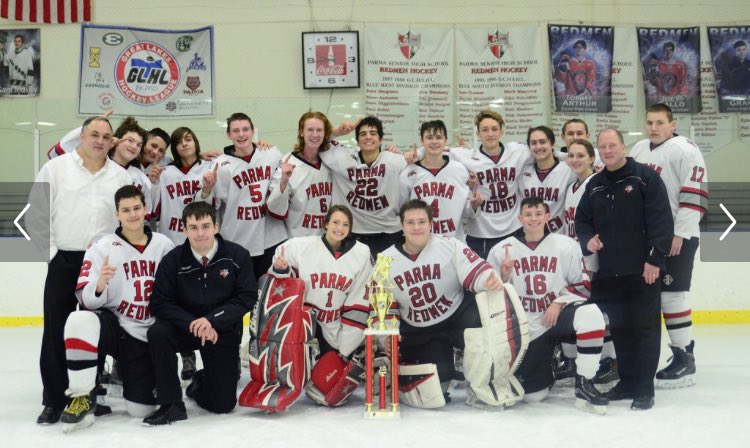 On the surface with the Baron Cup just over a week away, Saturday's high school hockey game between the Parma Redmen and the Midview Middies was just another game between two GCHSHL teams.
In the end, it was anything but.
The score was in favor of Midview 7-2, but what happened on the ice late in the game is what most are talking about, a late goal by Parma that may have meant more than any goal in high school hockey this season.
The goal was scored by Luke Grahl, a Parma High senior who has been a student trainer with the Redmen for the past four years.
Grahl is a young man with special needs, and the team went out of their way to not only dress him but also to start him on the ice for Parma in the game against Midview.
Late in the game with the Middies in control, Grahl scored his first high school goal, a moment that was special to both teams.
Redmen coach Joe Gaudino Jr. gave some background on Grahl and just how much he means to the Redmen family.
"Luke plays on a hockey team called the Cleveland Wildcats which is a program that is compromised of players of all ages that have special needs," the coach explained.
"Luke is family and we wanted to dress him and play so that he can earn a varsity letter as a player."
Each season the Redmen host a charity game that raises money for the Cleveland Wildcats so they can participate in tournaments and also help them offset any costs.
"Two weeks ago our program was recognized by City Hall and the Mayor and we where given proclamations as well," Gaudino said.
What made the moment even more special was the Middies hockey team captured it on video, and tweeted out the moment that Grahl scored the final goal of the night, much to the delight of the Redmen as well as Middie players.
#11 from Parma scoring first High School goal. Congrats. Both teams there to celebrate the goal pic.twitter.com/1MKWmVA3Ve

— Midview Hockey (@midviewhockey) January 29, 2017
Gaudino gave his thanks to the Midview program for their help in giving Grahl a moment he and the Redmen hockey program one they would never forget.
@midviewhockey thank you so much. Very appreciated. Midview was very accommodating and very generous for participating.

— (440) 668-2598 (@pshhockeycoach) January 29, 2017

NEO Sports Insiders Newsletter
Sign up to receive our NEOSI newsletter, and keep up to date with all the latest Cleveland sports news.