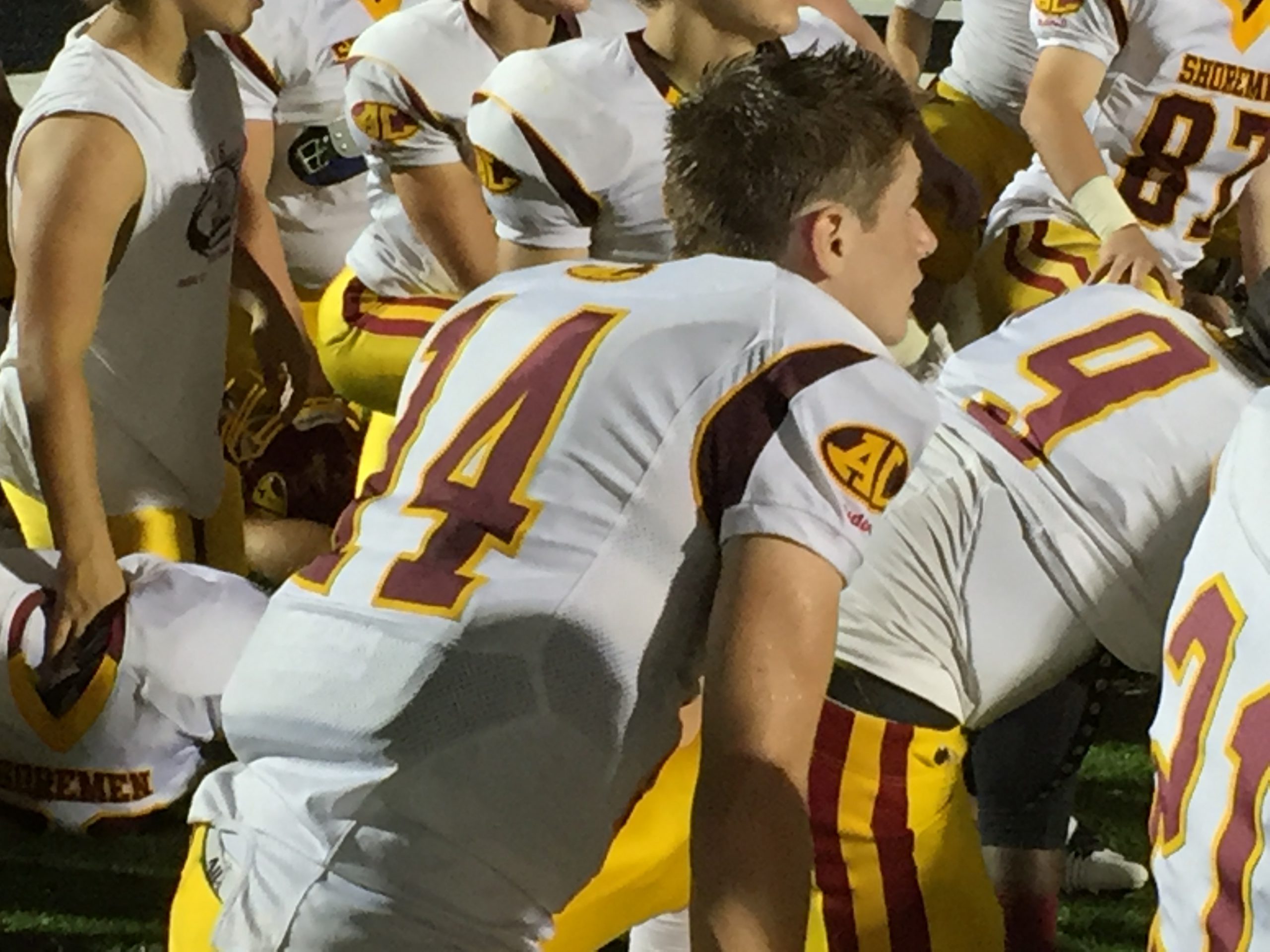 This recap is brought to you by Mullins Construction. You can visit them at
http://www.createns.com/mullins_construction/Next week
AVON LAKE, Ohio – Mark Pappas led the Avon Lake Shoreman to a 49-6 victory over the visiting Berea Midpark Titans tonight in front of a rowdy crowd. Pappas threw for 220 yards, 2 touchdowns on 10-15 passing.
Head coach Dave Dlugosz had this to say about his star quarterback, "He has a very good work ethic and is an intelligent kid. Plus, he has four real athletic kids out there to make the quarterback look good."
Two of his top threats are Carson Toy and Hunter Bateman. Coach had this to say about both of them, "Carson Toy is very focused and loves to compete. On the other side, Hunter Bateman is a very athletic kid and legit fast."
Both Toy and Bateman had great games tonight. Toy had 2 catches for 75 yards and 1 touchdown. He also played defense and had 2 interceptions. Bateman had 4 catches for 106 yards and scored a touchdown.
The scoring began on the opening drive of the game. After two long Pappas passes, it was Tyler Nelson on a sweep from three yards out to take it in for the games first points. Moments later it was Carson Toy picking off an Angelo Smith pass to give the Shoremen the ball right back. They would capitalize a few plays later on another Tyler Nelson touchdown run, this time from 11 yards out.
The two quick scores for Nelson were part of big game for him as well. He ran for 203 yards on 25 carries with 4 touchdowns.
Smith was starting at quarterback for Berea Midpark in place of the injured Trevor Bycznski. He did his best, but had mixed results. Smith went 6-20 for 35 yards with 0 td's and 2 ints.
Already up by two scores, Avon Lake poured it on with a 37 yard touchdown pass from Pappas to Hunter Batemen down the right sidelines. This made it 21 -0 with just over two minutes to go in the second quarter.
Berea Midpark would use the legs and back of Tyrese Holland to get back in the game briefly. Holland rushed right down the field with no issues, eventually scoring to make it 21-6 Avon Lake as Berea would miss the extra point.
Avon Lake regained the momentum right away however, as on the next drive they hit big on a 43 Yard TD pass from Pappas to Toy. The ensuing extra point was good and put them ahead 28-6 less than two minutes into the second quarter. Five minutes later after another Carson Toy interception, it was Sandy Bishop plowing ahead for a rushing touchdown to put Avon Lake ahead 35-6.
Avon Lake would finish the scoring on the final drive of the first half with a 10 yard touchdown scamper by Tyler Nelson. The first half ended with Avon Lake leading 42-6. It was part of 21 point second quarter explosion for Avon Lake.
The second half would begin the same way it ended, with a 4 yard touchdown run from Tyler Nelson. It was his fourth rushing touchdown of the night, and put Avon Lake ahead 49-6.
Next week Berea Midpark hosts the visiting North Olmsted Eagles while Avon Lake travels to Olmsted Falls.
Box Score
Berea Midpark 0-6-0-0-06
Avon Lake 21-21-7-0-49
Scoring Summary
1Q Avon Lake – Tyler Nelson 2 yard TD run. XP Good. 7-0 9:28
1Q Avon Lake – Tyler Nelson 11 Yard TD run. XP Good 14-0 6:42
1Q Avon Lake – 37 Yard TD pass Pappas to Bateman. XP Good 21-0 2:17
2Q Berea MP – 1 Yard TD run Holland. XP No Good. 21-6 11:57
2Q Avon Lake – 43 Yard TD Pass Pappas to Toy. XP Good 28-6 10:25
2Q Avon Lake – 1 Yard TD Run Bishop. XP Good 35-6 4:03
2Q Avon Lake – 10 Yard TD Run Bishop. XP Good 42-6 0:33
3Q Avon Lake – 4 Yard TD Run by Nelson. XP Good 49-6 4:08

NEO Sports Insiders Newsletter
Sign up to receive our NEOSI newsletter, and keep up to date with all the latest Cleveland sports news.