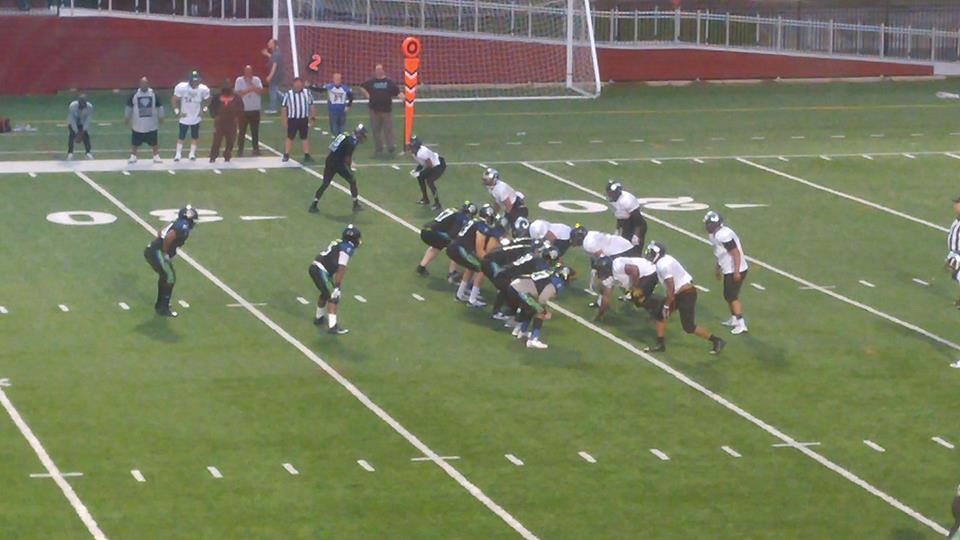 OBERLIN, Ohio – The Lorain County Nightmares opened up the home part of their schedule tonight as they defeated the Cleveland Rams 22-8.  The Nightmares came in trying to bounce back from a tough road loss last week to the Ohio Raiders.
On and off rain called for a sloppy game, and it sure did cause one!  A total of 11 turnovers marred what was an otherwise strong night for Lorain County.  Brandon DiMarco bounced back from a rough first half that saw two interceptions and a fumble, to toss two touchdown passes in the second half as the Nightmares pulled away with the win. 
The second touchdown toss came from DiMarco as he scrambled away from rushing linebackers to find Rob Johnson slipping loose in the back of the Endzone.  The JCU graduate finished with 109 yards on 11 of 24 passing, with the 2 TD's, 3 int's and a fumble.  The ball was wet all night, and it caused havoc for everyone.
CJ Powell Jr was the recipient of the other touchdown pass from DiMarco earlier in the third quarter.  It was the product of an 8 plus minute scoring drive to start the half.  Dontez Smith was the consistent and reliable workhorse tonight, as he finished with 91 yards on 9 carries.
The first half was filled with sloppy play and turnovers as both teams combined to cough the ball up 7 times.  After the Nightmares forced a 3 and out on the opening drive, their offense went to work.  DiMarco engineered an 8 plus minute, 70-yard drive but couldn't covert inside the ten.  A tipped pass was intercepted and the ball went back to the Rams.
From there, things became even sloppier as the Rams and Nightmares combined to fumble the ball on three straight plays back and forth at the goal line.  The Nightmares would eventually score and make it 8-0 after a "trick play" two-point conversion.  The touchdown coming on a 3 yard backfield pitch to TJ Howell.  
The Rams finished the first half with zero points, and 4 turnovers, as Ricky Earl and Richard Benson came up with interceptions.  Vaughn Sprinkle and Chase Laudato also forced two Ram fumbles.  The Nightmares defense was outstanding as Sonny Hazelwood shut everything down up the middle. 
The Nightmare interception in the second half was by Chris Williams. All in all, the Nightmares defense forced six total turnovers.  The win improves their record to 2-1 on the season.  The Nightmares next play June 2nd in Pittsburgh. 
Box Score
CLE 0 0 0 8 = 8
LCN 8 0 14 0 = 22