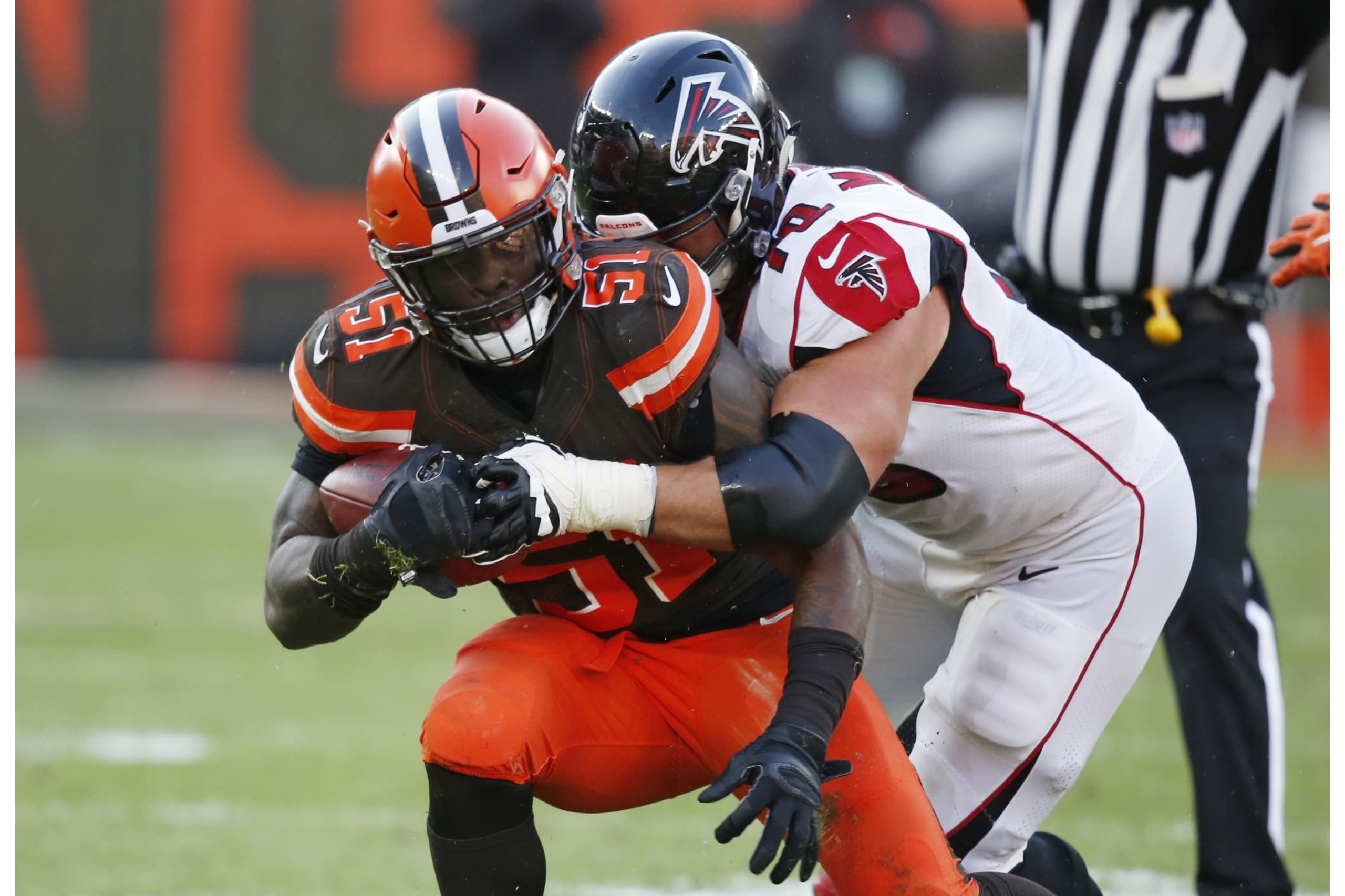 Most professional athletes and coaches will tell the media that they don't read the newspapers, watch television or give a lot of thought as to what is being said about them during the season. Still, one has to wonder about such a claim.
A defiance of just sweeping criticism under the rug is common, indeed, but it's a hard line to sell in terms of such scrutiny not having some kind of negative effect on one's performance. And such may be the case for the demise of the 2021 Cleveland Browns season.
What was perceived at the outset of training camp as a probable path deep into the postseason, and perhaps a ride all the way to Super Bowl LVI in California on Feb. 13, turned into a display of what could best be described as abysmal. In fact, one Cleveland media member went so far as to say that with all of the talent the Browns accumulated for this season, and to be eliminated from playoff contention with two games still to play on the regular schedule is just "unacceptable."
So, where do we start in trying to figure out what went wrong? The best place, in this writer's opinion, is to begin where I started this column. The Browns had many, many outside distractions that nobody is going to tell me didn't a play a factor, whether big or small, in what appeared to be a complete breakdown and lapse of concentration during games Cleveland seemingly had stashed away in the win column.
Yes, that "outside noise" so loud it could be compared to the decibel level one hears when pulling up next to a car in traffic with that driver feeling everyone else on the road, and those within a 2-mile radius must listen to or suffer through, as well.
Let's begin with some of the players' parents, shall we? First, we had former Browns wide receiver Odell Beckham, Jr.'s dad take to the social media pages criticizing Cleveland quarterback Baker Mayfield not only for his perceived poor quarterbacking skills, but the ridiculous notion that Mayfield was actually trying NOT to throw a pass in the direction of his kid. This idiotic and misplaced gesture had all the looks of a disgruntled high school parent complaining to a Board of Education member that his kid wasn't being used properly on the field.
Next up regarding the social media rants was running back Kareem Hunt's father, who somehow felt qualified to judge Mayfield's performance suggesting "he's limping and scared to throw the football." It's never a good look when your franchise's quarterback is negatively being tossed around the social media pages like a bouncing ball rolling away out of control.
The players, themselves, created "noise" with defensive end Myles Garrett taking a verbal shot at the defensive coaches during a press conference suggesting adjustments weren't made on the sideline in an eventual loss (45-7) to New England that saw the Browns defense surrender 45 unanswered points resulting in 452 yards. Mayfield, himself, also joined the "critique club" mildly referring to the playcalling as "too conservative" during a Week 14 win over Baltimore.
Coaches also chimed in with defensive coordinator Joe Woods, attempting to respond to Garrett's claim suggesting that "everything is good" between himself and Garrett following that New England game-what else would he say?
Head coach Kevin Stefanski made several points during his pressers that he'd prefer some of the players' comments to be kept "internal." And then there was the case of injured Browns safety John Johnson, III, who during an eventual loss to Green Bay, 24-22, tweeted "run the damn ball" following one of Mayfield's four interceptions against the Packers.
Outside noise? Yes, and plenty of it. There was even talk about just how unified is the front office on this team? On a Cleveland local radio talk show, it was brought up that at one point, Browns General Manager Andrew Berry, commenting on Mayfield's struggling play with games still left on the schedule and the Browns clearly fighting for a postseason berth, said he expected Mayfield to play his best football moving forward.
However, in an interview with Browns offensive coordinator Alex Van Pelt, one could assume that there might be a difference of opinion as to Mayfield being able to play his "best ball" with Van Pelt admitting the harness Mayfield had to wear to protect his injured left shoulder "definitely hindered" him. It doesn't sound like key people within the Browns organization were on the same page here.
And as far as turning the next page, I think it's important to get some things straight about Mayfield. There have been far too many opinions, mostly by the "experts" on ESPN and selected fans, that Mayfield is not the guy, and that because he isn't an "elite" quarterback, he will never take Cleveland to a Super Bowl-nonsense!
Of course, being a great quarterback with Hall of Fame-like numbers certainly helps a team's cause to get to pro football's ultimate destination, but it is hardly a necessary ingredient. Let me throw a few names at you regarding former quarterbacks who led their teams to Super Bowl victories. Baltimore's Trent Dilfer, the New York Giants Jeff Hostetler, Oakland's Jim Plunkett and the Tampa Bay Buccaneers' Brad Jonson. Now, I ask you, would you consider any of those quarterbacks as "elite?" I didn't think so.
And how about those who took their team to the Super Bowl but came up shy? Cincinnati's Boomer Esiason and Philadelphia's Ron Jaworski, just to name two? Elite, hardly.
My point is that with a balanced offense and good defenses, qualities those Super Bowl winners had, the average-to-good quarterback can lead their team and win the "big one." It's time to get away from what Mayfield apparently cannot do and focus on what he can do when HEALTHY. And that is the key because Mayfield was clearly injured for the most part of 2021, and yes, Stefanski needed to make better decisions about when he played. That all fell on the head coach's shoulders, and I believe the Browns, from top to bottom, did not handle that situation very well. I applaud Mayfield for his competitive fire, but the head coach is paid to make those difficult decisions.
Am I suggesting to anyone that Mayfield could one day get fitted for a gold jacket he can wear walking down that ceremonial runway in Canton? Again, hardly. I am saying that like any player, let's see what he can do when he is healthy. I would suggest to those heavily criticizing Mayfield to be careful what you wish for. If you don't have someone far better to replace him permanently, I mean someone who can immediately step in to start at the most important position on a football team and post lofty, successful numbers, you might want to hang on to what you have.
If Mayfield is healthy in 2022, and the Browns can make their offense even better, which can happen by making a key wide receiver a high priority in the upcoming draft, improve the defense, which would include getting another pass rusher to help with all the double-teams Garrett faces every Sunday, in addition to getting defensive backs who can stay with all-pro receivers, this team can succeed with Mayfield under center.
The Browns can bring the excitement back that all fans enjoyed when they upended rival Pittsburgh in that playoff game two years ago. It will be a wise move to positively react in terms of improving this team, and not negatively overreact by cutting players loose who really are not the problem.
I might also remind players that while you can't control what those type into their social media accounts, you can control the volume or OFF button on those oversized boom boxes spewing out all that "noise" that nobody wants to listen to.

NEO Sports Insiders Newsletter
Sign up to receive our NEOSI newsletter, and keep up to date with all the latest Cleveland sports news.