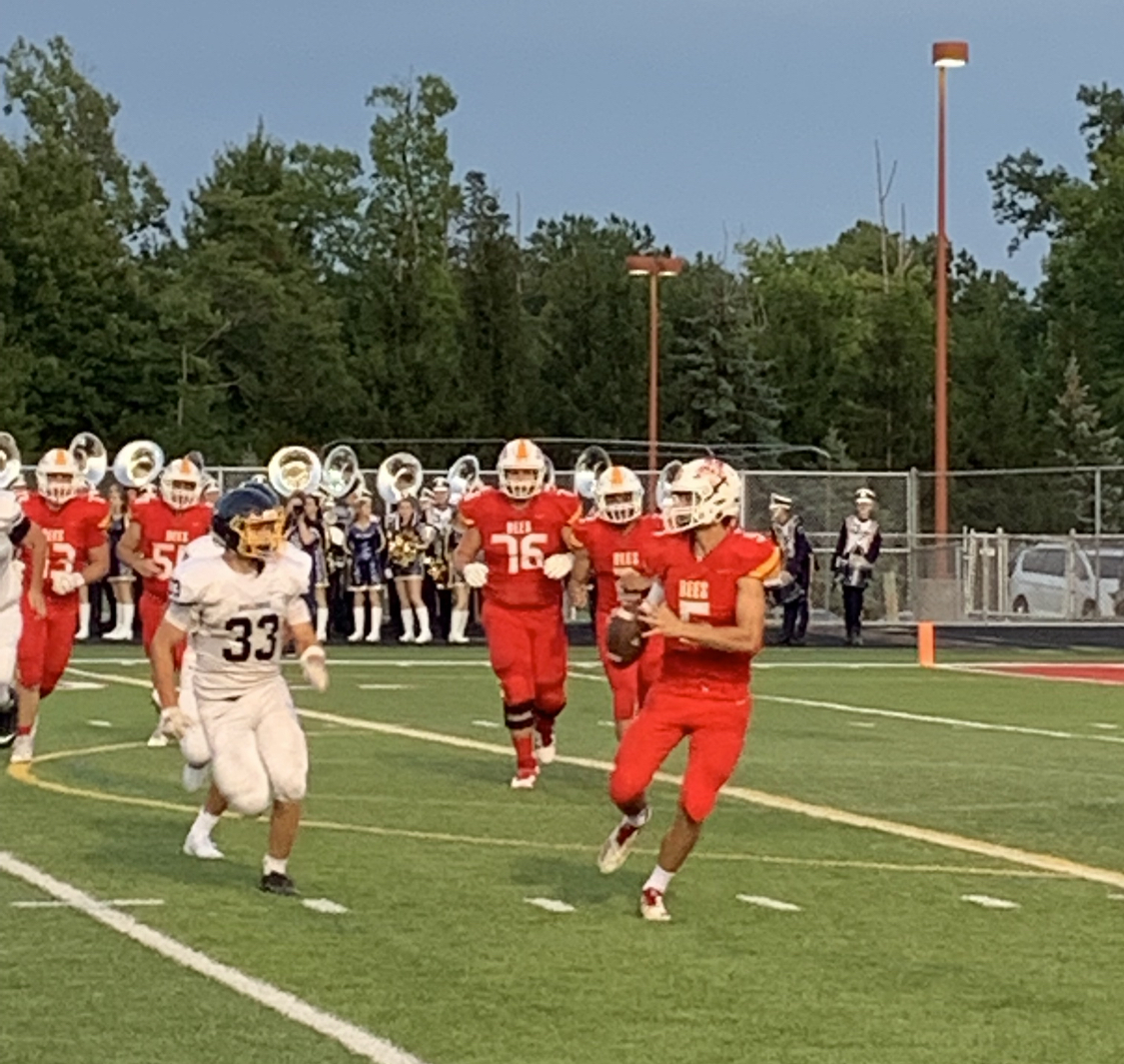 BRECKSVILLE, OHIO – The Brecksville-Broadview Heights Bees looked to erase a winless 2018 campaign with a win over the Olmsted Falls Bulldogs in the non-conference season opener for both schools.
The Bees almost got the job done, falling short 28 – 27 in a heartbreaker to a young Bulldogs squad.
The Bulldogs struck in the first quarter on a 76-yard pass and catch from Sophomore quarterback Charlie Ciolek to Senior standout Alec Wall.
Just a short while later, Bees Senior running back Ethan Hatcher scored the first of two touchdowns with a 32-yd scamper. The PAT tied the game at 7 – 7, which is how the quarter ended.
In the second quarter, Junior star Joe Labas scored from 5 yards out on a quarterback sweep to give the Bees a 14–7 lead midway through the 2nd quarter. Labas's exploits on the night showed he is a legitimate star to keep an eye on.
Neither team would score for the rest of the half.
In the third quarter, Labas would hit Junior Jeremy Jonozzo for a 27-yd pass play to give the Bees their biggest lead at 21–7. Jonozzo would finish with a team-high 6 receptions for 88 yards and the touchdown.
Later in the 3rd, Bulldogs Sophomore Devontae Boyd would score to close the gap, 21–14, going into the final quarter.
After the Bulldogs tied the game at 21, Hatcher struck again, this time on a 35-yd catch and dash on 3rd down. The PAT was blocked, giving the Bees a 27–21 lead with 5:37 left to play.
After stopping the Bulldogs on 4th down, the Bees could not close the door, giving the ball back to the Bulldogs.
From that point, the Bulldogs marched down the field, culminating in a one-yard touchdown plunge by Junior fullback Andre Parkowski with 24 seconds to go in the game.
Senior kicker Jake Politowski's extra point gave the Bulldogs the 28–27 lead.
The Bees were unable to score in the final frantic seconds, going down after a hard-fought battle.
Amidst typical first-game nerves, the Bees nevertheless put forth an impressive effort, showcasing a big-play attack anchored by a physical offensive line.
Bees Head Coach Martin Poder pointed to his team's physicality as a benchmark for his team to move forward this year. Referencing Olmsted Fall's own brand of physical play, Poder said, "I think it's obvious that we're getting that way. The type of football we want play, it's starting to come through."
Coach Poder is depending on his offensive line for success this year: "We're going to go as far as that line takes us." He remained positive on his team's outlook after tonight's result: "It's one loss, and we've got everything still in front of us."
The Bees attack certainly showed the physicality Poder is looking for. Junior quarterback Labas had a monster game as his O line gave him all kinds of time.
He finished 21-32 passing for 285 yards and two touchdowns. He also added 65 yards and another touchdown on the ground.
Senior running back Hatcher led the Bees with 80 yards rushing on 13 carries with a touchdown. He also caught a pair of passes for 40 yards, including that huge fourth quarter 35-yard scoring catch.
The Bees finished with 435 yards of offense, including 150 on the ground, outgaining the Bulldogs by 75 yards of total offense.
For the Bulldogs, their traditionally strong ground attack proved again to be their strength. They ground out 252 yards rushing versus 91 yards in the air.
A trio of Bulldog runners contributed to the balanced ground game, led by Junior Parkowski's 72 yards and touchdown.
Senior Stephen Ellis added 71 yards, while two-way standout Wall added 45 yards and another touchdown.
Wall also hauled in both completions by young quarterback Ciolek for 91 yards, including a quick hitter 76-yard grab and go that opened the scoring in the first quarter.
Bulldogs Head Coach Tom DeLuca was pleased with his young team's resiliency. "Even our seniors grew up tonight. We played a really good team." Referring to his squad's inexperience, Deluca said, "I felt like we grew up as the game went on."
His takeaway was, "Our young kids learned how to win on Friday night."
Week two will see the Bulldogs opening Southwestern Conference play at home versus one of their rivals, Berea-Midpark, while the Bees go on the road to face Uniontown Green.
⁦@NEOSportsInside⁩ ⁦⁦@NEOhsAthletics⁩ ⁦@FOX8FNTD⁩ ⁦@AM930WEOL⁩ ⁦@MattLoede⁩ 3rd and long late in the game? No problem says Mr. Hatcher. Bees up 27-21 at 5:37 left in the 4th Q. pic.twitter.com/Scxwlv9B1p

— dave (@deedawg134ever) August 31, 2019
⁦@OFalls_Bulldogs⁩ ⁦@beevillesports⁩ ⁦@NEOhsAthletics⁩ ⁦@NEOSportsInside⁩ ⁦@AM930WEOL⁩ ⁦@FOX8FNTD⁩ ⁦@MattLoede⁩ Alec Wall for the score! After the PAT, we're all knotted up at 21-21! pic.twitter.com/hSRXYPCSRU

— dave (@deedawg134ever) August 31, 2019
⁦@OFalls_Bulldogs⁩ ⁦@beevillesports⁩ ⁦@NEOhsAthletics⁩ ⁦@NEOSportsInside⁩ ⁦@FOX8FNTD⁩ ⁦@AM930WEOL⁩ ⁦@MattLoede⁩ Devontae Boyd with the 7yd TD run for the Bulldogs! 21-14 Bees at 1:58 in the 3rd. pic.twitter.com/RI2m25xnHg

— dave (@deedawg134ever) August 31, 2019
⁦@beevillesports⁩ ⁦@OFalls_Bulldogs⁩ ⁦@FOX8FNTD⁩ ⁦@NEOhsAthletics⁩ ⁦@NEOSportsInside⁩ ⁦@AM930WEOL⁩ ⁦@MattLoede⁩ Joe Labas to Jeremy Jonozzo on the big 3rd conversion, 27 yards for the score! Bees up 21-7 midway through the 3rd Q. pic.twitter.com/HTnT0jByNB

— dave (@deedawg134ever) August 31, 2019
⁦@OFalls_Bulldogs⁩ ⁦@beevillesports⁩ ⁦@NEOhsAthletics⁩ ⁦@NEOSportsInside⁩ 2nd half underway! pic.twitter.com/Gq4rU1OJyq

— dave (@deedawg134ever) August 31, 2019
⁦@beevillesports⁩ ⁦@OFalls_Bulldogs⁩ ⁦@NEOhsAthletics⁩ ⁦@NEOSportsInside⁩ ⁦@MattLoede⁩ And that's your first half at Brecksville-Broadview Heights with the Bees holding a 14-7 lead over the Bulldogs. pic.twitter.com/iXX8delX6A

— dave (@deedawg134ever) August 31, 2019