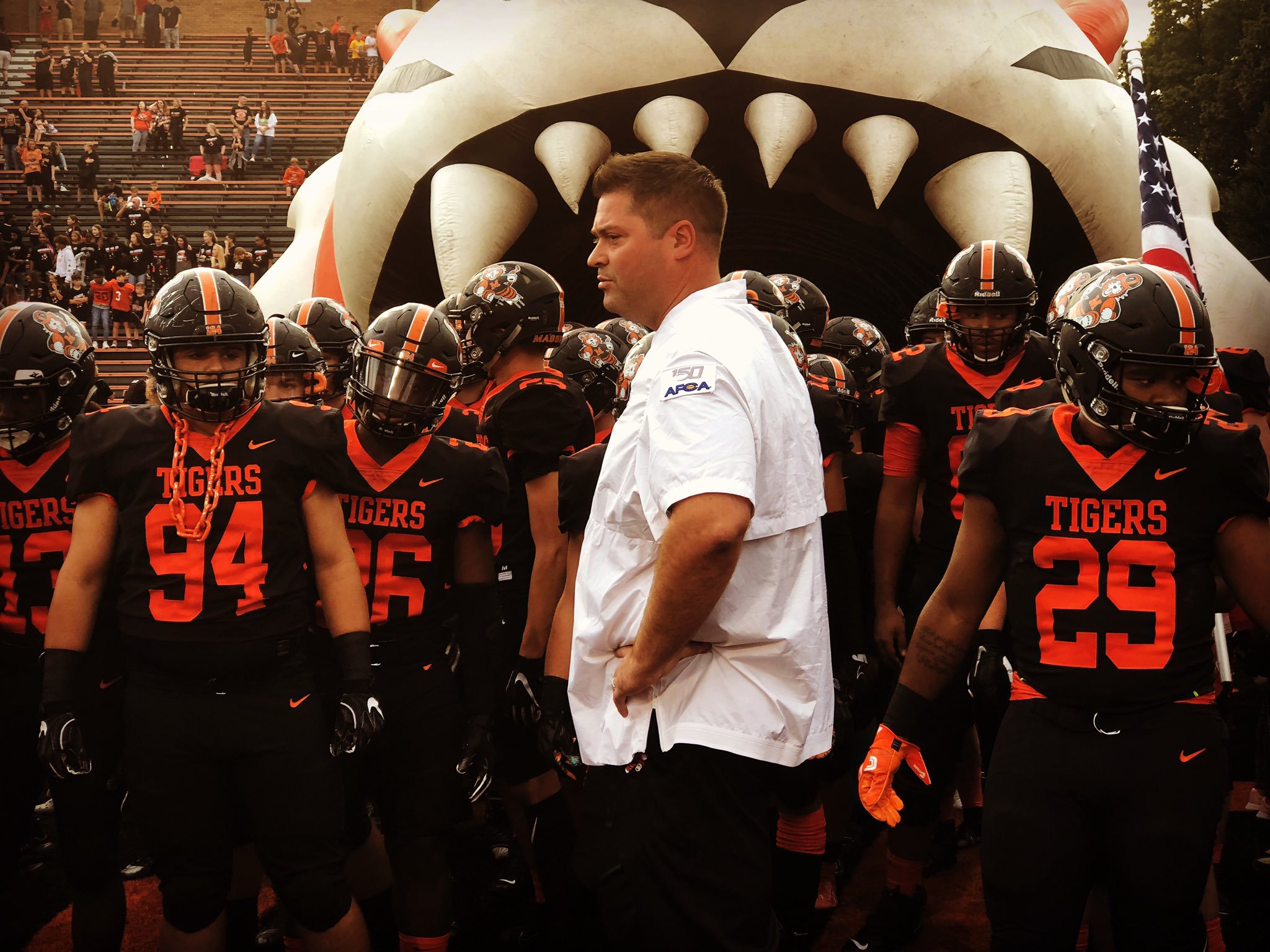 MASSILLON, OHIO – Nobody in America does Friday Night's exactly like Massillon Washington High School.
Despite fireworks, a roaring crowd, and the massive inflatable tiger, Massillon stayed locked in on their motto heading into the season; "Unfinished Business".
Massillon handled their business Friday Night with a convincing 44-14 victory over St. Vincent-St. Mary.
The Tigers were led by Junior wide receiver Andrew-Wilson Lamp. Wilson-Lamp made his presence felt early in this one, nabbing a 51-yard pass from his quarterback Aidan Longwell on just the second play from scrimmage.
The deep catch would set up a 13-yard touchdown run by former St. Vincent-St. Mary HB Terrence Keyes to put Massillon on top 7-0.
Scoring would be at a premium for the remainder of the opening quarter, as Massillon would hold that 7-0 lead heading into the 2nd.
Massillon would then go on an impressive drive, capped off by a 1-yard touchdown run by Keyes to give the Tigers a 14-0 lead.
Just a few minutes later, Massillon would re-gain possession on a Fighting Irish punt.
Wilson-Lamp would once again showcase his uncanny ability to create space, reeling in another deep pass from Longwell, putting Massillon up 21-0.
Despite a deflating first half, St. Vincent-St. Mary wasn't ready to roll over just yet.
Fighting Irish QB Luke Lindsay would find Josh Nickerson in the end zone for a 10-yard strike with 0:52 to play in the half.
Shortly after, an interception by Quinn Knox would set up another touchdown strike for Longwell, this time to Darion Lewis.
All of the sudden, St. Vincent-St. Mary has slashed the lead to 21-14 heading into locker room.
Unfortunately for the Fighting Irish, this burst of momentum wouldn't last for very long.
Massillon would go on to launch an air assault on the Irish defense, led by Wilson-Lamp.
A quick touchdown drive followed by a botched punt resulting in a safety would grow Massillon's lead to 30-14 early in the 3rd.
Following the safety, Massillon would blow the game wide open after speedy return man Jayden Ballard would break off a 66-yard kick return for a touchdown.
Within the first five minutes of the second half, the lead would swell to 37-14.
Massillon's swarming defense would continue to dominate, holding the Fighting Irish to just 42 yards of total offense in the second half.
Wilson-Lamp would make a historic catch late in the 3rd, giving him the Massillon school record for receiving yards (232).
Then Ballard would score his 2nd touchdown of the ballgame, a 33-yard catch from Longwell to put Massillon in firm control, 44-14.
With the reserves in, and running clock activated, the rest of the game remained mainly uneventful, and the Tigers would win their opener by a final score of 44-14.
Massillon will host GlenOak (1-0) next Friday, while St. Vincent-St. Mary will look to rebound when they visit Walsh Jesuit (0-1).
Game of the Night 🚨
*Final*

#3 Massillon Tigers 44
#16 STVM Fighting Irish 14

Massillon outscores STVM 23-0 in the 2nd half to secure the victory at home. @MassillonProud @STVMAthletics pic.twitter.com/sr5nqkUOj1

— Northeast Ohio HS Sports (@NEOhsAthletics) August 31, 2019
Game of the Night 🚨

STVM picks up their first 3rd down conversion of the half on a short pass. #NEOVarsity @STVMAthletics pic.twitter.com/gCSpnqn3DJ

— Northeast Ohio HS Sports (@NEOhsAthletics) August 31, 2019
Game of the Night 🚨
*Score Alert + Close Video*

Massillon's Ballard returns a kickoff for a touchdown, making it 37-14 Massillon with 7:15 in the 3rd. #NEOVarsity @MassillonProud pic.twitter.com/4teBoCrxZg

— Northeast Ohio HS Sports (@NEOhsAthletics) August 31, 2019
Game of the Night 🚨
*Score Alert*

Massillon rumbles down field on the opening drive of the second half for a touchdown. 28-14 Tigers, with 8:36 to play in the 3rd. #NEOVarsity @MassillonProud pic.twitter.com/W2HDNnpIle

— Northeast Ohio HS Sports (@NEOhsAthletics) August 31, 2019
Game of the Night 🚨
*Score Alert*

STVM gets on the board thanks to a 10 yard TD strike on 3rd down. 21-7 Massillon, 0:56 in the 2nd. #NEOVarsity @STVMAthletics pic.twitter.com/aSb23gA4Xs

— Northeast Ohio HS Sports (@NEOhsAthletics) August 31, 2019
Game of the Night 🚨
*Score Update*

Massillon connects on a 45-yard TD pass to go up 21-0. 4:18 in the 2nd. #NEOVarsity @MassillonProud pic.twitter.com/iDtzQvWtiV

— Northeast Ohio HS Sports (@NEOhsAthletics) August 31, 2019
Game of the Night 🚨
*Score Alert*

Massillon punches it in from a yard out, giving the Tigers a 14-0 lead over STVM. 6:00 in the 2nd. #NEOVarsity @MassillonProud pic.twitter.com/gwBEX2CSw5

— Northeast Ohio HS Sports (@NEOhsAthletics) August 31, 2019