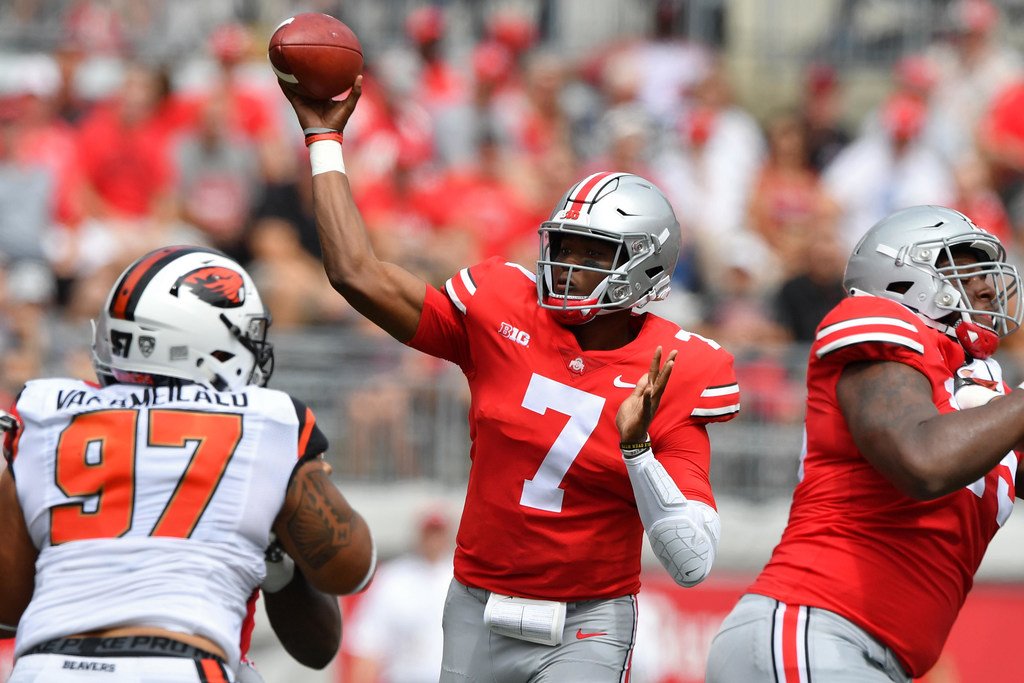 By Tyler Stotsky
In the 2018 season opener, Ohio State showed no signs of wear from the off-the-field happenings over the last month. Both the offense and defense ran on all cylinders without Urban Meyer in the 77-31 win over Oregon State on Saturday (Sept. 1) at Ohio Stadium.
77 points was the most since Ohio State scored 77 points in the 2016 season opener against Bowling Green.
After Nick Bosa recovered a fumble on the Beavers' first drive, the Buckeyes marched 57 yards on five plays for the first touchdown of the contest.
Dwayne Haskins found Terry McLaurin on a two-yard TD pass as Ohio State led 7-0 with 11:17 left in the 1st quarter. Oregon State answered less than a minute later with a 49-yard TD pass by Conor Blount to Trevon Bradford.
Ohio State rattled off four straight touchdown drives as they scored 28 consecutive points in an 18 minute period. Mike Weber scored on a 16-yard touchdown run before Haskins found Rashod Berry for a six-yard TD pass. Ohio State led 21-7 after the first quarter.
The Buckeyes' run continued into the second quarter as they took advantage of an Oregon State missed field goal by responding with a 49-yard TD run by Weber with 12:25 left in the first half.
Oregon State went three and out on the following drive while Ohio State capped a ten play drive with Weber's third touchdown of the game, a three-yard pass from Haskins.
The Buckeyes led 35-7 with eight minutes remaining in the second quarter. With five minutes left in the quarter, Drue Chrisman pinned the Beavers at their three yard line on a punt.
Two plays later, Nick Bosa recovered his second fumble of the game, this time in the end zone for a touchdown.
In the closing seconds of the first half, Oregon State added a touchdown, a seven-yard pass from Blount to Bradford. The Buckeyes led 42-14 at the half.
After a weather delay at halftime, two big plays opened the second half. On the first play from scrimmage, Haskins found McLaurin for the second time on a 75-yard TD pass.
Oregon State answered with an 80-yard TD march by Artavis Pierce one play later. Two and a half minutes later, Haskins had an answer on an eight-yard TD pass to Parris Campbell.
Pierce immediately scored with a long 78-yard run to the end zone for the Beavers.
Following an interception by Haskins, Oregon State cut the lead to 25 with a 23-yard field goal by Jordan Choukair. The Ohio State led 56-31 after three quarters.
The Buckeyes opened the fourth quarter with a four-yard TD run by Weber, his third touchdown of the day. Five minutes later, Ohio State made it 70-31 with a two-yard TD run by Brian Snead. With 3:50 remaining, Master Teague added a 33-yard TD scamper as the Buckeyes led 77-31.
Haskins finished with 22 completions on 30 attempts, 313 passing yards, five passing touchdowns and one interception. Weber rushed for 186 yards on 20 attempts with three rushing touchdowns and one receiving touchdown. McLaurin led the receiving corps with four receptions for 121 yards and two scores.
As a whole, the offense totaled 346 passing yards and 375 rushing yards. The defense held the Beavers
to 196 yards rushing and passing, respectively. The defense had five sacks and two takeaways.
The Buckeyes will open Big Ten play with a home game against Rutgers next Saturday (Sept. 8) at 3:30 PM.
Make Sure you check out next week's Buckeye game at Game Day Tavern, the official watch party location for every big game!
?? DOUBLE TAKE ??

It happened pretty quick, but here you go. Nick Bosa doing Nick Bosa things. Buckeyes up 42-7! #GoBucks pic.twitter.com/6vXHgg1kks

— Ohio State Buckeyes (@OhioStAthletics) September 1, 2018