He was born in Grand River, Ohio, and by the time he walked away from coaching, he had more wins than any one person in NFL history.
Don Shula, the greatest coach in Miami Dolphins history, died Monday morning peacefully and with family by his side, the perfect way for the family man to slip into eternity at the age of 90.
"Don Shula was the patriarch of the Miami Dolphins for 50 years," the statement said. "He brought the winning edge to our franchise and put the Dolphins and the city of Miami in the national sports scene. Our deepest thoughts and prayers go out to Mary Anne along with his children Dave, Donna, Sharon, Anne and Mike."
Shula won a staggering NFL-record 347 games, which includes wins in the postseason.
He was on the sidelines for the only undefeated season in NFL history in 1972 as the Dolphins went 17-0, beating the Washington Redskins 14-7 in Super Bowl VII.
The Dolphins repeated as champions the next season, beating the Minnesota Vikings 24-7 in Super Bowl VIII, the third straight title game Miami had played in; the Dolphins lost 24-3 to the Dallas Cowboys in Super Bowl VI.
Overall Shula led Miami to five Super Bowls, going 2-3 total, his last coming in 1985 as the Dolphins fell to Joe Montana and the San Francisco 49'ers 38-16 in Stanford.
He had a legacy that included the Browns, as he was the 10th round draft pick of the Browns back in 1951, and he played in 12 games in his rookie season, intercepting four passes.
"The Browns came in 1946, and that's when I became a Cleveland Browns fan," Shula said via ClevelandBrowns.com.
"If you sat in the bleachers and wore your letter sweater, you could get in there for 50 cents. That was a pretty good deal. I've just got so many memories as a college student sitting in the Dawg Pound."
He was never a coach in any fashion for the Browns, starting his legendary coaching career as an assistant coach at the collegiate level, including a stint with Blanton Collier at Kentucky.
He came to the NFL as an assistant in 1960 with the Lions, and was hired in 1963 by Baltimore. It was there he began his Hall of Fame 33-year run as an NFL head coach.
Shula had 20-double digit winning seasons, and in 1972 the Dolphins went 17-0. In his 26 years with the Dolphins, Shula had just two losing seasons.
"Much like the entire football community, we are mourning the loss of Don Shula," the Browns said in an official statement.
"Well before he became known as the legendary Coach Shula, he was growing up in Northeast Ohio with a passion for the game we all love. We're proud of the fact that his football foundation was built in Ohio, starting at Harvey High School in Painesville, playing collegiately at John Carroll and then being drafted by the Browns. Coach Shula's contribution to our game are unmatched. Our heartfelt condolences go out to the entire Shula Family."
"Today is a sad day," Dolphins president Tom Garfinkel said in a statement.
"Coach Shula was the rare man who exemplified true greatness in every aspect of his life. He will be so missed by so many but his legacy of character and excellence will endure. All my best to Mary Anne and the Shula family."
By the time he resigned as Dolphins coach after the 1995 season, Shula had been an NFL head coach for 33 seasons, 26 with Miami. Only two of his Dolphins teams finished below .500 during those 26 seasons.
He finished with an overall coaching record of 347-173-6 (73-26-4 with Baltimore).
Shula was inducted into the Pro Football Hall of Fame in 1997. He, George Halas and Bill Belichick are the only coaches in NFL history to win more than 300 games.
"The entire Pro Football Hall of Fame family mourns the passing of Coach Shula. Our thoughts and prayers are with his wife Mary Anne and their entire family.
The Hall of Fame flag will fly at half staff and we will forever keep his legacy alive to serve as inspiration to future generations," Hall of Fame president and CEO David Baker said in a statement.
John Madden remains as the only great coach of the 1970's that is still alive. Shula watched as some of his fellow coaches have passed on including Chuck Noll (Pittsburgh), George Allen (Washington), and Tom Landry (Dallas).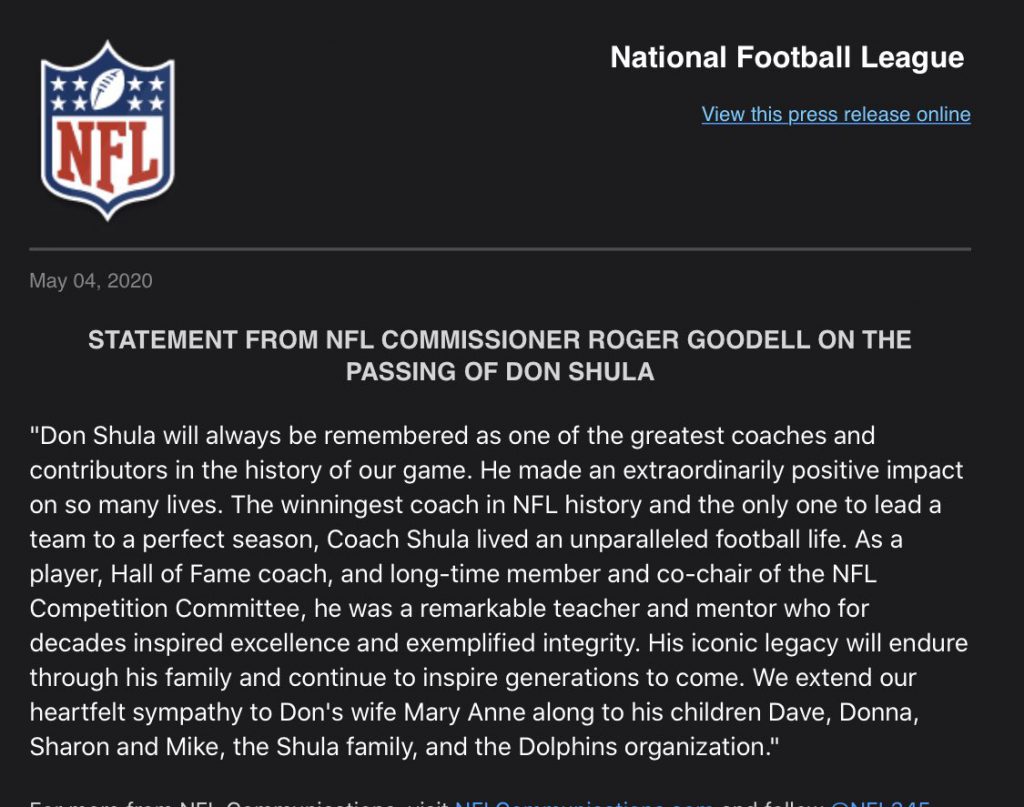 NEO Sports Insiders Newsletter
Sign up to receive our NEOSI newsletter, and keep up to date with all the latest Cleveland sports news.