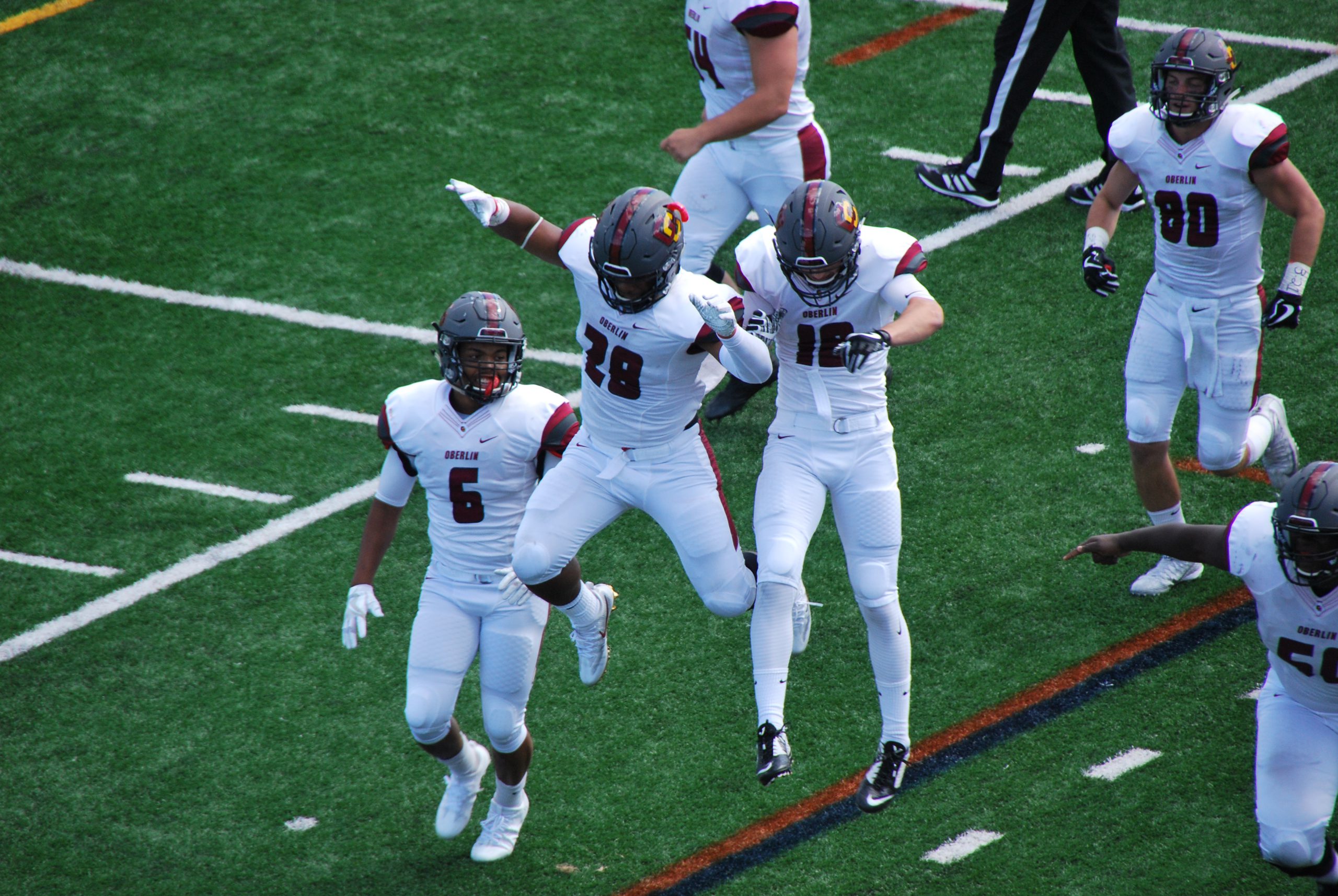 Taking steps forward was something Oberlin College Head Coach Jay Anderson stressed leading into his 4th season leading the program. Through two weeks those steps continue to move in a positive direction and for the first time since 1989 the Oberlin College program is 2-0, now 1-0 in the North Coast Athletic Conference after a 31-10 win over Kenyon College (0-2)(0-1) on Homecoming weekend.
"We want to develop our offensive and defensive identity and I think we took a big step in the right direction today against a very good, physical football team," said Anderson following the win.
With 8:55 left to play in the 4th quarter Kenyon trailed by 14 and had the ball at their own 45-yard line. The Yeomen defense came up with a big stop forcing the Lords to turn it over on downs. The offense would then all but seal the deal. Taking advantage of a short field, the offense used 7 plays to cover 45 yards cashing in on a 10-yard touchdown run from freshman Connor Hibbard to make it a three-score game.
"We stressed that turnovers can kill or create momentum. When you can stop a team on 4th down it can really give some juice to your offense. That's the brand of football you have to play if you want to be successful in the NCAC," said Anderson.
The Oberlin College defense held the Kenyon offense to 0-4 on 4th down conversions on the afternoon. Kenyon signal caller Thomas Merkle was sacked 4 times. The Kenyon offense netted 277 total yards.
Once again the Oberlin offense was paced by a number of ball carriers. Sophomore running back Melvin Briggs paced the ground game with 56 yards on 17 attempts. Senior Khalil Rivers ran 9 times for 38 yards and Hibbard ran for 20 yards and a score on 8 attempts. As a team the Yeomen finished with 135 yards on the ground.
"We're determined to run the football. It paid off for us in the second half. We didn't get pass-happy today, we continued to stick with the run and figure some things out scheme wise," Anderson continued.
Sophomore quarterback Zach Taylor threw for 216 yards and 2 scores, he also ran for another. Despite an interception in the first half, Anderson continues to like where his signal caller is going.
"He's really matured a ton from last year. He's making really good decisions with the football and is doing a good job controlling our offense."
After a 2-0 start at home Oberlin College will play their next 4 on the road starting next Saturday at No. 16 Wittenberg (1-0). The Yeomen don't play another home game until October 21st when they host Wabash.
Scoring Summary
                                                                                                                                                                K – OC
1Q 5:49 Michael Leshchyshyn 31 yd field goal                                                                   0 – 3
2Q 6:37 Ian Bell 16 yd pass from Thomas Merkle (Ryan Cooper kick)                           7 – 3
2Q 1:59 Corey Fussinger 23 yd pass from Zach Taylor (Leshchyshyn kick)                    7 – 10
3Q 13:46 Ryan Gleeson 11 yd pass from Taylor (Leshchyshyn kick)                               7 – 17
3Q 4:00 Ryan Cooper 28 yd field goal                                                                                  10 – 17
4Q 13:48 Taylor 2 yd run (Leshchyshyn kick)                                                                      10 – 24
4Q 5:43 Connor Hibbard 10 yd run (Leshchyshyn kick)                                                     10 – 31

NEO Sports Insiders Newsletter
Sign up to receive our NEOSI newsletter, and keep up to date with all the latest Cleveland sports news.