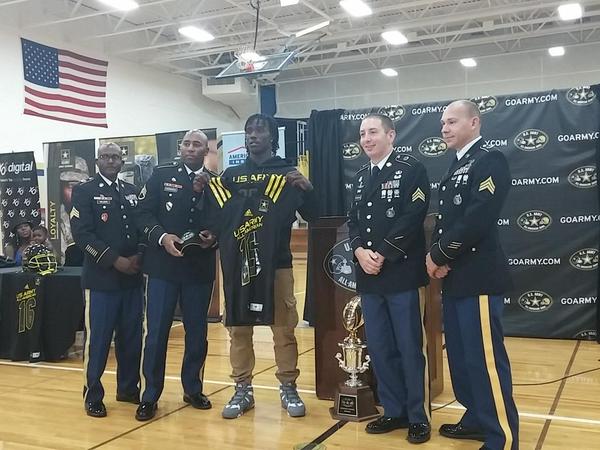 By Dan Gilles
NORTH RIDGEVILLE, OH – North Ridgeville senior tailback Demario McCall is used to being the center of attention on the field, from both the fans and the opposition.
On Thursday, what he did on the field made him the center of attention for a special ceremony off the field. McCall, an Ohio State recruit, officially accepted the invitation of the U.S. Army to participate in their annual All-American Bowl, which features the nation's top 90 high school football players, in the North Ridgeville High School gymnasium.
The gym was packed with students, coaches, teachers, administrators and media to celebrate the monumental occasion.
"It means a lot to me and my family and my coaches and my school," McCall said following the ceremony. "I want to thank the U.S. Army for considering me for this game. I think I deserve it – I think I worked hard enough for it, and I'm pretty sure people think I worked hard for it. It's an honor.
"It was a big surprise to me. Last year, I was given the papers to apply for the game. I knew about the game – I watched it on TV and I knew about five or six people who played in last year's game that are at Ohio State game. I didn't picture myself playing at the game, so this is a big surprise that I was chosen."
Those selected will play in the annual East vs. West matchup on Saturday, Jan. 9, 2016, at the Alamodome in San Antonio. The game will be nationally-televised live on NBC at 1 p.m.
McCall was presented his official black and yellow jersey, bearing the number 16, by members of the U.S. Army – Sergeant David Wilson, Staff Sergeant Brian Harrison, Sergeant Bradley Chamberlin and Sergeant John Pease – on a dais set up in the middle of the gym.
Rangers head coach Luke Durbin was also presented with a plaque in recognition of his role in helping McCall reach his goals and potential, and is also invited to travel to San Antonio to attend the U.S. Army Coaches Academy, an elite three-day learning experience, and participate in Bowl Week activities.
"It's very exciting – a once in a coaching career type thing," Durbin said. "Only five guys in Ohio are playing in this game and Demario McCall is one of them. It's great for Demario. It's great for our school. It's great for our football program. It's something we're obviously going to get a lot of pictures of because we may not have this experience again."
Also, McCall's parents Rhonda Young and Jermaine Bennett were the recipients of the American Family Insurance Dream Champion Award, which was presented during the event. They, along with McCall's baby sister, were on hand to celebrate the achievement.
McCall was selected by the U.S. Army All-American Bowl Selection Committee, which consists of All American Games, 247Sports and XOS Digital. U.S. Army All-Americans are eligible for the U.S. Army Player of the Year Award, the Anthony Muñoz Lineman of the Year Award, the American Family Insurance Defensive Player of the Year Award, the Pete Dawkins Game MVP Award and the Felix "Doc" Blanchard and Glenn Davis Awards.
McCall, who has already made an oral commitment to play at Ohio State next year, believes this game will be a great preparer for what he is in store for over the next four or five years in Columbus.
"It should prepare me a lot because I'm going to be going up against bigger and better people," McCall said. "When I get to college, I'm going to be going against bigger and better people, faster people. I'm sure this is going to be a big step for me in the right direction. I've got to go out there and compete and do what I do best."
The event felt like a celebration not just for McCall, but also for North Ridgeville. The meaning wasn't lost on McCall.
"It felt good to see all the support here today from my teachers, teammates and friends," McCall said. "I hope I can show the younger guys that I'm not the only one who can do this – if you work hard enough, you can accomplish great things, too. If you put your mind to it, you can do whatever you want.
"That's what I did – I put my mind to it and I went out there and grinded. I wanted my peers to see that anything's possible and everything's possible."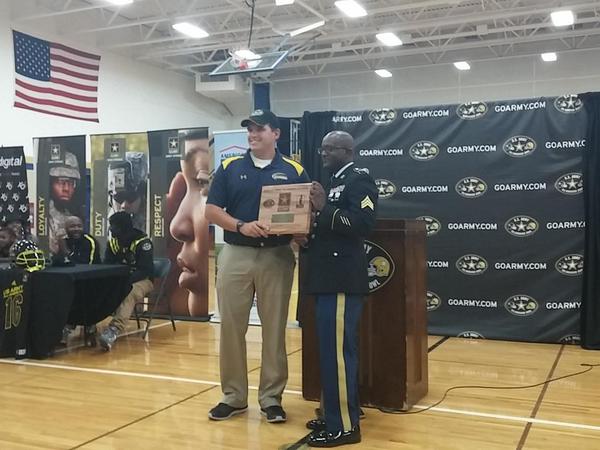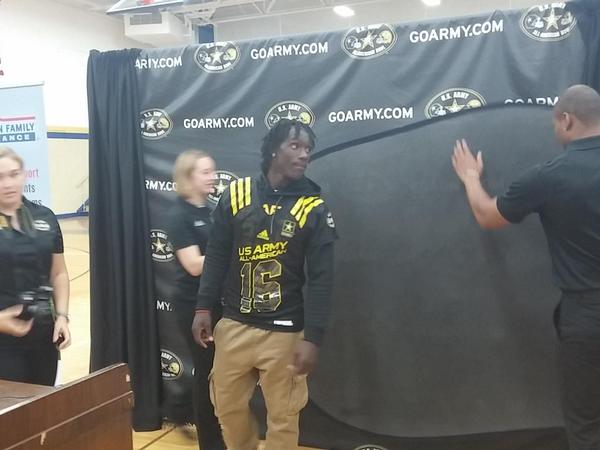 NEO Sports Insiders Newsletter
Sign up to receive our NEOSI newsletter, and keep up to date with all the latest Cleveland sports news.