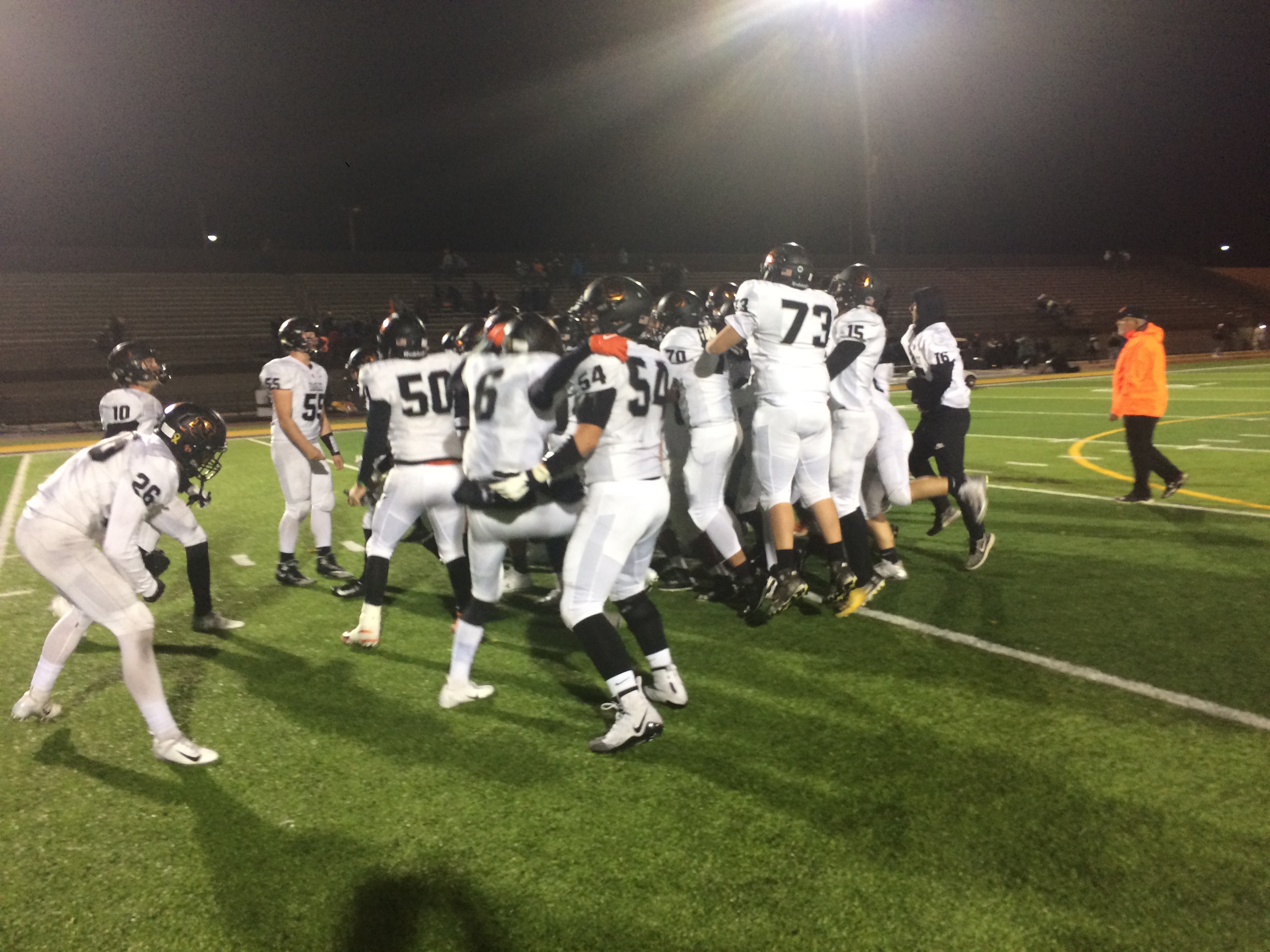 This game recap is brought to you by Frankie's Italian Cuisine.  Show this article for 10% off your bill.
Berea – The North Olmsted Eagles defeated the Berea-Midpark Titans 56-54 behind a big night from Darren Anders.
North Olmsted shocked everyone by starting the game with an onside kick.  Avery Jones recovered the kick for North Olmsted and the Eagles were well en route to a touchdown.  
"Coach talked about it a little bit, depending on how they were to align we were going to run an onside kick, sure enough, they were in a good spot for us," Avery Jones said.
"It had a nice bounce, it popped right out of the guy's hands and right into mine."
Darren Anders capped off the drive with an 8-yard touchdown run for the Eagles.  On the Titans first offensive play, Trevor Bycznski underthrew his receiver and it was intercepted by Sean Elbin at the 26-yard line, Elbin returned it 33 yards.  On the four-yard line, the Eagles lined up in a wildcat formation. Anders ran forward, jumped and threw the ball to Owen Juhn who caught it for the North Olmsted touchdown.
Berea-Midpark had a much-needed bounce-back drive as they drove 65 yards down the field in a little over two minutes.  Bryce Agnew punched it in for the Titans from 14 yards out to make the score 14-7 in favor of the Eagles. North Olmsted's Avery Jones ran in a touchdown from two yards out, but what happened next was truly shocking.  North Olmsted recovered another onside kick, this time it was Lucas Servidio for North Olmsted. It looked like Darren Anders ran in a 35-yard touchdown but it got called back due to a holding penalty.
The drive stalled and the Eagles were forced to punt.  The Titans went on to score two minutes later when Bryce Agnew ran in his second touchdown of the evening.  As North Olmsted was driving again, Quarterback Liam Fay fumbled at the Berea-Midpark 20 yard-line. The Titans went on to score.  
In a tie game, North Olmsted faced a crucial third and 17 from their own 13-yard line.  Liam Fay threw a screen to Sean Elbin who broke tackles and tiptoed down the sideline to score an 87-yard touchdown and take the lead.  Fay threw for 250 yards on 18-30 passing and three touchdowns.
Berea-Midpark ran an impressive two-minute drill that resulted in Agnew's third touchdown of the night to go into the locker room tied at 28.
North Olmsted converted two fourth-down conversions on their way to the end zone.  Liam Fay connected with Lucas Servidio for a 10-yard touchdown to give North Olmsted a 35-28 lead.  On the ensuing kickoff, the Titans fumbled on the kickoff to give North Olmsted the ball at Berea-Midpark's 39-yard line.
The Eagles faced a 4th and 3 from the seven-yard line.  Liam Fay passed it to Darren Anders who took it down to the one-yard line.  Anders ran it in the next play to give North Olmsted a 42-28 lead. The Titans didn't get their first offensive play in the third quarter until 1:38 left.  36 seconds later, the Titans scored courtesy of a Bryce Agnew touchdown run from 12 yards out. On third and 13, Bycznski connected with his Garrett Waite for the first down, an Eagle defender whiffed and it was good for a 71-yard touchdown but the extra point was blocked bringing the score to 42-41 North Olmsted.
Berea-Midpark went for it on fourth and 22 at their own nine.  Bycznski threw it out of bounds and it looked like the Titans were very confused.  North Olmsted took over first and goal at the Titans' nine-yard line. Fay completed his pass to Dalton Diaz over the middle for a four-yard touchdown to give North Olmsted a 49-41 lead with 7:29 left in the game.  Berea-Midpark marched right down the field and Trevor Bycznski threw a 13-yard touchdown pass. The two-point conversion was no good bringing the score to 49-47 with 6:06 left in the game. The Eagles went on a nearly four-minute drive and converted a fourth down conversion on fourth and 8.  Anders ran it in the next play for a 12-yard touchdown to take a 56-47 lead. The Titans drove down the field for a touchdown from Bycznski to Agnew from 17 yards out to cut the lead to two points. The Eagles recovered the onside kick and after getting the first down, the Eagles took a knee.
North Olmsted improves to 5-4 on the season and will take on Olmsted Falls next week.  Berea-Midpark falls to 5-4 on the season and will take on Avon next week.
Player of the Game: Darren Anders is the player of the game.  Anders ran for 196 yards on 34 carries and ran in three touchdowns.  Anders also threw a touchdown.

NEO Sports Insiders Newsletter
Sign up to receive our NEOSI newsletter, and keep up to date with all the latest Cleveland sports news.