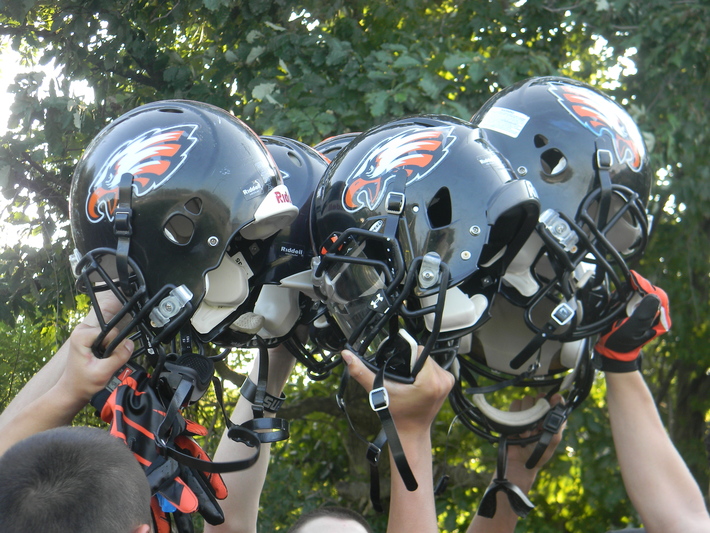 The North Olmsted Eagles don't have a true home stadium for two seasons as they build a new facility, but that didn't stop them from getting off to a quick start on Thursday night against the Valley Forge Patriots.
The Eagles beat up the Patriots 39-14 Thursday night, as their defense put on a display early and often against the overmatched Patriots. Leading that charge was senior captain linebacker Chandler Johnson, our first NEOSI High School Player of the Week.
Johnson was part of a defense that held the Patriots to two late scores, 114 total yards, 99 rushing and 15 passing.
"He's one of our best defensive players, that's why he's one of our captains," Eagles coach Tim Brediger said of Johnson.
"He's a physical kid, a weight room kid, a great kid in the class room. We wanted to put him in a position to take care of what we thought were their best plays."
Johnson was a one man wrecking crew, going off for a safety, a fumble recovery, three tackles for losses and a sack. He made a key stop early in the game on a 4th down on a sweep that allowed the Eagles to take over on the Forge side of the field.
"I was just taught by our great coaches that it would be coming," Johnson said. "Our coaches are great and I can't appreciate them enough, they did a great job with us this week."
The safety for Johnson came on another nifty play, and built onto the Eagles lead in the second quarter to make it 25-0.
"It was one of the few times I've ever scored points in my life, so it was pretty good, a great experience," Johnson said.
The NEOSI High School Player of the Week is chosen by our staff from one of the games we cover each week. If you would like to nominate a player – email us at webmaster@NEOSportsInsiders.com