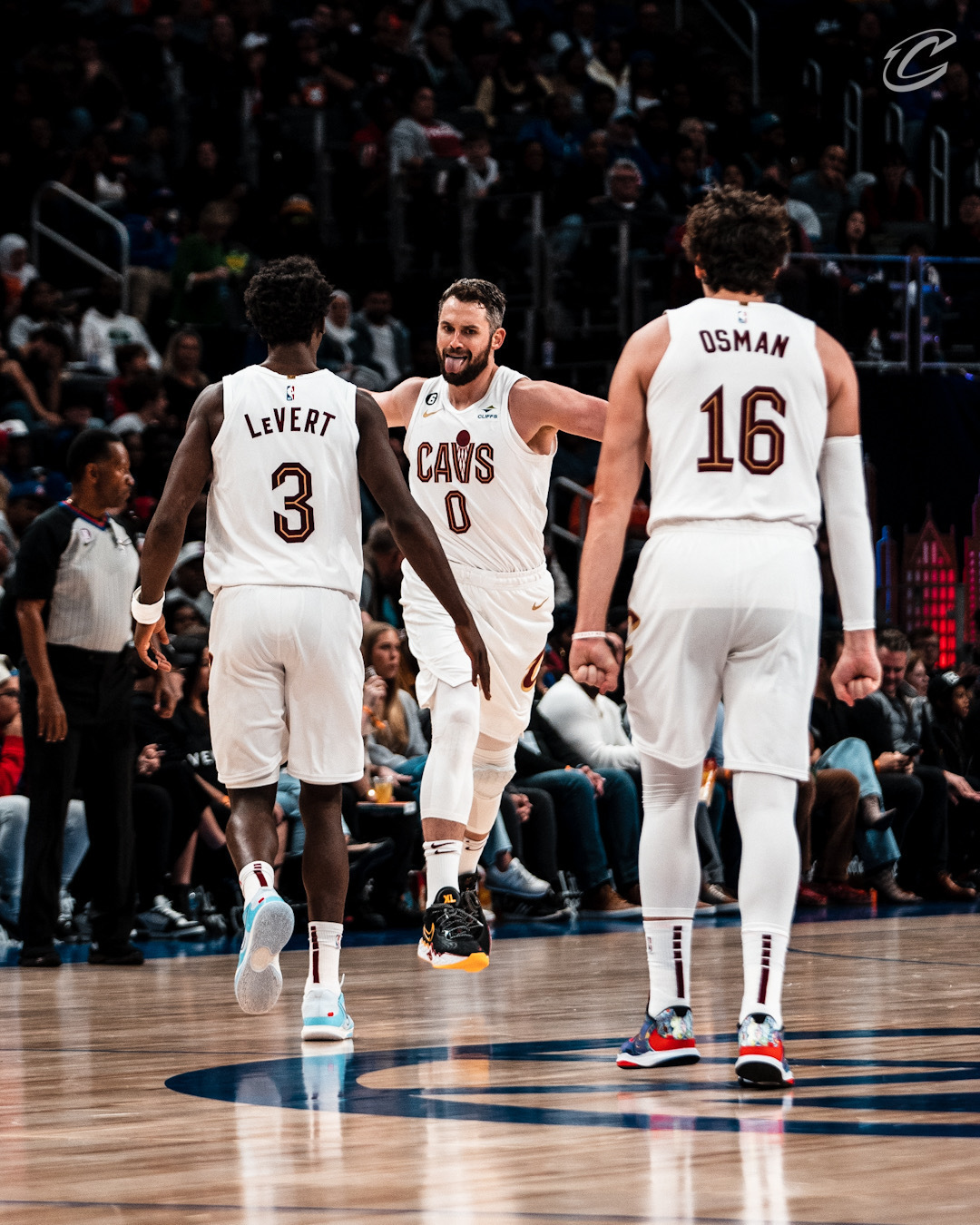 When word came down that Donovan Mitchell and Darius Garland were scratches for their game against the Pistons, it was natural to wonder how the Cavaliers would fare with no point guard and arguably the best performer for the NBA right now.
No Darius Garland or Donovan Mitchell for the Cavs and Isaac Okoro is starting.

The streak is over.

— Colb (@___Colb___) November 4, 2022
But never fear! With 1:26 left in the first quarter and other All-Stars on the Cavs roster, the rout was on and the Pistons were left in a #Cavalanche that found their south east neighbors blowing them off the Detroit floor in a 112-88 drubbing. The Cavs find themselves at 7-1 and in second place in the Eastern Conference behind the undefeated Milwaukee Bucks. The Pistons find themselves at the bottom of the East at 2-8.
7 in a row!
The Pistons were hitting shots early with back to back threes by Cade Cunningham and Saddiq Bey as Detroit took an early 19-14 lead. But the Man of the Night, Kevin Love, hit a bucket near the end of the shot clock then, off a steal and assist by Dean Wade, hit a trey to tie things back up.
When Cedi hit a free throw after being fouled on a layup make to get the Cavs up by one, the men from the Land never looked back! That's seven straight after their opening day loss to the Raptors. 
Block 🚫 @evanmobley
And-1 😤 @cediosman #LetEmKnow pic.twitter.com/LnttD9b15P

— Cleveland Cavaliers (@cavs) November 4, 2022
Cedi's runner and 1!
The seven in a row marks the Cavs longest winning streak since the start of the 2017-18 season when they secured 13 straight wins in the middle of November to the start of December.
And this one was over before fans ordered their second beverage!
Kevin Love
Kevin Love tonight:

21 PTS
8 REB
10 AST
4 3P

Shooting a career high 44% from three this season. pic.twitter.com/Slgx41abqL

— StatMuse (@statmuse) November 5, 2022
What a monster game by the certain Hall of Famer! Kevin was 2 rebounds shy of a triple double. In fact, JB Bickerstaff called timeout and talked to Kevin. He wanted to give Love the chance for the triple feat. But #0 made it clear to coach: Let others play.
#Cavs coach J.B. Bickerstaff admitted postgame that he knew how close Kevin Love was to a triple-double. The two had a conversation about keeping Love on the court a little longer but Love told him to do right by the game and take him out to give the other guys a chance.

— Chris Fedor (@ChrisFedor) November 5, 2022
Love really is the league's best 6th man and should have been awarded that last year. But as things progress now, maybe he will get that title for this season. And all this in only 23 minutes last night!
Jarrett Allen
Bickerstaff challenged Allen in pregame talks to dominate the paint. And when the dust settled, Allen was the team leader with 23 points, 7 rebounds, 2 blocks in 32 minutes on the court. His domination was reminiscent of this performance by Indianapolis Colts mascot Blue during a 2014 football game!
How the Nets just threw in Allen as a piece to their Harden trade is unconscionable! 
Jarrett. Allen. 🔨

DG and Spida were hyped 😂 pic.twitter.com/gA6jHd1owM

— NBA on ESPN (@ESPNNBA) November 5, 2022
Evan Mobley
Mobley almost had his own triple double! 11 points, 8 rebounds and 8 blocks! Yes! BLOCKS!
Career-high SEVEN blocks for @evanmobley ‼️#LetEmKnow pic.twitter.com/DhIBeyIxSe

— Cleveland Cavaliers (@cavs) November 5, 2022
Evan is starting to find his role in this offense and as his comfort level rises, so does his stock in the NBA as a future star! Here's Evan on his 8 block performance!
The Rest
Caris LeVert held the point guard duties and fared quite well. He is being asked to carry different loads so far this season and has performed magically! His 16 points and 6 assists don't give a great view on his handling of the Cavs offense. He looks comfortable in any role the coaches throw at him.
Raul Neto and Lamar Stevens saw much action and both had positive impacts during their court time. Neto dropped 10 points and had 5 assists in 24 minutes. Stevens in 19 minutes had 6 points and a +/- of +13 while on the floor.
Cedi had another stellar game. Besides hitting the go ahead runner and 1 in the first quarter, he finished with 15 points, 6 assists and 4 rebounds!
JunkYard Dog Chain!
EVERYBODY EATS. 🐶

Coach gave the chain to the whole squad tonight!@ThatsJared | #LetEmKnow pic.twitter.com/8lzbLHYPKq

— Cleveland Cavaliers (@cavs) November 5, 2022
The coaches decided this was a team win with two All-Stars out, so the JYD chain went to the entire team! But when you have three OTHER All-Stars, and they play as amazingly as they did tonight, you can often weather the injury storm.
Next Games
The Cavs head west for battles with the LeBron-led Lakers, the Paul George Clippers, Mike Brown's Sacramento Kings, and the Steph/Thompson Warriors. This will be a strong test for their seven game streak. Hopefully Donovan and Darius will be available to suit up.
All games will be available on Bally Sports Cleveland and WTAM for those who like to have their radios on at night!
Fans out West? Here ya go!
If you are a Cavalier fan and live on the West Coast, you can always find good seats with Seat Geek!
Missed last night?
If you missed last night's game, here's the recap!

NEO Sports Insiders Newsletter
Sign up to receive our NEOSI newsletter, and keep up to date with all the latest Cleveland sports news.