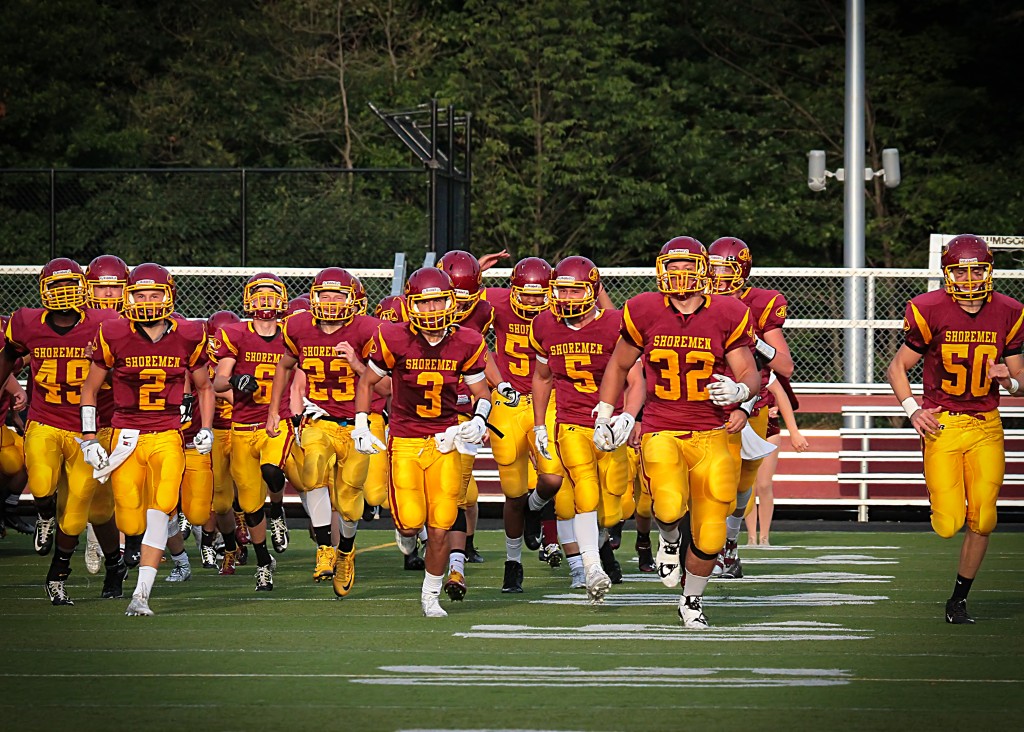 There's a new head coach at the helm of the Avon Lake football program– but while he's new, he's definitely a familiar face.
Matt Kostelnik took over the reins this winter from legendary Shoremen head coach Dave Dlugosz. This is Kostelnik's first head coaching job, and it just so happens to be for his alma mater.
Following a successful high school career at Avon Lake, which included winning a state championship his senior year in 2003, the energetic Kostelnik played for the Mount Union Purple Raiders, where he became an All-American. Two years ago, following assistant coaching stints at Mount Union, Notre Dame College and Beachwood High School, he returned to Avon Lake to be an assistant alongside his former coach.
"Coaching at my alma mater is fantastic, I'm excited about it, mostly because you get to carry on Coach Dlugosz's legacy," Kostelnik said.
"Usually that was the question I got was, 'How do you replace him?' Well, I don't need to replace him. The guy built the foundation, it's about continuing what he's done, and keeping that legacy rolling."
The Shoremen are coming off of an incredibly successful 2016 season. They ended the year with an 8-4 overall record. They were also Division II regional semifinalists, following an incredible upset win over their conference rivals, the Avon Eagles, in the first round of the playoffs.
In order to have that kind of success again, Avon Lake will likely rely on some familiar faces despite losing a top-notch senior class.
"We're definitely going to be different than we were last year, because that's what our players dictate," Kostelnik told WEOL during their 2017 Lorain County Football Preview Show. "Caleb Burr seems to be that go-to guy right now."
Burr plays at the wide receiver spot, but could also see time at running back in Avon Lake's spread offense. Kostelnik said that both Konner Riggs and Jake Sommers have also been battling for the top running back spot. The Shoremen will also rely heavily on returning linemen Ryan Beckmen and Kyle Leitch.
Avon Lake will also have a rookie quarterback this year in the form of junior Jack Mikolich.
"He's doing fantastic, he looks kind of like a seasoned vet already," Kostelnick said of his quarterback's progress. "And having a junior is even better, because if he has a great season, great. I'm excited because he's back again."
Defensively, Avon Lake returns Max Whitman and Jake Marinelli to lead their 4-3 defense from the line. Sommers will also be playing a key role in the secondary.
It's clear that Kostelnik is well poised to try and build on his alma mater's legacy. And while it's clear how passionate he is about Avon Lake football, Kostelnik understands, maybe better than anyone, just how tough the Southwestern Conference can be.
"Week 1 (against Elyria) will be a test to see how good we are for sure," Kostelnik said. "Every week we've got to be ready to go."
Coach Matt Kostelnik of Avon Lake talks key returners for the Shoremen pic.twitter.com/BpDa7Q80zN

— Ashley Bastock (@AshleyBastock42) August 16, 2017
***You can listen to Kostelnik's entire interview with WEOL here, and below is Avon Lake's entire regular season schedule
2017 Avon Lake Shoremen Schedule
8/25 Elyria High school
9/1 @ North Olmsted High School
9/8 @ Avon High School
9/15 Westlake High School
9/22 @ Lakewood High School
9/29 @ North Ridgeville High School
10/6 Amherst Steele High School
10/13 @ Berea-Midpark High School
10/20 Olmsted Falls High School
10/27 Midview High School

NEO Sports Insiders Newsletter
Sign up to receive our NEOSI newsletter, and keep up to date with all the latest Cleveland sports news.