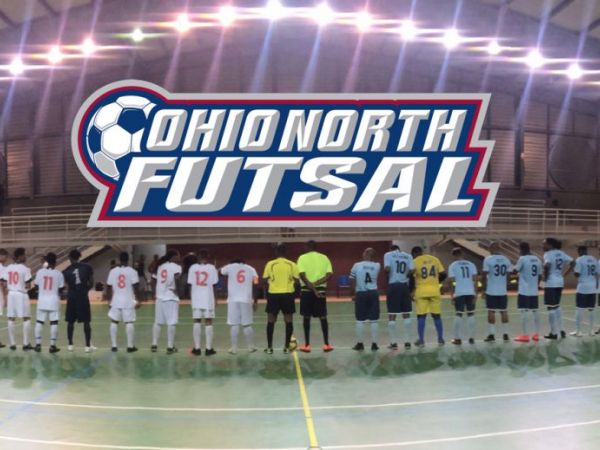 If you would like to learn more about Ohio North Futsal, please click the below link.
http://www.ohionorthsoccer.org/futsal/
NEOSI has been bringing full written, visual and audio coverage of the AFC Cleveland Royals and WPSL Cleveland Ambassadors this season, thanks to our fine sponsors BA Sweetie, Front Line Soccer Shop and Hands On Soccer.  Now, Ohio North Futsal has joined the action as well.
Ohio North Futsal is ran by legendary indoor soccer goalie of the Cleveland Force and Cleveland Crunch, Otto Orf.It has become of the fastest rising games not only in the country, but in the world.  Cleveland, Ohio was recently the site of the 2017 Futsal COPA North America over Easter Weekend!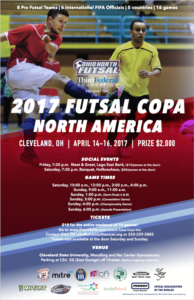 What is Futsal?
Futsal started in 1930 when Juan Carlos Ceriani Gravier, a teacher in Montevideo, Uruguay, created a version of indoor football for recreation in YMCAs. This new sport was originally developed for playing on basketball courts, and a rule book was published in September 1933.  His goal was to create a team game that could be played indoor or outdoor but that was similar to football, which became quite popular there after Uruguay won the 1930 World Cup and gold medals in the 1924 and 1928 Summer Olympics.
Futsal is an exciting, fast-paced small sided football game that is widely played across the world.  The nature of the game places a large emphasis on technical skill and ability in situations of high pressure, and is subsequently an excellent breeding ground for soccer competencies that can be translated into the 11-a-side format of the game.
Futsal is a five-a-side game, played on a flat indoor court with 3 meter by 2 meter by 1 meter goals and a smaller, reduced bounce ball.  The use of this special ball keeps the ball on the court and at the feet of the players much more frequently promoting the ever important foot skills needed in soccer and futsal. Futsal is played to touchlines and a goal-line and all players are free to enter the penalty area and play the ball over head-height.  International games are played with 20 minutes per half, played to a stopping clock (similar to basketball) with 1 time-out permitted by each team in each half. Youth league games are usually played with a running clock using 20-25 minute halves.
There are a number of differences to our traditional version of small sided football, but the dominant elements are the absence of rebound boards and amendments in the laws that encourage and foster skillful, creative play above the physical contact that tends to be a feature of traditional five-a-side.
The surface, ball, and rules create an emphasis on improvisation, creativity, and technique as well as ball control and passing in small spaces.
Futsal is not as well-known in the U.S. as it is in South America and Europe or Asia, but the sport has grown by leaps and bounds in the U.S. in the past few years. There is a large untapped indoor soccer market. There are multiple national leagues and now there are three pro leagues as well.  Orf is excited that the Professional Futsal League (PFL) is slated to start in 2019 and Major League Futsal (MLF) is exposing cities to the high level game right now. This is great for the development of the game and it gives players an end game to work towards for those who are extremely passionate and talented.  Statistics show futsal provides more shots, more goals, more transitions and the skills on display are phenomenal.  Any soccer lover will enjoy watching the game of futsal as it is built for the American fan.
The game of futsal will grow with soccer and assist in the development of all of our soccer players. In addition Orf believes the younger we can start them the better it will be for us all. Change is a very hard thing for most people anyway but many of those who are invested in other versions of soccer are reluctant to jump on the bandwagon. In time the low cost, ability to play futsal anywhere, the undeniable developmental advantages and of course 'the fun factor' for players will make futsal a staple in the U.S. and as popular here as it is anywhere else in the world.
If you would like to learn more about Ohio North Futsal, please click the below link.
http://www.ohionorthsoccer.org/futsal/

NEO Sports Insiders Newsletter
Sign up to receive our NEOSI newsletter, and keep up to date with all the latest Cleveland sports news.